<![if !vml]><![endif]>

Click on the photos to make them

larger or go to another page.

PRR 44 Tonner 9337

Added 10-22-16

Completed 1-27-18

Baldwin BF16 "Sharks"

River Raisin Models B&O RF16
Omnicon PRR BF16
These are Omnicon urethane BF16 "Sharks" I bought them painted from eBay. They were a kit offered in the early 1990s with NWSL drive components. The decal job could have been better. I pretty much painted over all of the areas that were not decaled, added an all wheel pickup electrical system, made the drive bulletproof, added DCC and lights, and lots of stick on tire weights! They have really good pulling power now. They compliment the River Raisin/Boo Rim http://riverraisinmodels.com PRR A-B-A set I got. I also got a River Raisin B&O A-B set. (Above) I went from 0 to 10 Sharks in March 2006! I am now cut back to 7 total as I sold an unfinished Omnicon A B A set.
River Raisin Models PRR BF16
<![if !vml]>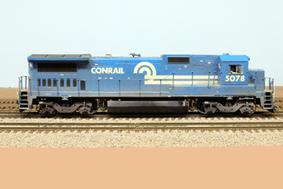 <![endif]> <![if !vml]>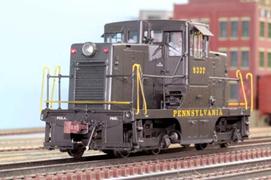 <![endif]>
PRR E7a 5863
Added 10-21-12
I sort of "found" this E7 in my E unit pile. I forgot this 1 was painted. NONE of the Overland PRR E7 A units are correct as they suffer from a clash of era details, where all of the details could not have been on the unit at the same time. I made the parts to make them more correct for the mid 1950s like the large numberboards etc. It is just a matter of getting to finishing them. Much of the involved work is making them all wheel pick up.
This paint job was "presentable" but still not completely correct, and since I sold my running E7 A B A set in the spring of 2012, I got it out and threw a Tsunami in it. I found out when I thought I was done the wheels were all tight for gauge so that was about the 3rd unexpected disassembly and repair. That will teach me to look at the gauge when the wheels are out for cutting wiper grooves in the back of the wheels!
PRR E8a 5716
This is another Overland engine I bought mostly because it was already painted. I have never seen a single stripe paint job on an S Scale engine. This paint job is OK but could be a little better. I don't know where the decals came from. I repainted the trucks, fuel tank, added all wheel pick up, real glass windows all around, and made the curved numberboards. I also added a little dusty weathering and DCC. It looks much better now than when I got it.
B&O ABBA F7 Set
Added 12-15-16
I already had an A B set of factory painted Overland B&O F7 for many years. In November 2016 another A B set came up for sale on eBay. Just for a goof I set a rather low bid and still won. The newer set had some work done with winterization hatches added, and a very interesting center nose numberboard. This was the chance to update all with new decoders (not sound) and LED headlights. I ran pick up wires to the wipers on the insulated wheels. The original drives are a bit noisy but I can live with that.
<![if !vml]>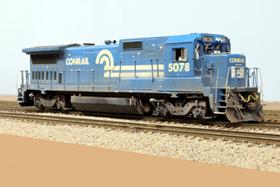 <![endif]> <![if !vml]>

<![endif]> <![if !vml]>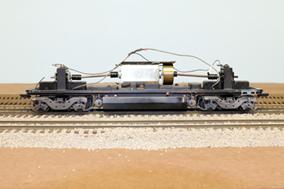 <![endif]>
PRR F7 ABA Set
This is a plastic F7 ABA set made by S Helper Service. I did some detail work to it, including adding the Trainphone Antennas, extra grab irons, nose lift rings, and modified the pilot coupler doors. The "how to" article for this set was featured in the January 2005 Mainline Modeler.
PRR FP7a & F7b Set
Added 6-12-17
This American Models FP7 set was purchased as shown below from my friend Bob Frascella in April 2017. Bob is an amazing artist and modeler. He decided to move his modeling from PRR transition era to the 1970s Delaware & Hudson making this set available for sale. There was extensive rework and detailing done. It is just gorgeous.
<![if !vml]>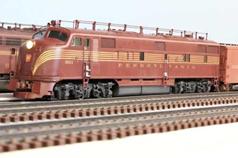 <![endif]> <![if !vml]>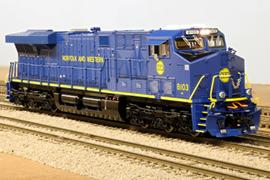 <![endif]> <![if !vml]>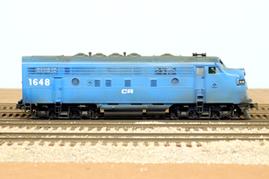 <![endif]>
This is my first big "S" project (C) 1989 adding antennas to my AA set (only 1 shown – ironically also 9834) from an Overland F3 set. Note the antennas are too short. I thought it was the best thing going back then.  Next to Bob's work it is SO dated looking! I don't even have decoders in them yet.
<![if !vml]>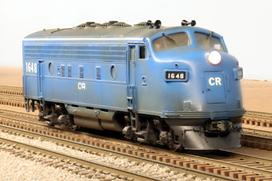 <![endif]> <![if !vml]>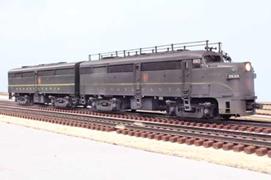 <![endif]>
Reading FP7 901
Added 12-8-17
Alco PRR FA2 FB2 Set
These FA2 and FB2 were made by Overland Models in 1985. They are very nice, from the period that I call Overland's "Golden Age" where Ajin was producing very nice models for a reasonable price. I have an A B A set of these that need painting. I bought this set on eBay in June 2007 because they were painted for about what I thought they should sell for unpainted. All I had to do was add DCC and I had added another set of diesels to the roster, or so I thought. When I opened the box it was immediately apparent that the seller mangled the antennas as it was put in the model box for shipping. We made good on that issue quickly. I got an assembled wood Phosphate car. But the repairs lead to a month long side project to repair the antennas, make the drive line slip proof, add all wheel electric pickup and sound units. I made rolled ring baffles that mounted the speakers directly under the roof fans. There was some touch up and we are good to go! I also added a 2 wire plug that runs between the units to insure pickup at ALL times not matter how dirty the track may be. The plugs get hidden in the diaphragm between the units. After a good lube job they run amazingly well! I hope all of my Overland units run this well.
May 2008 – As a result of me meeting the seller of these locomotives, he is back in trains bigger than ever. We are VERY good friends now!
(But he is NOT getting this FA set back!) Life works like that sometimes!
<![if !vml]>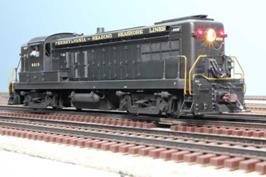 <![endif]> <![if !vml]>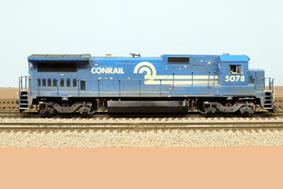 <![endif]> <![if !vml]>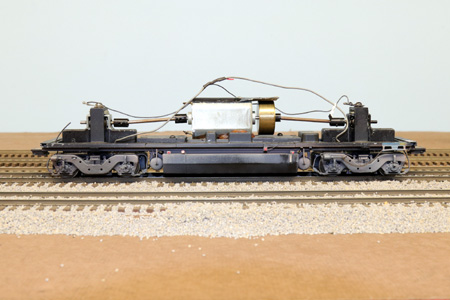 <![endif]>
PRR GP7 8551
Added 7-15-17
PRR GP7 8553
Added 12-19-15
Completed 6-10-17
Reading GP7 621
Added 3-3-19
This is a slightly modified American Models GP9 representing Reading GP7 621. The Reading did not have any GP9. Making a better GP7 in S Scale is a significant effort. This was made in the 1989 by John Hall, possibly the only Reading modeler in S at that time. I bought it 2-13-19 from Roy Hoffman. I changed to a Sagami motor to match the rest of my plastic GPs, added LEDs for headlights and a NCE D13NHP decoder. Other than some touch up it will remain as John built it. I consider it to be a historic piece. I have also run the 621 with my RS3 set as that did happen on the Reading. GP7 could run with the RS3. I temporarily program it as 489.
<![if !vml]>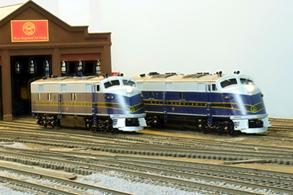 <![endif]> <![if !vml]>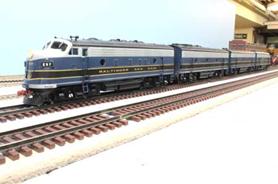 <![endif]> <![if !vml]>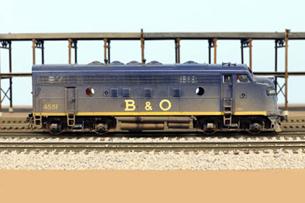 <![endif]>
<![if !vml]>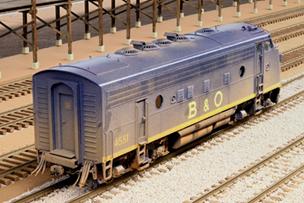 <![endif]> <![if !vml]>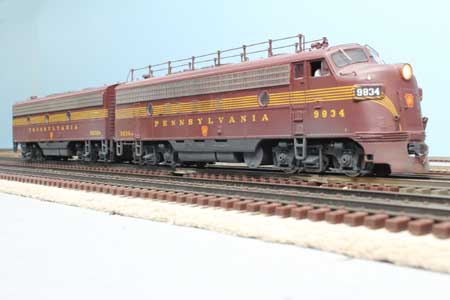 <![endif]> <![if !vml]>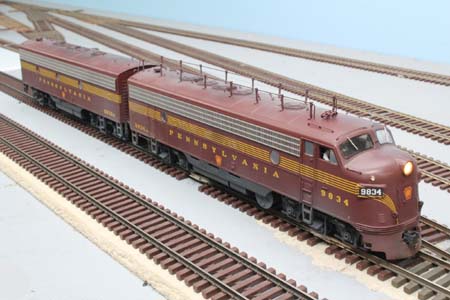 <![endif]>
PRR GP9 7006
Added 1-21-16
Completed 2-13-18
PRR GP9B 7185
Added 3-21-18
Completed 12-30-18
PRR GP9 Set
Added 4-1-18
N&W GP9 806
Added 11-11-18
PRR GP30 2224
Added 2-4-18
Completed 3-13-18
PRR NW2
This is a stock out of the box PRR EMD NW2 made by S Helper Service. It has a stunning Soundtraxx EMD Tsunami factory installed.
Check out a video of the NW2 with the Tsunami in action here:
PRR RS1
PRR RS3
Added 12-15-16
Reading RS3 Set
Added 3-3-19
These are what was the original S Helper Service from before S Helper Service was making their own trains. SHS was HELPING American Models make new items. This is from the first run of the RS3 in 1991. I have had 489 for a few years and bought 494 on 2-9-19. I added LEDs for headlights and a NCE D13NHP decoder. They are both programmed for 489. 494 is wired to be permanently trailing. Other than the handrails painted yellow they are stock out of the box. I get that the headlights should not be on in the trailing unit. Oh well. I like headlights a lot!
<![if !vml]>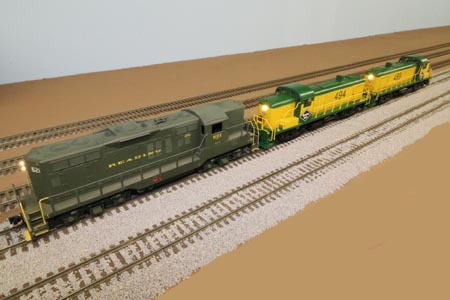 <![endif]> <![if !vml]>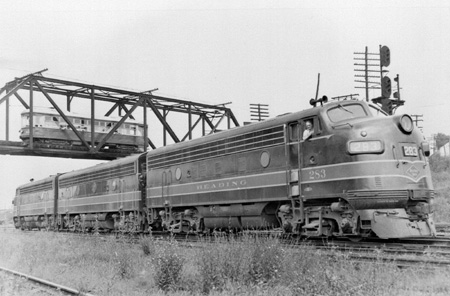 <![endif]>
<![if !vml]>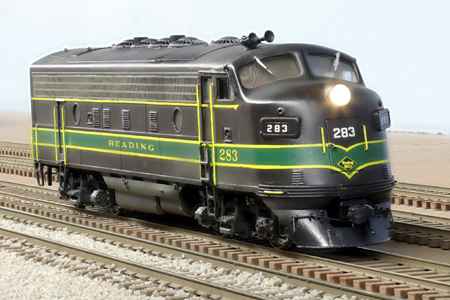 <![endif]> <![if !vml]>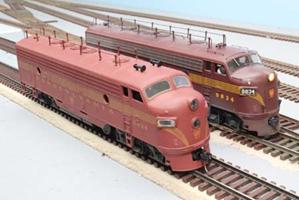 <![endif]>
PRR RSD5
This RSD5 is a part of the run of the very first commercially produced S Brass locomotives in 1982. It was made by Alco Models/Samhongsa and was Alco Models only venture into S scale brass. A few various versions of the RS2 & RS3 were made as well. This run of locomotives has a problem in that the truck gearbox castings were diecast white metal that swelled, disintegrates and became brittle with age. The swelling clamped down on the axles making running impossible. I am very lucky to have this locomotive runs at ALL let alone how well it does run. Further the real PRR RSD5 did NOT have antennas! This shell will be swapped to a RS3 drive as a part of a massive planned 5 unit RS3 & RSD5 project – also for some day. It is shown here on my layout on 7-30-12 – my 50th birthday! 
PRR RS11
Added 6-16-17
Completed 12-26-17
Baldwin S12
Added 6-2-18
PRR SD9
I have 2 of these PRR SD9. They were made by River Raisin Models in 1994. There were only 18 pieces of this version made. I did not finish these models as I was just getting into DCC at the time. They both have sound units and lots of lights! At some point the lights will be changed to LEDs.
EMD SW1
Added 7-4-16
PRSL Baldwin AS16 6015
Completed 1-11-18
Conrail SD40-2
Added 9-10-16
Conrail SD60
Added 11-24-16
<![if !vml]>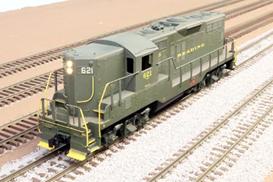 <![endif]>
CSX SD60
Added 11-18-18
Norfolk Southern SD70Ace
Added 3-3-19
This is American Flyer by Lionel like the ES44AC below, made in 2015. It is shown stock out of the box except for adding Kadee couplers. The current Conrail Shared Assets exists as the former PRSL. I pass Norfolk Southern locos all the time.  I always liked the NS paint scheme. This came up for sale on eBay and was bought on 2-17-19. It already had the scale wheels which I did not know they were offered as an option. I had significant programming issues with the ES44AC which had to be sent back to Lionel. If I had to I would gut it and install a regular sound decoder. The seller made a short clip showing it running on DCC. I got it running as well but it is by far not as easy as a DCC sound decoder. It is VERY fast. When compared to the ES44AC I like the SD70Ace better. The Kadee coupler mounting brackets were missing so I had to male them. Also I screwed the pilots down from swinging. It does look great and is appropriate to run with the ES44AC.
<![if !vml]>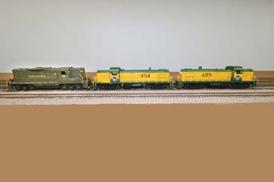 <![endif]> <![if !vml]>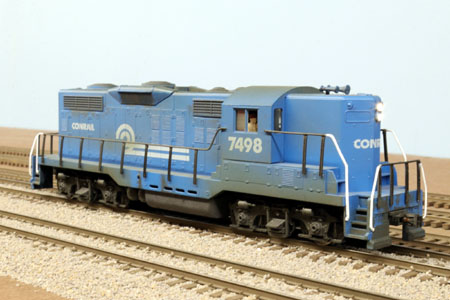 <![endif]> <![if !vml]>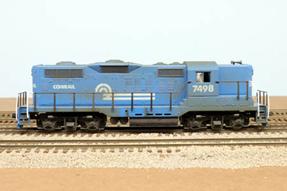 <![endif]>
<![if !vml]>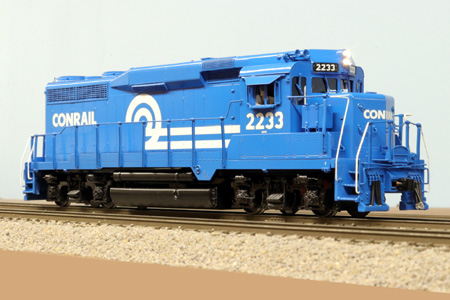 <![endif]> <![if !vml]>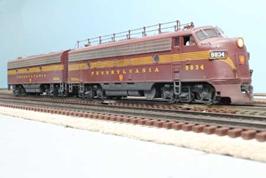 <![endif]> <![if !vml]>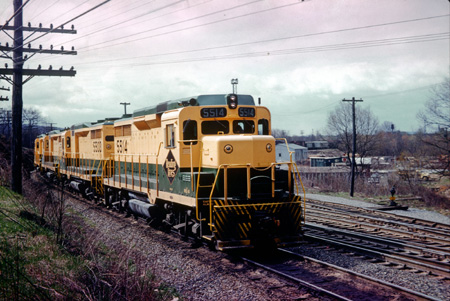 <![endif]>
Reading Trainmaster 861
Added 8-8-16
Added 9-16-15
Norfolk Southern PRR Heritage Unit
American Flyer ES44AC by Lionel
I chased the real Norfolk Southern PRR 8102 Heritage unit for so long and could not catch it, so I decided to get one of my own. I finally saw the real unit on 8-8-15 and this came about a week later. It was a bit of whimsy purchase, well not within my usual modeling era and PRSL scheme. This model is brand new American Flyer made by Lionel. It is DCC ready with sound and a ton of lights. I changed to Scale wheels and Kadee couplers. That is it. No other details were added. It is very nice.
8-8-15
<![if !vml]>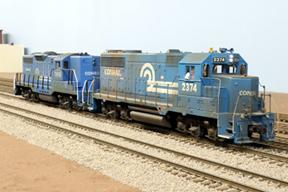 <![endif]> <![if !vml]>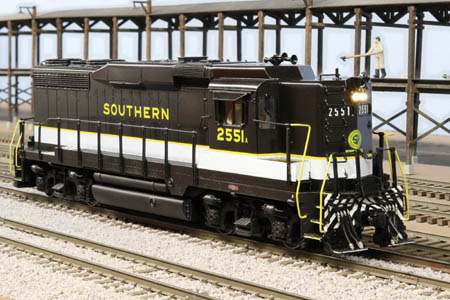 <![endif]> <![if !vml]>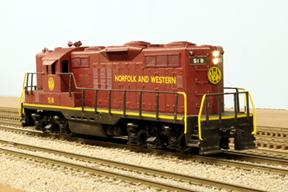 <![endif]> <![if !vml]>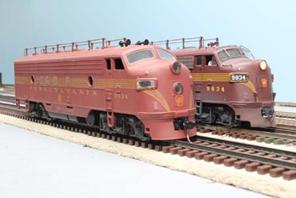 <![endif]>
Added 5-17-14
PRSL Doodlebug 400
This is not really a diesel but I had to put it someplace!
This PRSL Doodlebug has a long interesting history. It was made by Scenery Unlimited as a Northern Pacific prototype. In the early 1990s I was asked to paint it for PRSL for a fellow South Jersey S Scalers member. I protested painting a foobie scheme but it got done. In April 2014 it appeared on eBay, in amazingly perfect condition and I WANTED it now!  I sold an unused brass SD40-2 to finance the deal. I bid on it and LOST, but was still able to make a buy-trade deal happen with the winner through the eBay seller for an unpainted model which is what he wanted anyway.
While the real PRSL 400 is significantly different the Northern Pacific car is similar in size and gives the same ancient machine look to it especially when compared to the "new" RDCs. As painted back in the 90s I did not install glass or a headlight. So it was a mini modernization project. I added all wheel pick up, an N Scale decoder, a headlight and headlight lens, an engineer figure and glass all around. Gaining access to the otherwise soldered in rear area meant permanent removal of a divider wall. Doing this work on a painted model was fun! It was a worthwhile effort getting the results I wanted.
<![if !vml]>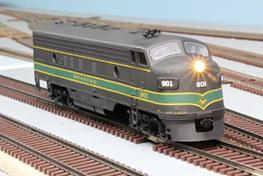 <![endif]> <![if !vml]>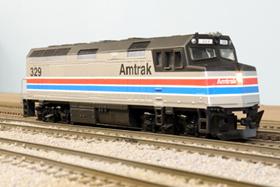 <![endif]> <![if !vml]>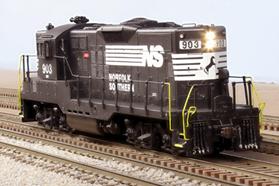 <![endif]> 
Added 6-1-13
PRSL RDC M-405 and M-410
I had a dilemma of whether to feature the RDCs on the diesel page or passenger car page.
Click the photo for a page and video of my RDC.
<![if !vml]>

<![endif]>
I would be interested to know if there are any other S Scale
PRSL Modelers out there. Please contact me if you are.
Updated 3-3-19
All photos and content © Lanes Trains 2005-2019