<![if !vml]><![endif]>

This is a plastic A B A Reading EMD F7 set released by MTH (Mikes Train House) in 2021 just before they closed. The tooling was originally made by S Helper Service which closed in 2012.

The S Scale Community had great hopes MTH would release new items and expand the S Scale market.  However they mainly offered S Helper Service rolling stock with some different paint schemes, and releasing a 2 bay fishbelly hopper also in 2021 as their only completely new item.  The entire run of that hopper sold out in 10 days flat.

MTH sold the S Scale tooling to ScaleTrains. Again the S Community is hoping for new items with market expansion finally giving S Scale the promotion and respect it has long deserved.
I generally do not make a separate "project" page for locos I did not build or modify but I made 1 for this set. The locos are shown right out of the box only with the scale wheels and couplers changed which were included. I programmed the 3 units to the same loco address 271. I do not consist ever.
<![if !vml]>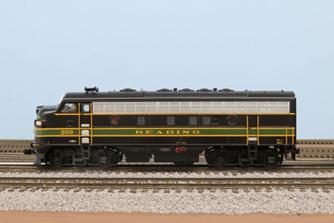 <![endif]> <![if !vml]>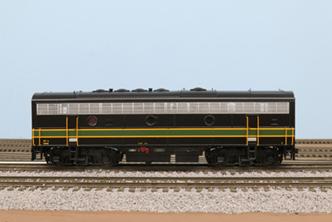 <![endif]> <![if !vml]>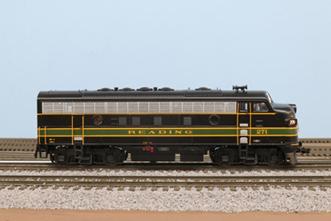 <![endif]>
The paint job is excellent. I like the lit numberboards and class lights. Some might not like the very white headlight (LED) but I do like it.
I was hesitant about buying MTH locos because of their proprietary all inclusive DCS Digital Command System electronics that allows for AC, DC and DCC power. The DCC is not made to NMRA standards making some aspects different and more difficult. One thing I wanted to change was turning off the amazingly annoying "Crew Chatter" which was much louder than the regular loco sounds and fired off cheesy sayings about every 30 seconds. That required hitting F27 twice which took me a bit to figure out how to get to F27 with a NCE Powercab. I also wanted to make 1 of the A units permanently trailing. That was easily done with 2 slide switches hidden behind the rear door - no programming was needed. They run fast and the prime mover sounds are really not great. There is a static sound mixed in with the loco sounds.
I made 2 other very minor changes. When adding the M U hoses I drilled out the body holes to .045 so the hose pins fit. I also changed the coupler knuckle springs to Kadee knuckle springs because the MTH springs were too soft. The locos were coming uncoupled.
<![if !vml]>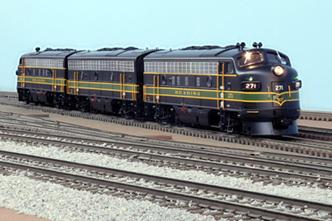 <![endif]> <![if !vml]>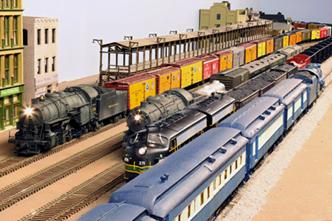 <![endif]> <![if !vml]>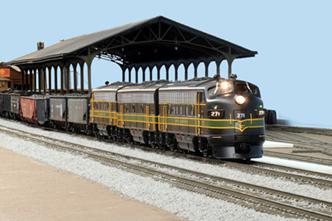 <![endif]>
Updated 4-17-21
All photos and content © Lanes Trains 2005-2021