<![if !vml]>

<![endif]>
I have painted for others years ago, but I am only working on my own trains now. This is not going to change. I just donít have the motivation or interest anymore. There are a number of groups that focus on brass trains. I do not know or cannot recommend any 1 person that paints. You have to go fishing for yourself. I am sure there are a number of painters here.
https://groups.io/g/BrassCollectors
https://www.facebook.com/groups/779642432110979
https://www.facebook.com/groups/BrassCollect
Models I have painted in the past
<![if !vml]>

<![endif]>
I have painted about 12 J&L tank cars total in HO, S and now O Scale. It is a rare but interesting car that everyone seems to want.† I would have loved to take a photo of the HO, S and O Scale models all together, but I did not have all the cars at one time, so it was not to be. The O Scale car is the most recently completed. It is an old Lobough kit someone else assembled with lots of plumbing solder. It was a little rough when I got it. My assignment was to make some detail improvements before painting it. I removed the whole dummy coupler draft gear, then made and installed Kadee coupler mounting pads at the correct height. I custom machined some of the underbody detail parts. I made 2 Carmer cut levers for the ends. Finally, I had to get decals custom made because the old Champ set did not cooperate. See the progression of the work here.
<![if !vml]>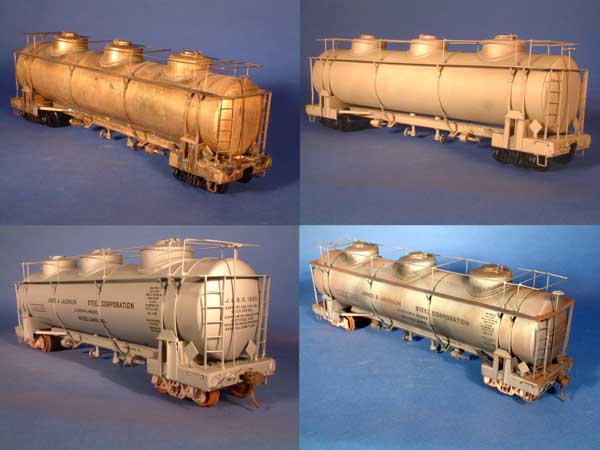 <![endif]>
Click on these buttons for more photos
of models I have painted.
<![if !vml]>

<![endif]><![if !vml]>

<![endif]><![if !vml]>

<![endif]>
Updated 3-11-18
All photos and content © Lanes Trains 2005-2021