<![if !vml]><![endif]>

Howard "Howie" Waelder was a Fireman on the Long Island Railroad during the late steam era, then was promoted to Engineer after the Long Island dieselized. He is featured as a Fireman on H9 #107 in a Ron Ziel photo on page 12 of the book "Long Island Steam Locomotive Pictorial" by David D. Morrison. He was a true career railroad man who loved every minute of it. Even though he had a great sense of humor and could play a good practical joke, he knew the railroad rules well and worked to them to the letter.

We met in 1987 when I joined the Central Jersey S Scalers and converted to modeling in S Scale. You just had to instantly like him. You could always hear Howie before you could see him, mostly because of his very loud laugh. One of Howie's many talents was telling his great "out on the road" stories, of what it was like to be in the train crew, especially when we were at a train related gathering like the PRR T&HS or National Association of S Gaugers conventions. We were roommates for many of them. It would only be lunch time and Howie would already be talking about getting a "sarsaparilla" (beer) in the hotel lounge after the official events was over for the day. After a having few drinks, Howie would just drop his railroad stories into the conversation, holding midnight railroad court with a table full of old and new friends listening intently and hanging on Howie's every word and detail. Those were the most cherished magical times for me that no amount of money can ever buy or replace for me.

Unfortunately, all of his friends failed to record Howie telling his stories, in spite of suggesting it many times. It was never convenient or we will do it "next time" Willie. We ran out of "next times" and lost him and his stories on 11-25-04.

If you know of someone who was "out on the road" record them NOW before their stories are lost forever.
I miss Howie greatly…
The following is a photo tribute to Howie for his friends who knew him and miss him.
Click on the photos to make them larger.
ALL of my model engineers are named Howie in his memory.
Howie and me at my wedding 9-30-02
<![if !vml]>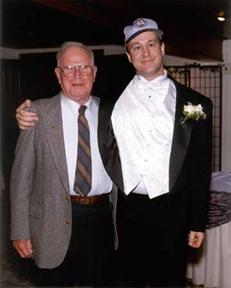 <![endif]>
I had our wedding photographer reserve the last 2 shots for me. 1 photo was of my just father and me. The other was the above. I am wearing the Brotherhood of Locomotive Engineers hat that Howie gave me. I remembered to bring my hat to my wedding just for this photo.
Howie at work on the Long Island Railroad
Howie is poking his head out of the cab
of the steam engines in both photos
 <![if !vml]>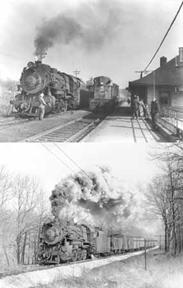 <![endif]>
Howie Video
In the spring of 2009 I started a project to convert my old VHS tapes to DVD. Tapes with Howie were the first to be done. They are still a work on progress. I want to edit them down using a smaller format. You should have a fast high speed connection to view them.
Click here for a 20 minute long view of Howie and I in the Long Island Railroad PD Tower in 1990.
Railfanning with Howie
This is one of the few times I wished I had color film with me during my Black & White photography period on the early 1990s. We were at the Railroad Museum of Pennsylvania in Strasburg. Howie poked his head out of the GP9 cab. I caught him just in time for the photo.
<![if !vml]>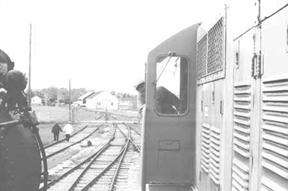 <![endif]>
Trackside along the Northeast Corridor in Downingtown PA in 1992
 <![if !vml]>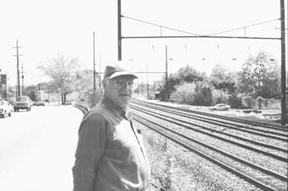 <![endif]> 
At Steamtown Scranton PA 1992
<![if !vml]>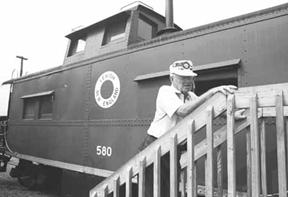 <![endif]>
Howie holding late night "Railroad Court" in the bar at the 1993
NMRA/NASG convention in Valley Forge Pa.
Known visible people left to right:
Vic Roseman, Dick Karnes, Stan Stocrocki, Kent Singer, Howie,
Tom Hawley, The late John Porter, and Dave Jasper
<![if !vml]>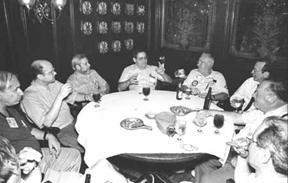 <![endif]>
"Sarsaparilla Brother" John Bortz and Howie in the cab of the
Union Pacific Challenger at the U.P. Steam shops Cheyenne
Wyoming for the 1997 NASG convention
<![if !vml]>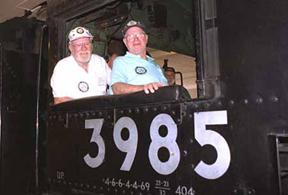 <![endif]>
Gregg Miller (Standing) Howie, John Bortz &
Bill Mark III at the 2002 NASG Convention
<![if !vml]>
<![endif]>
Howie in his basement on 10-26-02 hosting an S friends dinner.
<![if !vml]>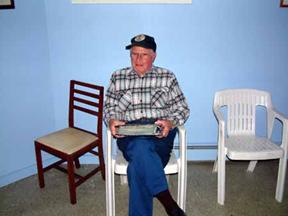 <![endif]>
Howie showing Mike Anderson (L) and Mike Ferraro his Long Island Railroad photo book.
I can still hear him saying…Now Willie, this is Holban Yard. And that track there went to….
 <![if !vml]>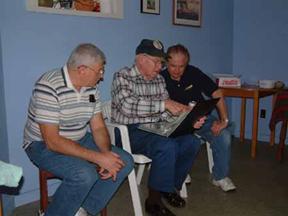 <![endif]>
Another photo of Howie at my wedding.
<![if !vml]>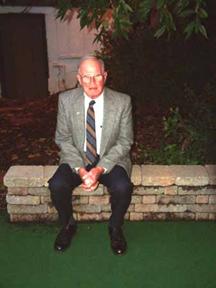 <![endif]>
Howie and Bob Greengrove serving lunch at the last CJSS Get
Together Howie attended in 2003. He had his dialysis 1 hour
before this photo was taken and still served us lunch.
<![if !vml]>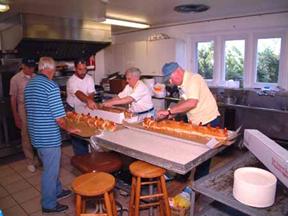 <![endif]>
Donna and Hiram with Howie accepting a copy of my wedding
photo with Howie and me at the S Helper Service warehouse
Christmas party 2003.
<![if !vml]>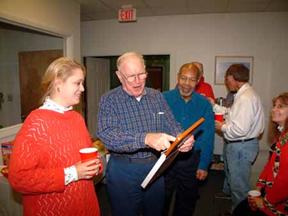 <![endif]>
<![if !vml]>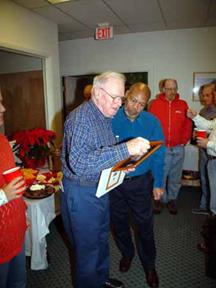 <![endif]>
Photos from Others
A group of Howie's friends got together after his passing to reminisce and retell some of Howie's stories for an article in the PRR T&HS Keystone. We wanted his stories to live on. They were submitted by about 8 people. Cartoons were drawn by Vic Roseman that was themed towards the stories, all of which were published in the Winter 2007 issue. This caused Ray Martin to email me this wonderful photo of Howie and another unknown volunteer in the cab of the H6 at the Railroad Museum in Strasburg PA taken May 2003.
Thank You Ray! It was MOST appreciated!
<![if !vml]>
<![endif]>
Added 5-16-13
Howie photos that are "new to me" are getting tough to come by these days. These photos were
recently given to me by Don Thompson as he was cleaning out the S Helper Service offices.
Howie was posing for Don to have the S Helper Service engine crew figure made.
<![if !vml]>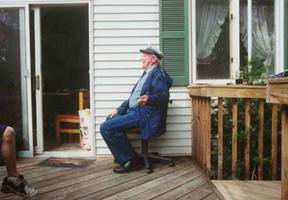 <![endif]> <![if !vml]>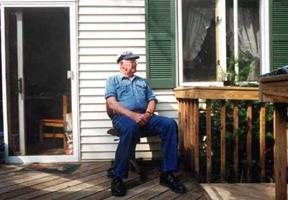 <![endif]> <![if !vml]>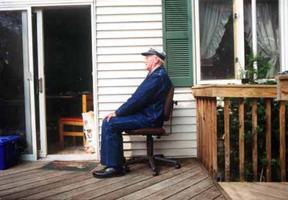 <![endif]>
Added 8-2-13
Luckily I am still finding "new" Howie photos to add to this page.
Swimming in Mike Ferraro's pool about 1990.
I don't know who the little girl with Howie is at this point – perhaps Mike's Daughter.
<![if !vml]>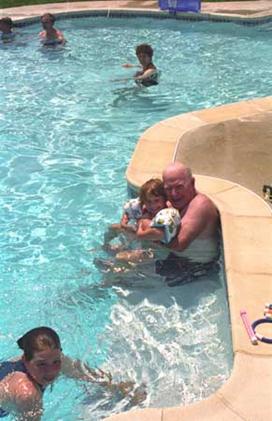 <![endif]>
Left to right – The late John Bortz, Howie and the late Walt Danylak
 at the 1991 NASG Convention is Syracuse NY.
<![if !vml]>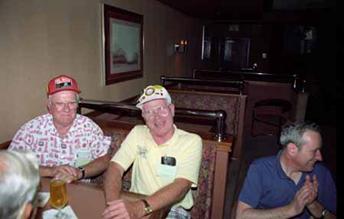 <![endif]>
Added 5-27-18
Howie's plaque on the wall in Railroader's Hall
Railroad Museum of PA
Strasburg PA 5-9-18
<![if !vml]>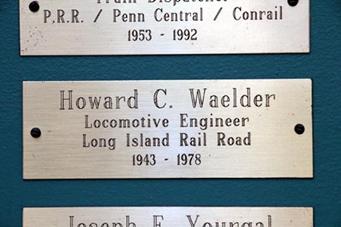 <![endif]>
Howie's Shay
In November 2007 I had a very unexpected opportunity to buy an
engine that was of great sentimental value to Howie and now me as well.
This is the locomotive that got Howie interested in S Scale, and eventually lead to us meeting.
It is an honor for me to now own this engine.
Please see the following videos of Howie's Shay.
<![if !vml]>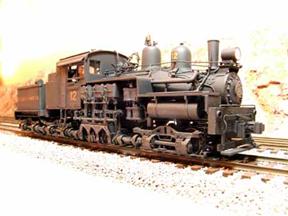 <![endif]> <![if !vml]>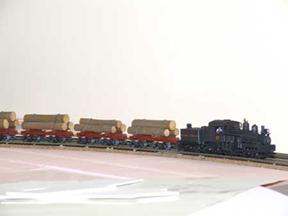 <![endif]> <![if !vml]>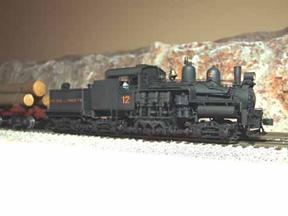 <![endif]>
It took many years, hours of trying and multiple decoder installations but I finally have Howie's Shay running truly perfectly. There is a YouTube clip here & here of how amazingly well it runs now.
Added 12-18-22
This was a recently discovered YouTube clip taken 12-12-98 of a temporary layout Don Thompson set up in Howie's basement for a holiday party. Unfortunately no people are shown in the clip but you surely can hear Howie in the background.
Updated 12-18-22
All photos and content © Lanes Trains 2005-2023