<![if !vml]><![endif]>

This is a private layout that is within a 15 minute ride from my house. With tongue firmly planted in cheek, we occasionally call ourselves the Black Sheep S Scalers. The layout owner, a few regular attendees and myself all met years ago in the South Jersey S Scalers club which is now the South Jersey S Gaugers. SJSG remained in a more decidedly Hi Rail interest then the few of us who became interested in an S Scale only direction.

If you would like to see this layout and run with us, please contact me. It is just off RT 295 in Gibbstown NJ. He runs on an alternating schedule every other Monday night from about 7:00 to about 10:00 P.M. I don't go there as much as I used to in the name of marital preservation, and have my own layout.

The layout is very loosely based on the PRR Elmira branch to run NYC and PRR equipment. We use Wangro/NCE DCC. We run mostly steam engines, and most of them have sound units. The track work started out as being handlaid, but switched to some flex track near the completion of the plan.

<![if !vml]><![endif]>

This is a "slightly retouched" photo of my B&O EM-1 and the  then new

S Helper Service B&O 2-8-0 on Bill's layout on 10-25-06. I call the

photo Poppa Bear & Baby Bear. (:->) I added the sky in Photoshop.
Bill's Layout
You didn't think I would go to all this effort working on my trains to let them sit on a shelf or worse, just sit in the box, did you? Of course not! Before I had my house and layout, I was lucky enough to be able to run my trains at a good friend's house. I say lucky, because there are not many S Scale layouts in my area.
Here are a few photos that were taken on 12-7-05. I jokingly called it the "Headend Train that ate Cleveland". It was an A B A Set of E7 units, 2 R50b, 6 B60b, 4 REA X29, and 1 coach. Everything is brass except for the coach. I realize that it is actually a short to average mail/express train.
<![if !vml]>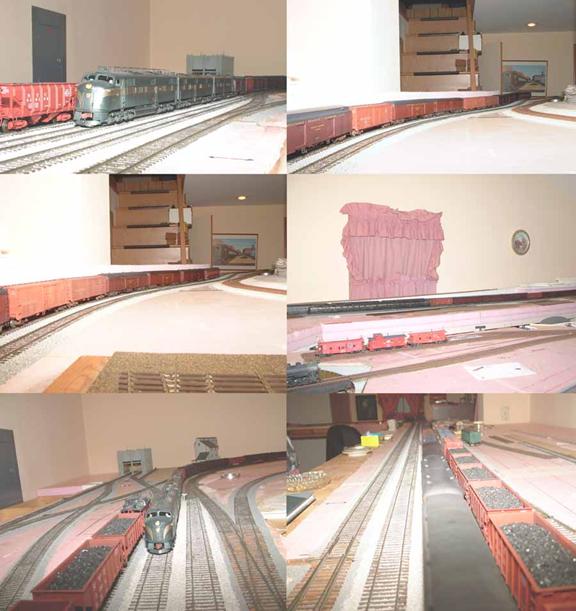 <![endif]>
As much as I liked this E7 set I sold it on 4-25-12. I had too many brass E Units for the size of my layout.
B&O Wagontop Train
<![if !vml]>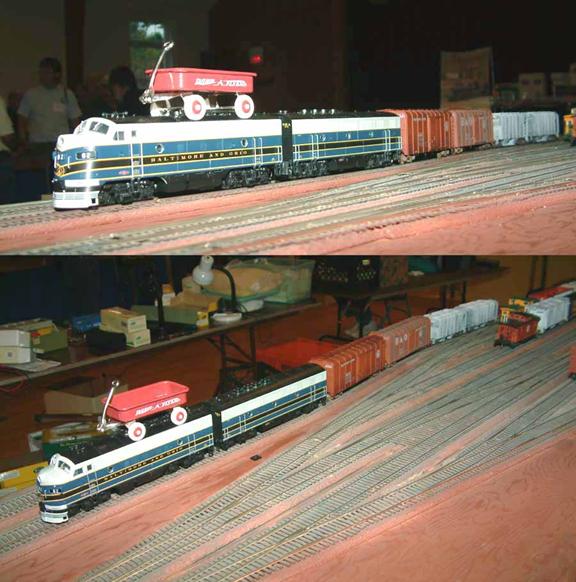 <![endif]>
I have always liked the B&O Wagontop series of cars ever since I first saw them. I have at least 2 each of the brass cars that have been made in S Scale. But I also decided to model the very rare B&O Wagontop F3 as shown above on my modules at the 2003 Central Jersey S Scalers Get Together in South Amboy NJ.
So you can now say that you have seen
a complete B&O Wagontop Train! J
Updated 12-1-12
All photos and content © Lanes Trains 2005-2013