<![if !vml]>
<![endif]>
February 2018
I got the unfortunate call that Bill was selling out and this layout was being dismantled. Yet another long time place of trains, fun and friends that will be no more.
This is a private layout that is within a 15 minute ride from my house. With tongue firmly planted in cheek, we occasionally call ourselves the Black Sheep S Scalers. The layout owner, a few regular attendees and myself all met years ago in the South Jersey S Scalers club in the early 90s which is now the South Jersey S Gaugers. SJSG remained in a more decidedly Hi Rail interest then the few of us who became interested in an S Scale only direction.
If you would like to see this layout and run with us, please contact me. It is just off RT 295 in Gibbstown NJ. He runs on an alternating schedule every other Monday night from about 7:00 to about 10:00 P.M. I don't go there as much as I used to in the name of marital preservation, and have my own layout.
The layout is very loosely based on the PRR Elmira branch to run NYC and PRR equipment. We use Wangro/NCE DCC. We run mostly steam engines, and most of them have sound units. The track work started out as being handlaid, but switched to some flex track near the completion of the plan.
<![if !vml]>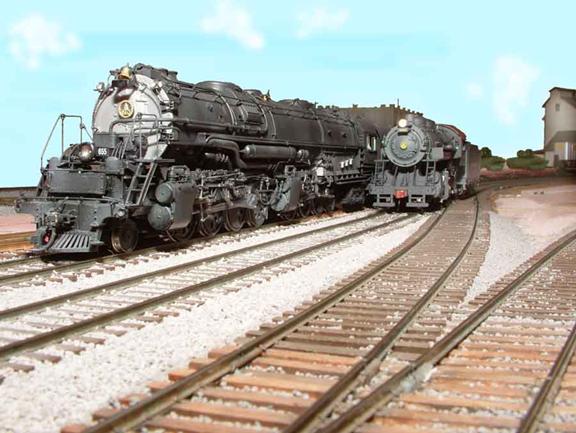 <![endif]>
This is a "slightly retouched" photo of my B&O EM-1 and the  then new
S Helper Service B&O 2-8-0 on Bill's layout on 10-25-06. I call the
photo Poppa Bear & Baby Bear. (:->) I added the sky in Photoshop.