<![if !vml]><![endif]>

This page is for the PRR EMD E8. It is the only S Scale model ever to be made in brass twice. The first time was made by Overland in 1984, then by River Raisin in 1991. American Models made a very nice plastic E8 but mine are B&O.

<![if !vml]><![endif]>
<![if !vml]>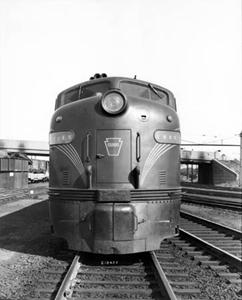 <![endif]> <![if !vml]>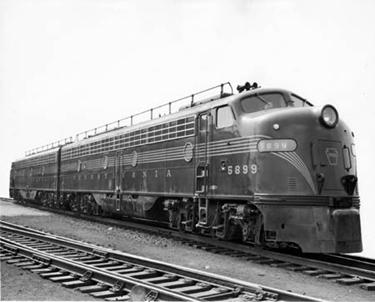 <![endif]>
<![if !vml]>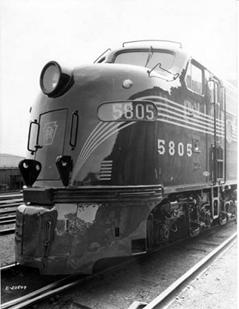 <![endif]> <![if !vml]>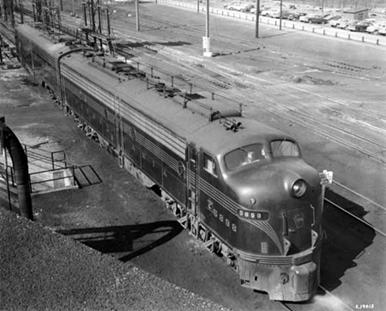 <![endif]>
There will be 4) E8a on this page eventually. The Overland E7a will require much more detailing work before painting than the E8. At 1 time I have 14 brass E units so I sold a A B A Set of E7 in 2012.
Overland
E8a 5716
This is my only Overland E8a. I bought it on eBay mostly just because it was already painted. I had never seen a single stripe E unit before. And it IS painted. Someone did a pretty good job painting the single stripe. I don't know the source for the rest of the decals. This paint job might survive and not get stripped in the future. I have made various improvements over the years in decoders and adding a 5MM LED headlight. I repainted the trucks, fuel tank, added all wheel pick up, real glass windows all around, and made the curved numberboards from clear medicine bottles I bought at a surplus store many years ago. I also added a little dusty weathering. It looks much better now than when I got it.
<![if !vml]>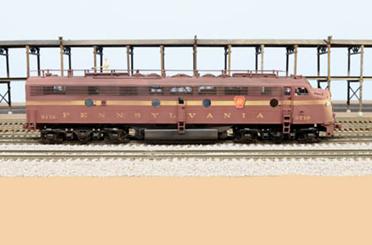 <![endif]> <![if !vml]>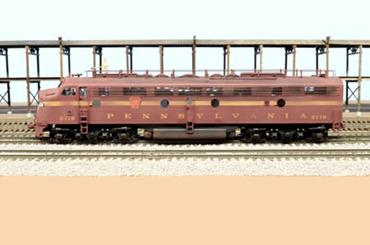 <![endif]> <![if !vml]>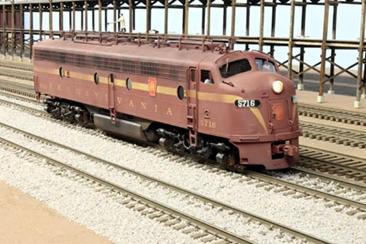 <![endif]>
River Raisin
When River Raisin released the E8 in 1991 some of us in the Central Jersey S Scalers made a group order to Walk Danylak of G&W Models. I bought 2 of the PRR version. Another PRR was ordered at the same time that I would eventually buy years later. Somehow it was agreed to send the order to me. I was in college photography classes at the time shooting lots of B&W film and doing all the film and photo processing. I don't remember if I got everyone's permission but I got them all out for a goof photo shoot on my module. This is by far the most S Scale brass E8 I have seen in 1 place.
In spite of buying these locos new in 1991 they had mostly never been run. I usually don't run unpainted trains. Part of the issue was I misunderstood hearing that the porthole rings were silver and were removable. In the 1990s without the internet photos were scarce. I thought they had to remain silver.  The rings ARE nickel silver on the model so I took a few out since I could never mask around them. The rings are glued in. I LOST 2 of them. They all sat in the box for all those years until summer 2020 when I dove in, made new rings on my lathe that once were painted matched the originals surprisingly well and fixed it all. The porthole rings are soldered in place now.
PRR 5711
I chose 5711 as the first number completed because of the Rich Taylor photo in Atlantic City. Coincidentally 5711 is still alive and very well as 1 of the 2 restored locos owned by Bennett Levin.
<![if !vml]>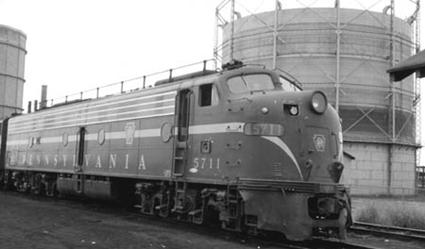 <![endif]> <![if !vml]>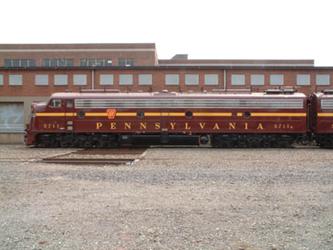 <![endif]> <![if !vml]>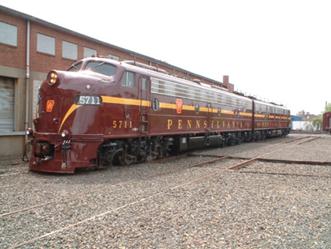 <![endif]>
                                Rich Taylor Photo Atlantic City NJ 8-4-62
1990s Overland Drive
One of the things I never liked about the Overland locos of the mid 1990s was using 2 small "HO" motors that were single shaft and not even coupled together. There is plenty of space in the shell. There was no reason to use such small motors. I already changed the 2 motors to one 22mm x 40mm motor on my 2 PRR RS11. I was real close to using the same motors here when I decided to try and somewhat match the original Overland 1984 "tank drive". Making the E unit fleet interchangeable and run well together is mandatory. I had 3 of the same 28mm x 40mm motors I was not using. The hope was using the same motor, almost the same truck gearboxes, and same decoder would make the newer E8 run well with the older run without extensive speed matching programming.  
The original drive is at the left. At right I made a new mounting plate soldering it to the underside of the frame and tried to lower the motor. I really prefer to have the driveshafts perfectly straight with the motor and gearboxes but that would require a much more complex machining of the frame and motor mount. The driveshafts are longer than the originals. I did not have any 2MM NWSL driveshaft stock so I used brass round stock I had. I recycled the brass U joint dog bones. This was the best compromise I could think of.
<![if !vml]>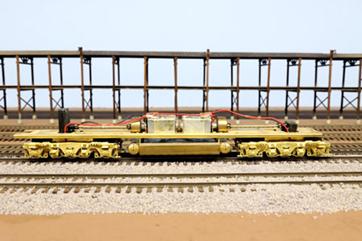 <![endif]> <![if !vml]>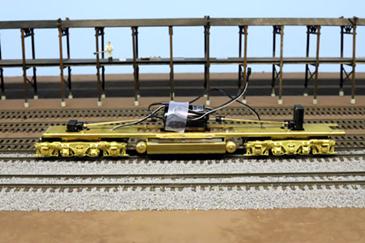 <![endif]>
This is the first time I have had to deal with stainless steel grills. The only way to get the paint behind the grills was to remove them first. If you know where to look you can also see a porthole ring that I made.
<![if !vml]>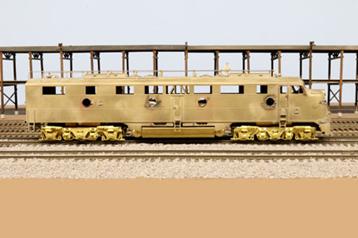 <![endif]> <![if !vml]>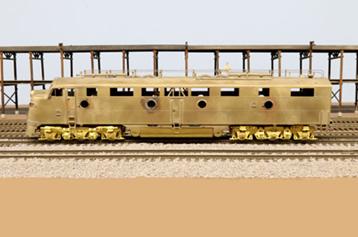 <![endif]> <![if !vml]>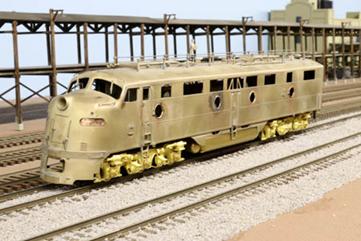 <![endif]>
If you are not from South Jersey you possibly did not hear about the now long closed Edmund Scientific in Barrington NJ. What a 1 of a kind store it was. They were big on educational kits and telescopes etc. But the surplus room was like no other. Truly ***anything*** could be found in that room, only until that supply sold out then it could be gone forever. You had to go every few weeks just to keep up with what was there. I got foot switches that run my 110v Dremels. Years ago I was looking for curved clear plastic. I looked down in the surplus room and there they were, bags of medicine bottles 10 for $1.00. I got 2 bags knowing I would need them – eventually.
Updated 8-22-20
All photos and content © Lanes Trains 2005-2020