<![if !vml]><![endif]>

Page 3

Added 10-26-14

As previously mentioned the track on one side of my loop was laid quickly with the intention of being temporary. At that time I did not have a track plan in mind and just wanted to complete the loops to get running.

This included 2) #8 crossovers made by Custom Trax http://custmtrax.com/ I was using them with Caboose Industries O Scale ground throws. They are the only ready to use code 138 S Scale turnout I know of. They were pretty good but had their issues especially in the frogs that caused lots of flash shorts. This is the original frog. I replaced the frogs with Protocraft castings which helped but they did not match the rest of the track. This added to the temporary aspect of the track in that area.

I wanted to reverse the direction of the crossovers on that side, and decided to make them #10 as well. I had the room so why not. When using "right hand running" the crossovers continually alternate in direction.

John the turnout maker got busy and made the needed #10 crossovers using the Protocraft #10 code 138 turnout kit in October 2014. Since I already had a buyer for the Custom Trax turnouts I got busy switching them out as soon as I got the #10 from John.

I did not make a control panel yet mostly because the code 100 track behind the crossovers needs some figuring out. Those turnouts will also be powered and included on the control panel. So for now the #10 crossovers are fully wired and functioning via just a toggle switch temporarily on a bracket but without the bicolor LEDs.
These are the first turnouts that all of the Protocraft turnout kit castings have been used. They just look awesome!
 <![if !vml]>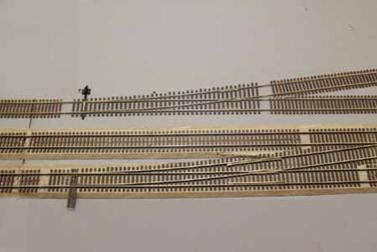 <![endif]> <![if !vml]>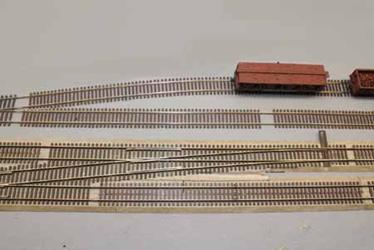 <![endif]><![if !vml]>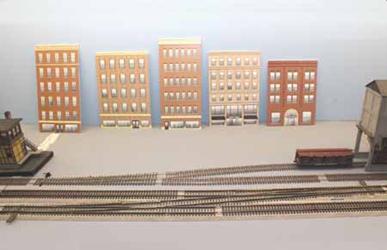 <![endif]>
<![if !vml]>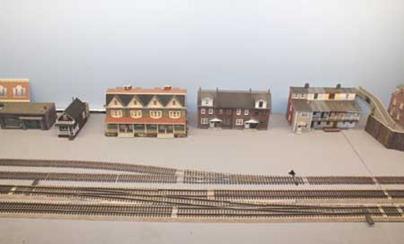 <![endif]> <![if !vml]>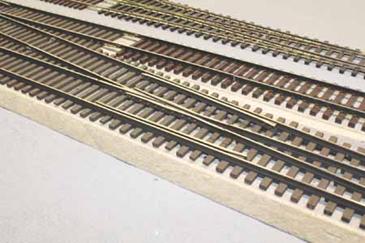 <![endif]> <![if !vml]>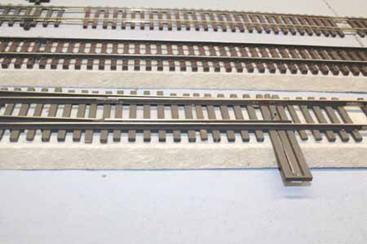 <![endif]>
There is about 20 feet of train here between the crossovers
<![if !vml]>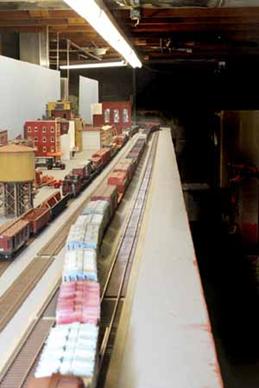 <![endif]> <![if !vml]>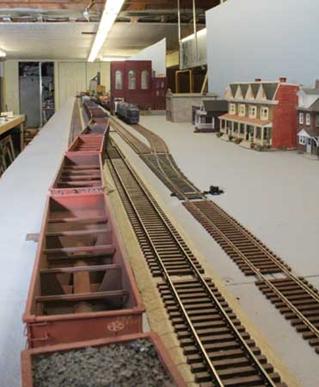 <![endif]>
Moving The Fluorescent Lights
Added 12-29-15
I have wanted to move this overhead row of fluorescent lights since I made the layout 14" wider on 8-17-13. The lights were originally installed as a guess where the layout might be before it was built. It was a pretty good guess. The lights were about 12" off the front edge. The layout move quickly made it very evident lights right over the layout are not as good for photography as lights on the front edge. You can see the front side of the trains on this side of the layout is not well lit here and here, but is much better lit here on the other side of the layout. Fluorescent lights are not the best for photography but it is the best to easily light a large space.
Installing 8 feet long light fixtures by myself without the layout was doable. Moving and reinstalling them by myself with mounting screws 7 feet apart was not fun! I took everything off the layout on this side for "just in case". I did not need anything smashed. I was correct. The very first fixture moved fell on the layout with the first screw removed.
I wanted the lights to be straight so I ran a string to follow on the joists. 2 of the 4 fixtures had to be lowered on 4" spacer brackets I made to clear drain pipes. This was a part of the delay in starting this project, - figuring out how to clear the pipes. Now the layout lighting effect is more uniform. The front side of the trains are better lit, which was the goal in moving the lights.
The last photo is the other side of the layout with LOTS of trains moved for the light moving project. It made for a nice FULL yard effect, but was layout bound. No room to run!
<![if !vml]>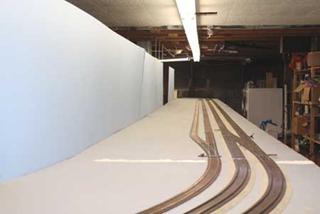 <![endif]> <![if !vml]>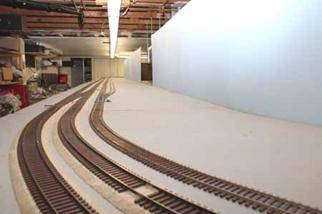 <![endif]> <![if !vml]>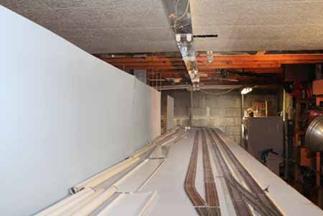 <![endif]>
<![if !vml]>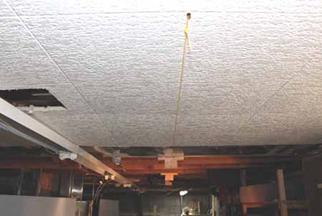 <![endif]> <![if !vml]>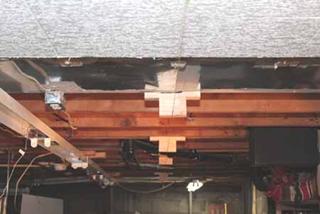 <![endif]> <![if !vml]>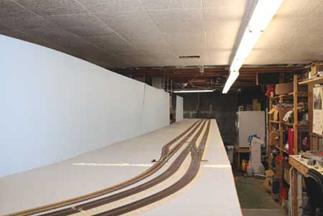 <![endif]>
<![if !vml]>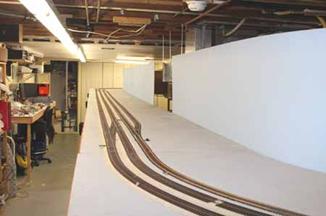 <![endif]> <![if !vml]>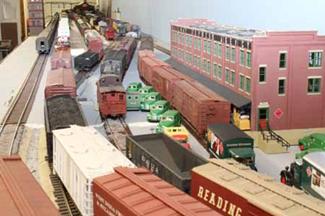 <![endif]>
Reading Modeling Binge
Added 2-6-16
In the spring and summer of 2015 I went on a Reading modeling binge as a diversion to my usual PRR modeling, and to add much more "R" into my PRSL modeling. Looking at the Steam Loco page and Passenger Car page will show some of the models in better detail. But I just really liked THESE photos taken on 8-2-15 as a culmination of what I was doing with my Reading modeling. 
More to come at some point.
<![if !vml]>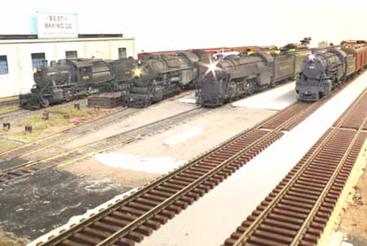 <![endif]> <![if !vml]>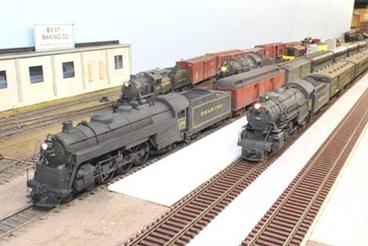 <![endif]> <![if !vml]>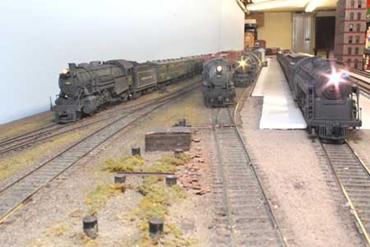 <![endif]>
<![if !vml]>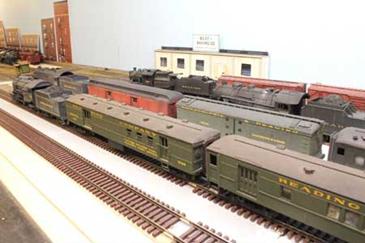 <![endif]> <![if !vml]>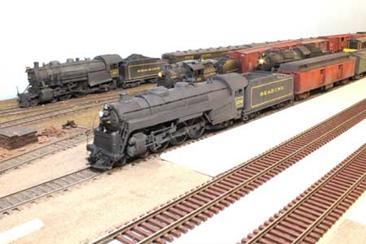 <![endif]>
Added 12-17-16
A little bit of "Modern" Modeling
Not many changes have happened to the layout in a few years, but I have been on a modeling run from project to project. As a result of me getting my Conrail SD-40-2 running since about 1990, and getting my Conrail SD-60, I went on a "modern" (for me) modeling binge. A bunch of plastic cars were bought to make a more era appropriate train for the SD40-2 and SD-60 to pull. It was mostly some Spine trailer cars and Husky Stack container cars. The Husky Stack cars are SO much higher than the transition era rolling stock when loaded with 2 stacked containers.
<![if !vml]>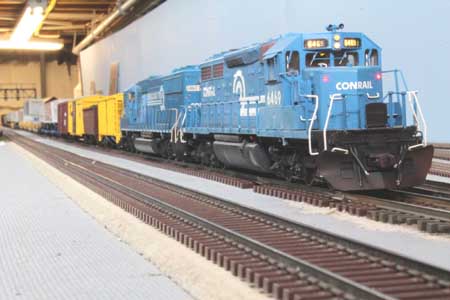 <![endif]> <![if !vml]>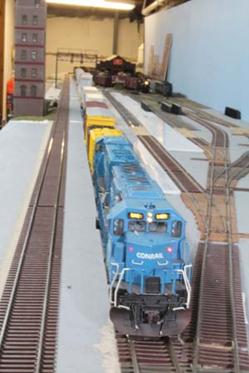 <![endif]> <![if !vml]>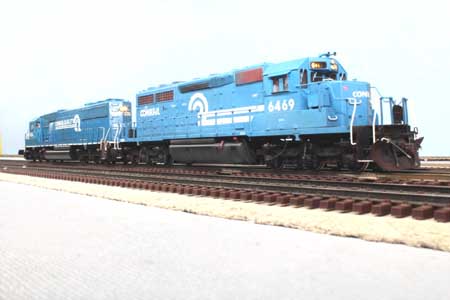 <![endif]>
<![if !vml]>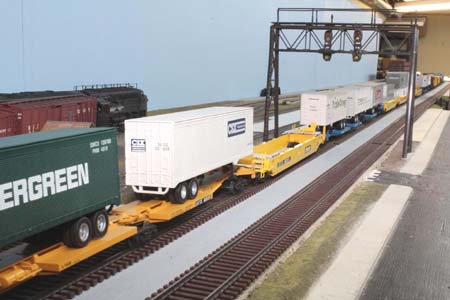 <![endif]> <![if !vml]>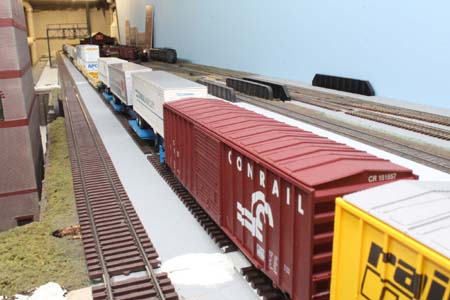 <![endif]>
This is a little time warping posing with my American Flyer ES44AC.
It is still "modern"!
<![if !vml]>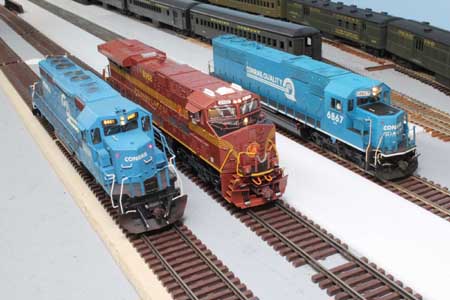 <![endif]>  <![if !vml]>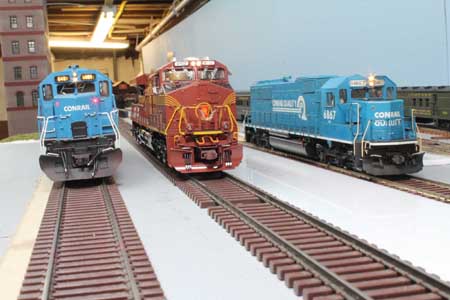 <![endif]>
<![if !vml]>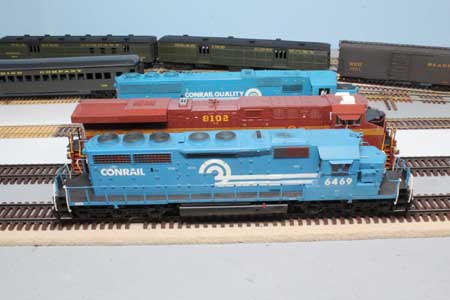 <![endif]> <![if !vml]>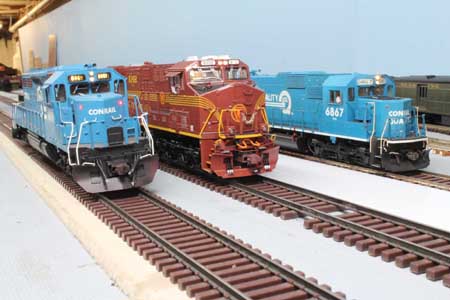 <![endif]>
Added 12-31-16
Reading Yellow & Green
I ended 2016 with the addition of some yellow and green Reading equipment that is late 1960s and early 1970s. The RS3 and boxcars are American Models. I added a decoder and LED headlights. The caboose is S Helper Service. I have come to like the scheme a lot but I would never paint it. The RS3 was from the original S Helper Service release.
<![if !vml]>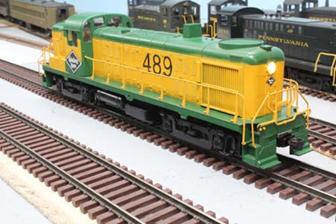 <![endif]> <![if !vml]>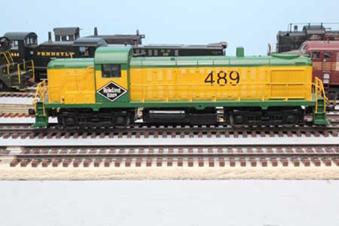 <![endif]> <![if !vml]>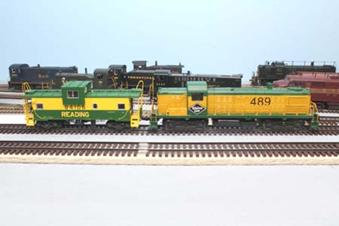 <![endif]>
<![if !vml]>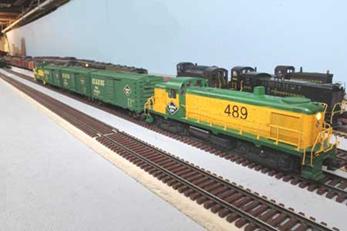 <![endif]> <![if !vml]>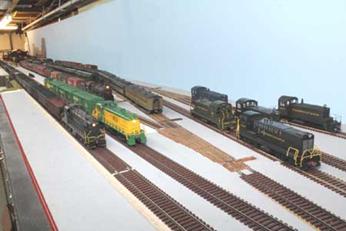 <![endif]>
Added 1-11-17
As a part of my Conrail modeling I bought 3 Conrail H39 hopper kits that were made by my friend the late John Craft in about 1993. I campaigned heavily for the H39 to be a H21 but did not win. In December 2016 I assembled the 3 kits which included installing the individual wire grab irons. Almost nothing about the kit fit together like it was supposed to. Never again – I will never assemble this car as a kit. The H39 project had issues. Just as production was supposed to start John sold to Des Plaines Hobbies which owns and produces this car today as ready to run.
<![if !vml]>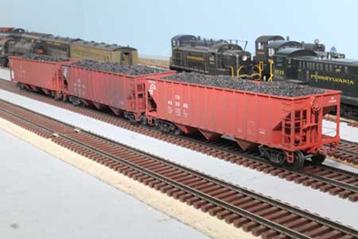 <![endif]> <![if !vml]>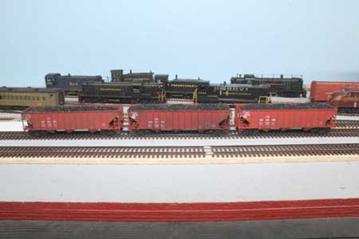 <![endif]> <![if !vml]>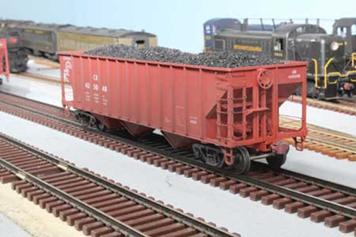 <![endif]>
<![if !vml]>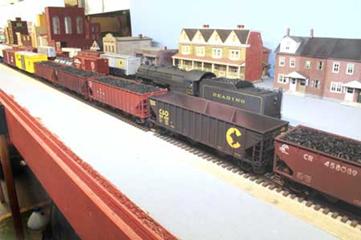 <![endif]> <![if !vml]>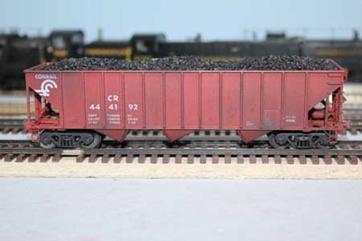 <![endif]> <![if !vml]>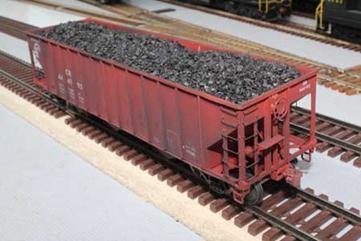 <![endif]>
At almost the SAME time as modeling Conrail, I was fiddling with a new Overland A B set of B&O F
Units and B&O S12.  I did some posing of the "small" B&O locomotive collection.
<![if !vml]>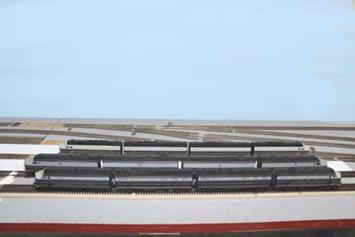 <![endif]> <![if !vml]>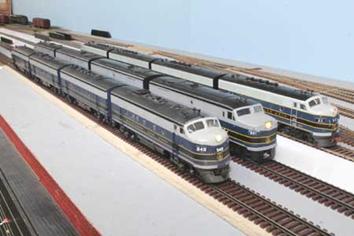 <![endif]> <![if !vml]>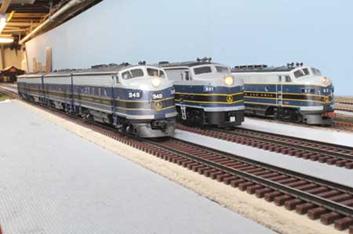 <![endif]>
<![if !vml]>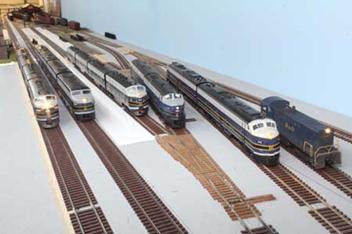 <![endif]> <![if !vml]>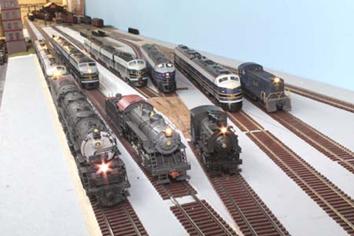 <![endif]> <![if !vml]>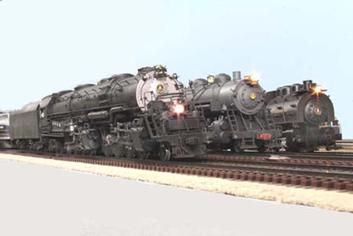 <![endif]>
PRR Alphabet
Added 2-12-17
I upgraded K4 5387 on 2-17-17 so I posed it with 5495. I also posed the painted PRR locos in alphabetical order. 1) J1, 2) K4, 2) L1 and 1) M1. My I1 are not shown yet. A M1 and M1b are also not shown.
<![if !vml]>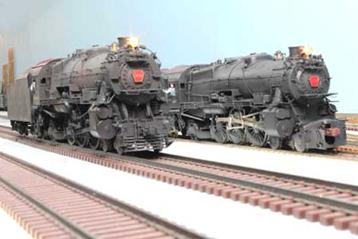 <![endif]> <![if !vml]>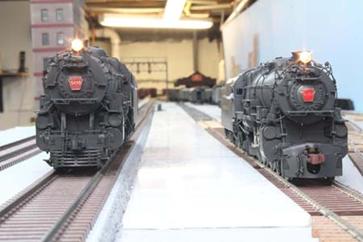 <![endif]> <![if !vml]>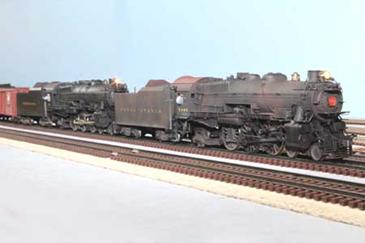 <![endif]>
<![if !vml]>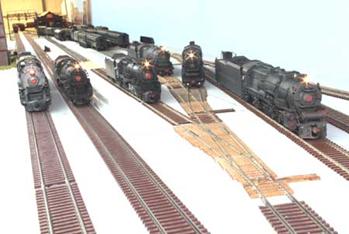 <![endif]> <![if !vml]>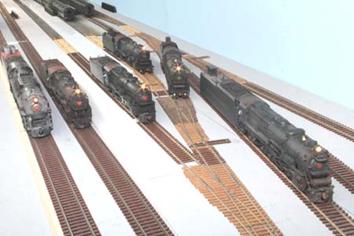 <![endif]> <![if !vml]>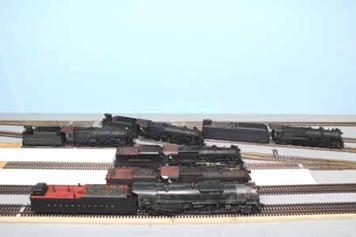 <![endif]>
Added 7-23-17
On 5-14-17 my I1 were completed so I added them to the PRR alphabet poses. I was VERY happy to see them all completed and together.  I have been running double headed L1 and I1. What a complete feeling of accomplishment after having many of these locos in the box for 20+ years.
<![if !vml]>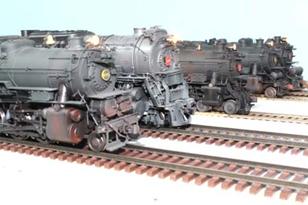 <![endif]> <![if !vml]>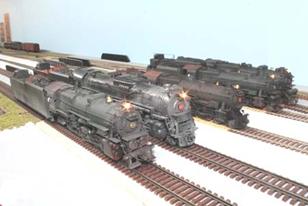 <![endif]> <![if !vml]>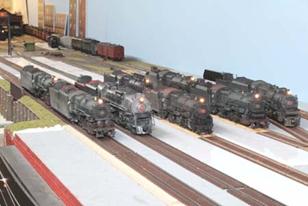 <![endif]>
I just LOVE this photo!
Added 7-23-17
110 Car Train
I have been running my American Models PA set just for a goof even though it is far from being completed. As usual I have to see what it can pull...  It is an A-B-A with set 6 motors total. It pulled 60 cars without effort.
I grabbed almost every freight car on the layout. They are mostly plastic cars with S Helper Service trucks. It started as 26 inches between the PA pilot and rear coupler on my N8. The PA set moved it but was slipping a bit. I think with some weight in each the PA set could have moved it with minimal to no slipping.
I am not the best at math and circumference, but I figured that my main lines are about 100 running feet. It is 48 feet of straights, the 4 turns and the short straight between the turns. The train is 110 cars, by far my longest train ever. Once I put my M1a on the front of the PA set the train moved just fine. That reduced the open gap to about 11 inches, not a lot of time to react to a problem.
I am not going to say it was pretty. There were some issues. Grumpy cars got put on the rear. I made almost 1 clear lap and I stopped running it. There was almost no reaction time if a car became uncoupled and the train raced forward. I don't want to bust the draft gear off the N8. It got about 6 significant shots so far so I am not risking it….. NO Kadee couplers were harmed in the pull test! But I now believe even more that since I weight my plastic cars much heavier than most of 6 to 10 ounces, that made this train run at all.
<![if !vml]>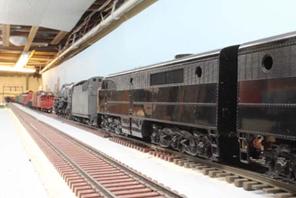 <![endif]> <![if !vml]>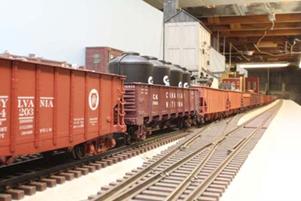 <![endif]> <![if !vml]>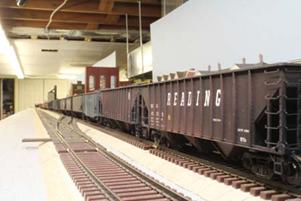 <![endif]>
<![if !vml]>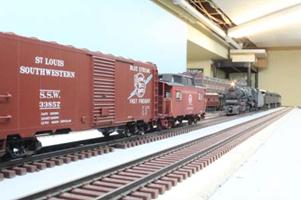 <![endif]> <![if !vml]>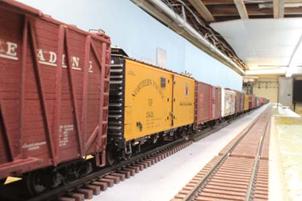 <![endif]> <![if !vml]>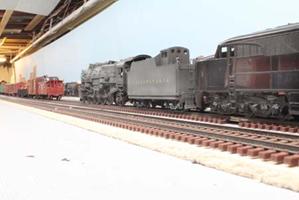 <![endif]>
Added 11-18-17
5 Reading Faces
In November 2017 I bought another Frank Titman built locomotive, a Reading M-1sa, bringing my Frank built collection to 3 and Reading Steam collection to 5. I took these photos 11-14-17. I also doubleheaded 1728 with my I-10sb. The headlight reflection from my PRR I1 tender was awesome.
<![if !vml]>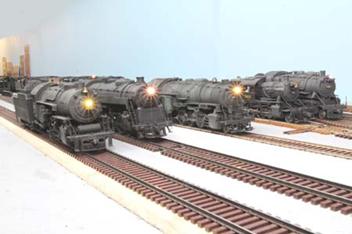 <![endif]> <![if !vml]>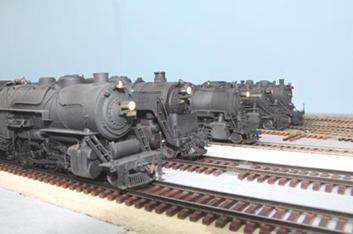 <![endif]>
<![if !vml]>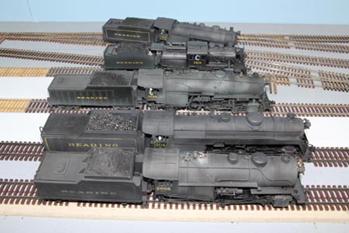 <![endif]> <![if !vml]>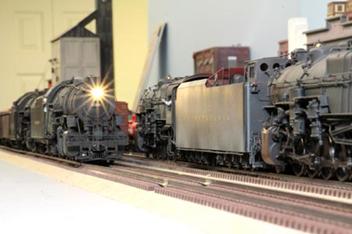 <![endif]>
Added 2-10-18
I do not run my GG1 much since I have no plans on ever making catenary. But since I just got a 4 car set of Budd cars (I already had 1 car) I got the old girl out for a spin. They are all stock out of the box American Models.
The Budd cars are unfortunately about an inch shorter than they should be for the American Flyer market. I have grown to be a bit more forgiving in some ways and really like these cars now. They are LIT, something I never do on my own.
So this is my sort of Congo.... It is striking in my sea of Tuscan and Pullman Green.
<![if !vml]>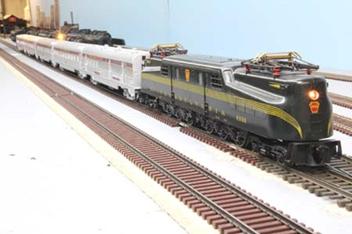 <![endif]> <![if !vml]>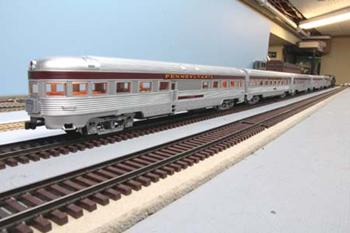 <![endif]>
<![if !vml]>

<![endif]>
<![if !vml]>

<![endif]>
<![if !vml]>

<![endif]>
<![if !vml]>

<![endif]>
<![if !vml]>

<![endif]>
Updated 11-30-20
All photos and content © Lanes Trains 2005-2021