<![if !vml]><![endif]>

I have found that the opening hatches on covered hoppers to be very annoying, especially when I am painting the cars. I solder them shut on my brass cars. There is nothing in there to see anyway!

Airslide Hoppers

These Airslide Hoppers that were imported by River Raisin Models in 1988. I added draft gear, and cut levers.

B&O Airslide

When I learned that the PRR had the 1965 Airslide I searched for a paint scheme for my second car. I found that the B&O had 10 of the 1954 Airslide hoppers. While there are no known photos of it, I have been told by B&O freight car Guru Chris Barkan that I am probably close to being correct with my car.

I painted 630076 for me, and added cut levers and draft gear. 830038 was painted for soemone else, possibly at the same time. It came back to me in February 2018.

<![if !vml]><![endif]> <![if !vml]><![endif]>

Added 2-18-18

<![if !vml]><![endif]> <![if !vml]><![endif]>
Conrail H56a 3 bay Hopper
Added 5-9-23
Conrail "Erie Dunmore" 4 Bay Hopper
Added 3-29-22
This is a Funaro & Camerlingo "Erie Dunmore" 4 bay hopper. It is an older urethane kit from 1992 that is individual wall panels not a 1 piece shell casting. I have heard it was a difficult kit to assemble so I never bought one. In January 2022 I was contacted about a large S layout in Langhorne PA (about 40 minutes away) I never knew about that existed for 30+ years but was being liquidated because the owner was deceased. I wished I knew him when he was alive! This is 1 of the cars I purchased. It was very nicely assembled but not painted. This car could be Conrail as well so I contacted Circus City Decals and got them made. Photo 1 is how I have gotten many custom decal sets made scanned at 100% with a ruler in the frame. It works out very well. The decals fit perfectly. I did a little weathering. I just can't seem to get the subtle colors to photograph well. This is now a very unique car not often found on other S Scaler's layouts.
<![if !vml]>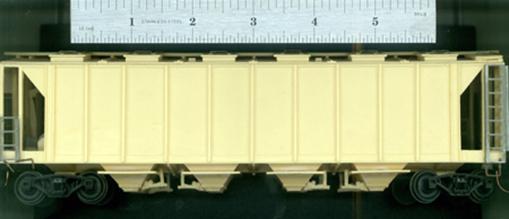 <![endif]> <![if !vml]>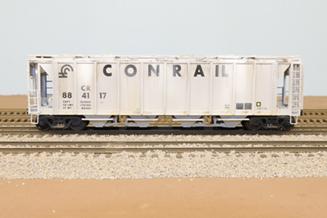 <![endif]> <![if !vml]>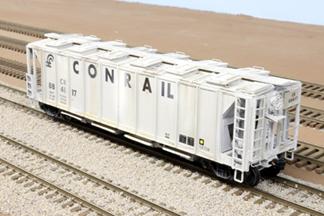 <![endif]>
PRR H30
Completed 1-20-14
These H30, H30a and H32 were imported by River Raisin Models in 1989. I added draft gear, cut lever brackets, cut levers and trust plates to both cars. For H30 254351 it was a sharp departure for my usual "dusty" weathering style. It is by far my most aggressive weathering to my own cars to date. More will be coming. Note the PRSL Return to data.
Added 1-25-14
<![if !vml]>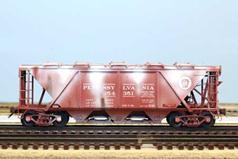 <![endif]> <![if !vml]>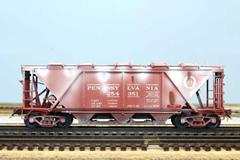 <![endif]> <![if !vml]>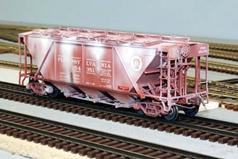 <![endif]>
<![if !vml]>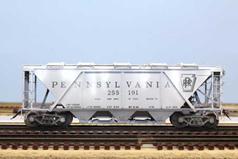 <![endif]>  <![if !vml]>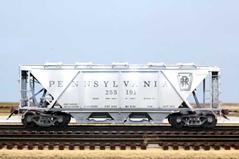 <![endif]> <![if !vml]>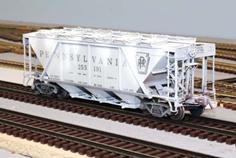 <![endif]>
PRR H30a
255765
I modeled this car after PRR Builders Photo E20553, which meant some extensive cutting of the decals and individual pieces to match the car. But I do not have the same trucks as the car in the Builders Photo. I added draft gear, cut levers and Trust Plates to this model.
<![if !vml]>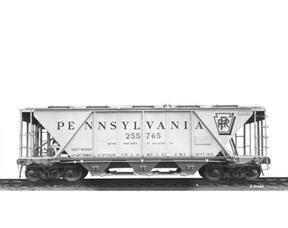 <![endif]> <![if !vml]>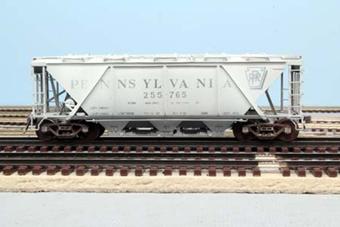 <![endif]>
<![if !vml]>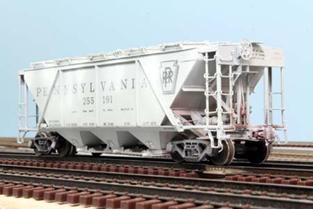 <![endif]> <![if !vml]>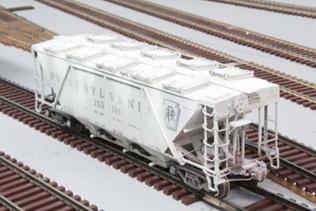 <![endif]>
PRR H32
253789
The H32 was imported at the same time as the H30 by River Raisin Models. My friend Gus painted this car in about 1990 before I started painting my cars.
<![if !vml]>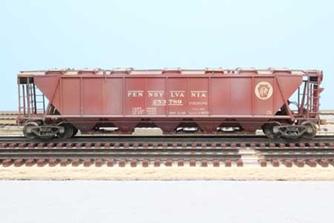 <![endif]> <![if !vml]>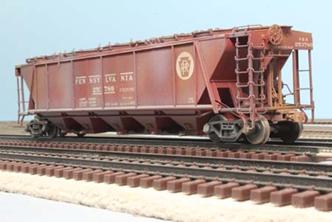 <![endif]>
253629
This car has an interesting history. It was damaged when I bought it. A large unfriendly object was dropped on the roof caving it in somewhat. I unsoldered the roof, took it off, straightened everything out, and reattached it. I added cut levers, draft gear and Trust Plates to this model.
<![if !vml]>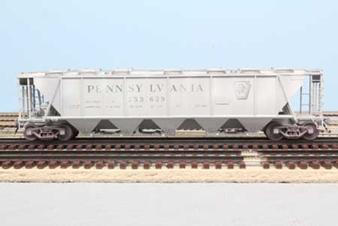 <![endif]> <![if !vml]>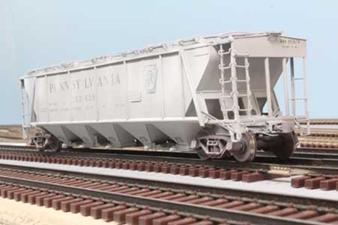 <![endif]>
B&O N34 Wagontop Hopper
River Raisin imported the B&O N34 hopper in July 1993. I added the draft gear and cut levers to both cars
N&W ACF Hopper
This car was made by Overland in the late 1980s. It is one of a very few brass cars I painted for myself that may be less then accurate. I am not sure if N&W had a car like this with the notched center. I had the car and the decals. You can see what I did with them.
Penn Central Hopper
Southern "Big John" Hopper 7907
Added 1-8-23
This is an old school wood kit made by Amity Star Models in 1983. I decided I wanted one and bought a kit from Bob Werre in November 2022. Just my luck a week later this car popped up on eBay so I bought that too. I still want to get the kit assembled – I don't assemble wood kits. This car is very popular with Southern modelers. The car is nicely assembled but being all wood with no extra weights is a bit light. At 100 ton capacity it is a BIG car almost the size of a SD40-2.
<![if !vml]>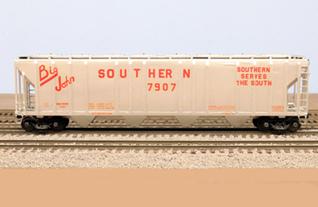 <![endif]> <![if !vml]>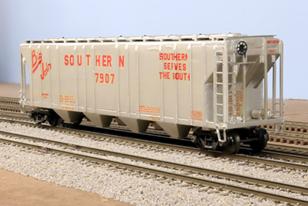 <![endif]> <![if !vml]>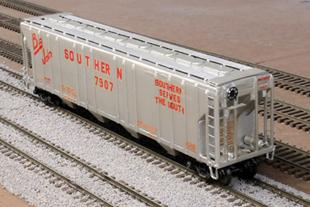 <![endif]>
Updated 5-9-23
All photos and content © Lanes Trains 2005-2023