The S12 was a significant loco for the PRR and especially the PRSL. I saw a B&O S12 on eBay first so that got the buying started going from none to 6 in a year!
This is the B&O S12 I bought first. You can see the Alco RS3 trucks. They are not bad but are not correct either.
Making 2 Locos Into One
I had heard of how others were modifying their S12 with correct trucks. When S Helper Service was in business you could just buy the correct AAR trucks and cobble them to the American Models frame. Of course I never bought any loose trucks when it was easy. Now I have to buy a perfectly good S Helper Service switcher, gut it like a fish for the trucks, and hopefully sell the remaining carcass. It is still a rather expensive process bashing 2 locos into 1. Not all of my S12 will get the correct trucks. The above B&O is staying as is. But for every S12 I correct I have correct RS3 trucks for that project.
RS3 to S12 Custom Frames
There is a bit more of a tie from the RS3 to the S12. This project started working on a RS3. The brass S Scale RS3 drives from 1983 died with age so I wanted to make new RS3 drives. This RS3 came up for sale on eBay in November 2016 with an expertly machined custom frame using American Models trucks. It was absolutely brilliant. I measured it extensively, designed it is Solidworks and tried to get more machined but they were too expensive. A freind suggested 3D printing of metal, something I had never done. The first RS3 frame had shrink I did not know about and was not usable but it was the proof of concept needed. This definitely was the way to go, and was much cheaper.
At the same time as the RS3 was sold, I bought a S12 with this custom frame very likely by the same machinist. The correct AAR trucks were included. I wished I knew who he was because he had "serious machining skills" and was a basher like me. Based on what was sold he was a PRR modeler as well. This frame was hogged out of brass bar stock. This was the CORRECT frame and trucks for a S12. I measured and designed it in Solidworks as well.
This is the first print S12 frame. It was much closer to being usable than the RS3 frame, but needed some tweaking.
<![if !vml]>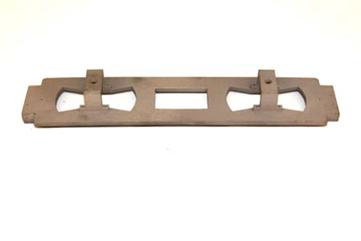 <![endif]> <![if !vml]>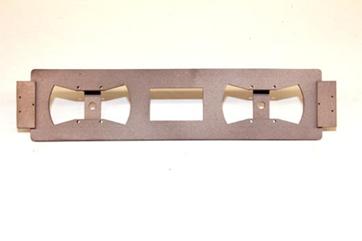 <![endif]>
Yet another unexpected aspect is that the stainless and bronze composite material was amazingly hard and could not be drilled or easily machined. I decided to get medieval with it by trying to anneal the metal. I got it dull cherry red and wondered if it would delaminate or fracture. Not in the slightest. It is all but a solid piece of metal just like bar regular stock. The annealing helped a bit. I could get some milling done but my Big Green Machine was not happy. Note the chips turning brown. Drilling small holes is still not possible though.
<![if !vml]>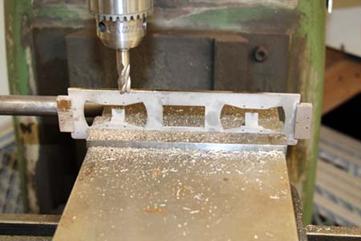 <![endif]> <![if !vml]>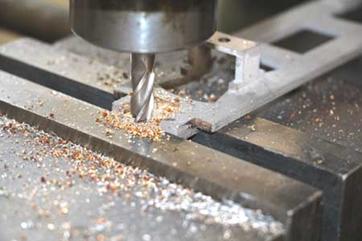 <![endif]>
<![if !vml]>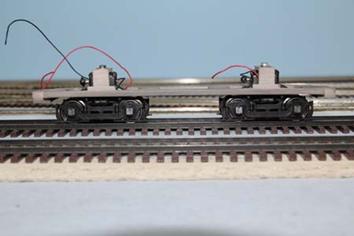 <![endif]> 
Shown with some very quick and dirty temporary decoder installations. The NWSL 2032D-9 motor runs well.
<![if !vml]>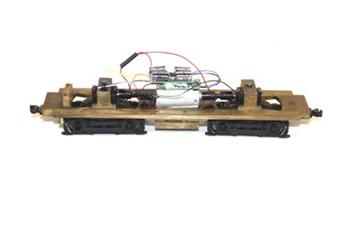 <![endif]> <![if !vml]>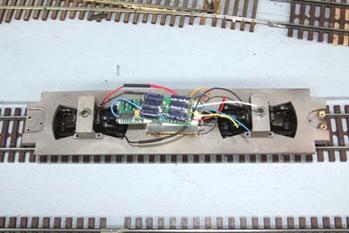 <![endif]>  <![if !vml]>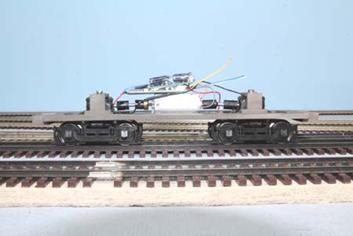 <![endif]>
The original and my copied S12. The current plan is making 2 for PRSL, 2 for PRR and 1 for Reading as a DS-4-4-100.
<![if !vml]>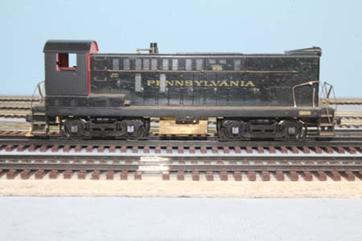 <![endif]>  <![if !vml]>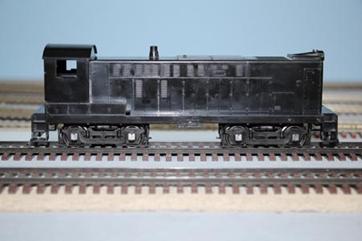 <![endif]>
Added 9-1-19
This is my S12 frame V2019. I have abandoned trying to make the S12 frame with metal 3D printing. Dialing in the shrink factor got expensive. It is more "work" but machining the original frame is free. Any time I can make chips fly is just fun. A man has got to occasionally get in touch with his inner milling machine. The conversion to the correct trucks is $10.00 worth of 3D printed brackets. That is all that really needed to change anyway. When the machining is done the original frame is all but reduced to a flat plate but it works and fits fine. I plan on making a correct draft gear so that will move the couplers to the shell and require more frame machining by removing the coupler pad.
The NWSL 2032D-9 motor is VERY low profile. The cab is empty! You can put an interior in it. I do have a WOW4 installed. The slow speed capability is just awesome.
<![if !vml]>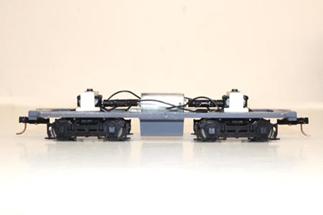 <![endif]> <![if !vml]>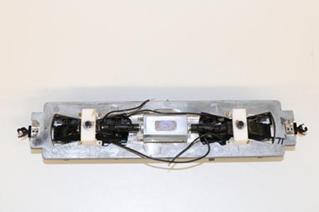 <![endif]> <![if !vml]>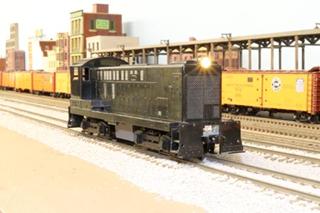 <![endif]>
Added 9-28-19
On 9-2-19 I went to SMS Railroad in Logan Township NJ that is likely the last place in the country running Baldwins on a daily basis still making a living.  I did some measuring and had some new parts made. Everything turned out really well. The draft gear is perfect with correct coupler height. I also made the end handrail bracket and handrail base for the side handrails. There are a few more things I want to make. I have to look at air and fuel tanks, and pilot steps. The Shapeways brass casting service is a bit expensive but just what I need here. The quality is absolutely excellent.
<![if !vml]>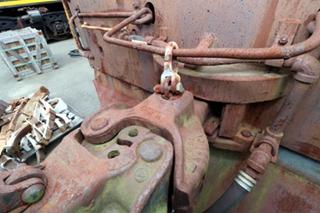 <![endif]> <![if !vml]>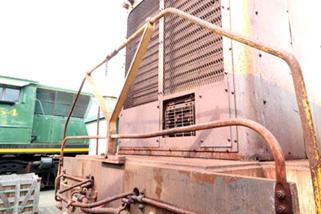 <![endif]> <![if !vml]>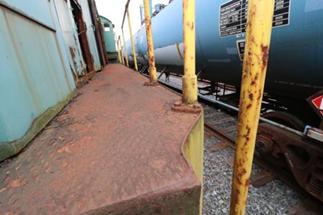 <![endif]>
These are Solidworks screenshots.
These parts are available for sale in my Shapeways Store.
<![if !vml]>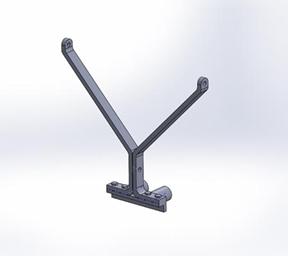 <![endif]> <![if !vml]>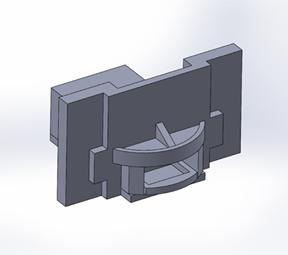 <![endif]> <![if !vml]>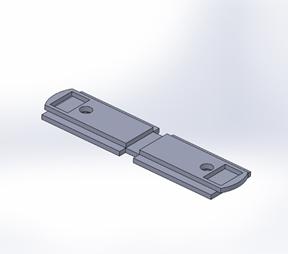 <![endif]> <![if !vml]>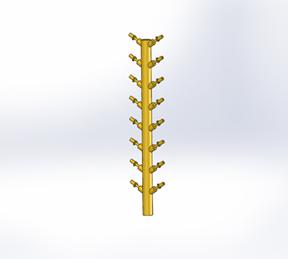 <![endif]>
I used holes already in the shell for mounting the original handrails. The bar across the handrail posts was added by Shapeways so they could print it. It was easily removed.
<![if !vml]>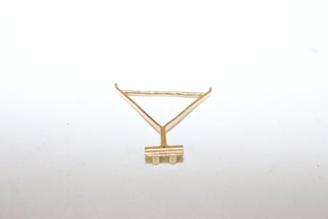 <![endif]> <![if !vml]>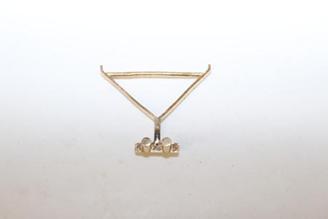 <![endif]> <![if !vml]>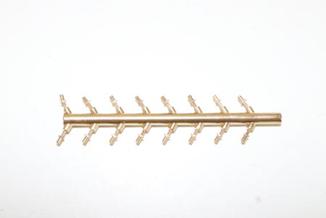 <![endif]>
<![if !vml]>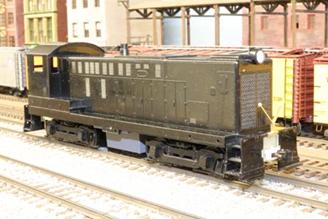 <![endif]> <![if !vml]>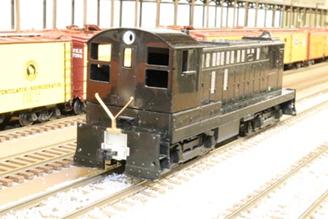 <![endif]> <![if !vml]>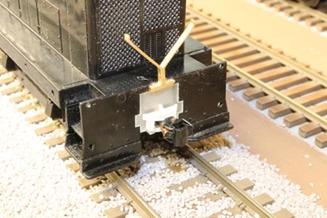 <![endif]>
Added 1-12-20
Handrails
This is my S Scale universal 1 size fits all handrail kit – some assembly (bending) required. I have been using phosphor bronze wire for over 25 years. It is much better than brass wire. This is a handrail bending fixture I designed. There is no way I could have bent the end handrail uniformly for 6 locos. I start at the lower left and bend until the posts have to be added than finish the wraparound. The "C" in the center is for the side handrails. I had to modify it slightly for that use.
<![if !vml]>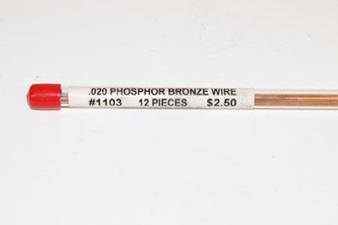 <![endif]> <![if !vml]>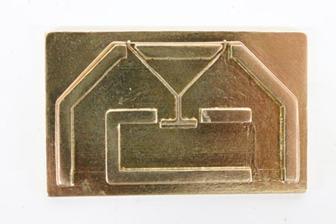 <![endif]>
Progress has been a bit slow. Making handrails is very time consuming even with my custom parts. The handrails are mostly done here. I am allegedly doing it 5 more times!
<![if !vml]>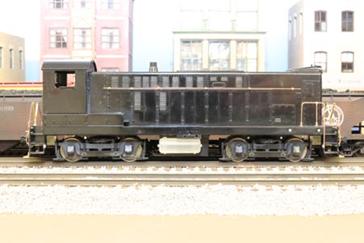 <![endif]> <![if !vml]>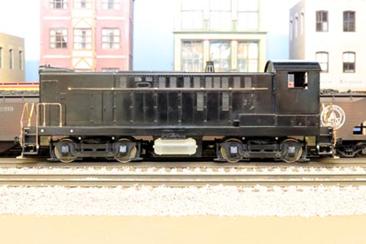 <![endif]>
<![if !vml]>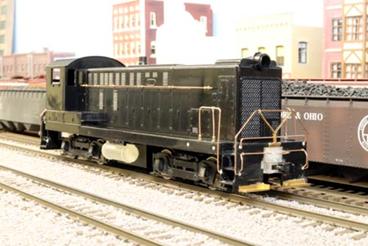 <![endif]> <![if !vml]>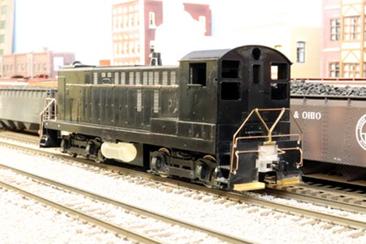 <![endif]>
Updated 1-12-20
All photos and content © Lanes Trains 2005-2020