<![if !vml]><![endif]>

<![if !vml]><![endif]>

Howie's Shay

In the mid 1980s PBL made this WSLC Shay #12. Since the real #12 was both standard and narrow gauge PBL made both versions as well. My model #12 is standard gauge. It would not be much use to me other than a shelf model if it was narrow gauge. I have no plans to add narrow gauge track to the layout.

My friend the late Howie Waelder was not an S Scaler but bought it anyway because the side rod action intrigued him. Howie had no S layout at that time, just a single piece of S Scale flex track. He ran it for a literal 3 feet when it spilt a gear disabling it for many years. Howie was referred to the Central Jersey S Scalers club from the hobby shop and the rest is history. The friendships made and the good times had for over 25 years simply cannot be measured.
The late Bill Daiker eventually got the Shay running. I did see Howie run it once - very briefly.
It runs amazingly well.
This is the locomotives that got Howie interested in S Scale, and eventually lead to us meeting.  A relatively small purchase was directly responsible for impacting and enriching so many lives.
In November 2007 I had a very unexpected opportunity to buy this engine that was of great sentimental value to Howie and now me as well.
It is an honor for me to now own this engine.
<![if !vml]>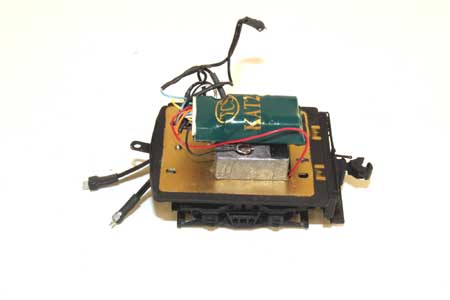 <![endif]>  <![if !vml]>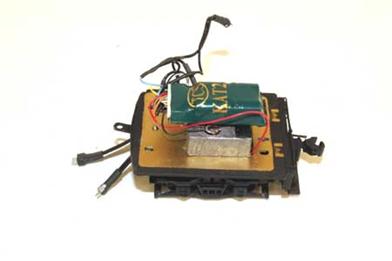 <![endif]> <![if !vml]>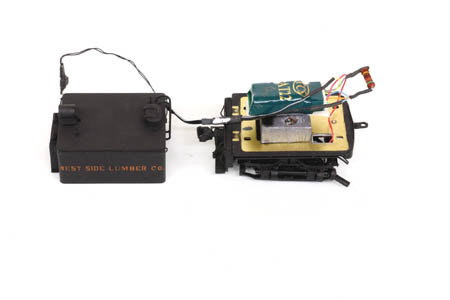 <![endif]>
Just for a goof I posed #12 next to the giant PRR J1
<![if !vml]>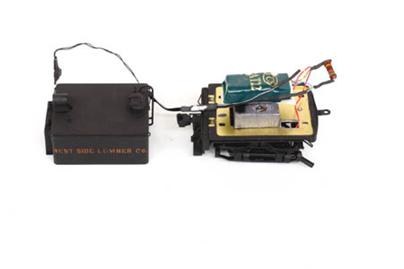 <![endif]> <![if !vml]>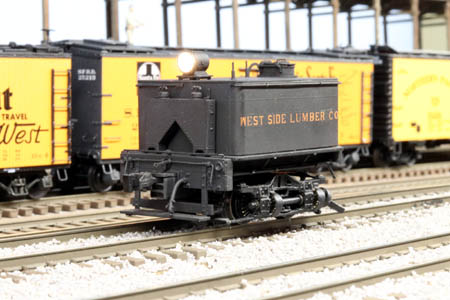 <![endif]>
Posed with the Bobber Caboose I made to go with the logging train.
<![if !vml]>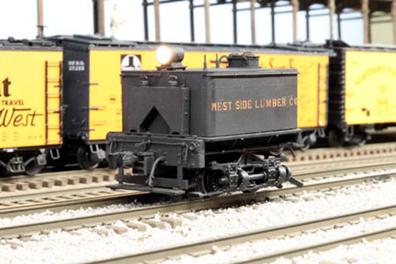 <![endif]>
Added 8-16-16
In August 2016, as a part of my program to update all locos to LED headlights and better decoders, I took out the NCE N12SR decoder and installed a TCS KAT22 with a Keep Alive capacitor bank. The NCE decoder was very small, but still STUFFED in with the motor. There is no spare space in this loco. I had to move the TSC decoder into the tender requiring 6 wires going between the loco and tender. I hated doing that but I had no choice. I had to mill about 1/8" off the tender weight to fit the decoder on top. The 4 pin plug is for the motor and front headlight. The 2 pin plug is for power pick up from the loco trucks.
The hole behind the stack for the headlight wire was already there when I got it. I would have routed it up from the bottom if the boiler, but that needed to be done before painting. I just had to slightly hole enlarge the to get the LED in place. The back of the headlight is filled with Nitro-Stan body filler to stop light leaks.
<![if !vml]>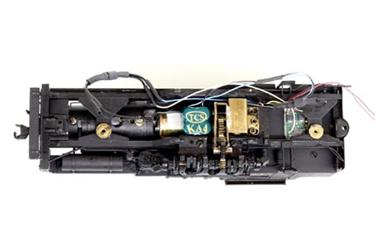 <![endif]> <![if !vml]>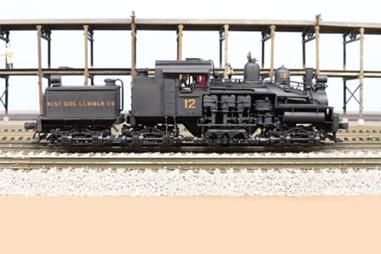 <![endif]>
Updated 2-25-18
All photos and content © Lanes Trains 2005-2018