<![if !vml]><![endif]>

Purchased 3-28-12

Completed 1-16-14

Chad Boas made a urethane casting of the Seaboard F-6 flatcar in 2012. I bought 1 to just support the project with the wood deck and decals from Jerry Glow. That was the total extent of the kit and purchase at that time. At the end of 2013 on a complete impulse I decided it was time to build the car. It was just after another project of making a Seaboard Express boxcar. The only items I did not already have were Grandt Line stake pockets and the eventual decision to buy Tru Color paint for the Seaboard freight car red.

Bare Casting

<![if !vml]><![endif]>

<![if !vml]><![endif]>
Centersill Weight
Since it is urethane and very light I had to add weight because I wanted to be able to run the car without a load anywhere in my trains that usually have a lot of brass cars. I figured milling out the centersill would be easier than trying to hide weights everywhere else. Chad did a nice job of simulating the underside of the wood deck so I wanted to keep that. I also wanted something "metal" to stabilize the urethane to change any possibilities of it warping.
I wanted to use my milling machine to cut the centersill slot. But the milling machine could have chomped the car into a mangled mess in 1 second flat if it popped out of the vise so I decided to cut the weight slot with a Dremel and carbide cutter.
Many years ago I made simple wood molds to cast weights. This would be easy. I laid it out on a small piece of pine. I hoped that the weight would pop right out but since I was only making one I would split the mold apart if I had to. Milling the wood for the mold was fun. It is the first time I have done it with this machine. The straight side was easy but cutting the diagonals was tricky since it is BILL powered not CNC. I placed some 1" wire nails in case it needed help coming out of the mold. I forgot that lead bubbles up so when I poured for a full fill the center was thicker than would fit in the centersill. COOL! I get to use the milling machine again. I took about .030 off to get back to the .25 width I needed. I did NOT have to split up the mold to get the weight out so it survived to cast for another day. When I was done machining the weight with the exception of the length that came up a little short for some unknown reason it fit perfectly! There was a little WHOOSH when I slid the weight right into the centersill! According to my rickety old mail scale the weight cast out at about 4 ounces which is just what I was hoping for.
I am not encouraging anyone to cast lead weights. Molten metal of any kind is dangerous!
<![if !vml]>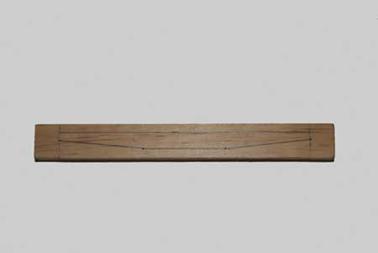 <![endif]> <![if !vml]>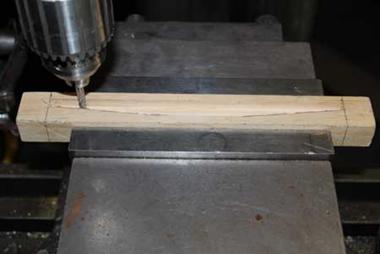 <![endif]>
<![if !vml]>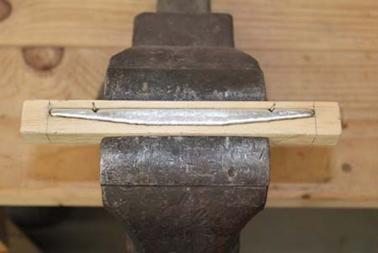 <![endif]> <![if !vml]>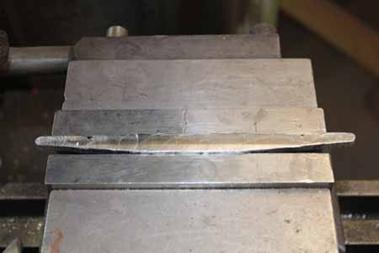 <![endif]>
Detailing and Ready for Paint
Significant effort went into making the underbody have a brake system. I had limited materials to work from so I don't claim it is perfect, but much better than the no detail I had originally planned for this car. It was mostly a Grandt Line AB brake set with various wire sizes. Most of the wire is phosphor bronze especially the brake wheel shaft.
Other items needed were S Helper Service trucks, Grandt Line stake pockets, my brass draft gear, cut lever brackets and brake wheel shaft ratchet, 4 Pacific Rail Shops stirrup steps, brass train pipe valves, and wire grab irons, some small pieces of chain and a brake wheel – recycled from another project. The cut lever brackets were made off the car and glued and pinned in place. But I DID do some very fast soldering of items while ON the car using my Hotip resistance soldering unit! I much prefer soldering to any other form of joining 2 items. It is tricky but no urethane was harmed.
I want to mention about "pinning" pieces together especially if they are mixed materials.  While photos would be better, for this model I added small pieces of .025 wire to the back of the draft gear and drilled a matching hole horizontally into the body bolster. This made it so I only had to use one screw to attach the draft when used with a liberal amount of ACC glue. The cut lever brackets were soldered to a piece of brass angle. On the back of that angle I soldered a wire that went vertically through the end sill. There is nothing that annoys me more than when detail parts come off a finished and weathered model. This significant extra work really helps tie the model together much better.
<![if !vml]>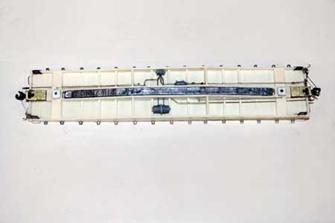 <![endif]> <![if !vml]>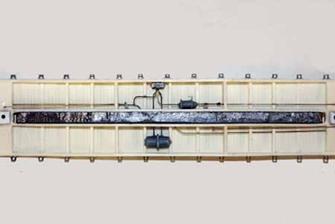 <![endif]> <![if !vml]>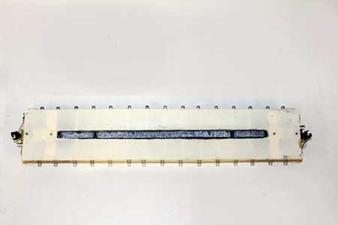 <![endif]>
<![if !vml]>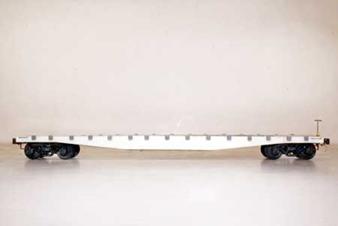 <![endif]> <![if !vml]>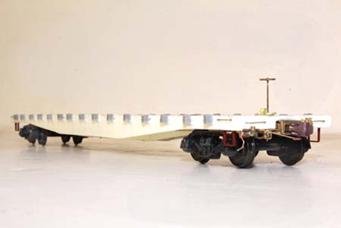 <![endif]> 
Completed 1-16-14
<![if !vml]>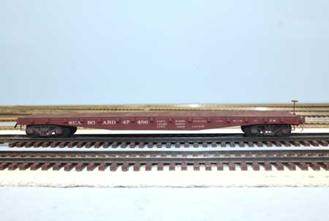 <![endif]> <![if !vml]>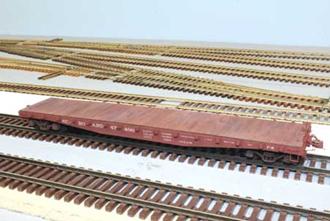 <![endif]> <![if !vml]>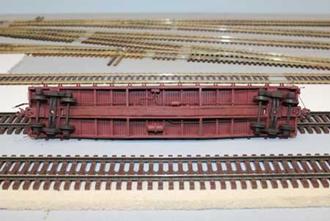 <![endif]>
List of materials
Any Google search will find the suppliers
Updated 2-14-23
Jerry Glow decal artwork is now owned by Tichy
S Helper Service was Mikes Trains house which the SHS brand was bought by ScaleTrains
Flat car body & wood deck                  Chad Boas
Decals                                                     Jerry Glow
Trucks                                                    S Helper Service
Stake Pockets & AB Brake set            Grandt Line
Tichy                                                      Phosphor bronze wire
Brass train pipe valve                           BTS (Bills Train Shop)
Tru Color paint                                     Seaboard Freight Car Red
Kadee                                                     808 Couplers with the pins cut off
That is the end of current commercially available items on my model but you should be able to complete a car with them.
Brass cut lever bracket, brake shaft bracket, draft gear, brake shaft pawl – made by or for me.
Brake wheel                                           Recycled from another car project.
Updated 2-14-23
All photos and content © Lanes Trains 2005-2024