<![if !vml]><![endif]>

<![if !vml]><![endif]>

Russ at his booth for the 1993 NASG Convention

Valley Forge PA

A little slightly abbreviated history here - as best as I can remember now….

Russ Downs was owner of the Ace line of S Scale trucks. He also was repainting A C Gilbert American Flyer shells into schemes Gilbert did not offer. This helped sell his trucks on completed ready to run cars. Russ had an extensive catalog of cars to sell. That went on for many years until the supply of very cheap used American Flyer cars that Russ purchased at train shows to strip and repaint started to dry up. That is when Russ moved on to purchasing new unpainted Pacific Rail Shops 50' and eventually 40' boxcars. Oddly the sales started off slowly because the American Flyer operators did not like the "bigger" 50' cars compared to what American Flyer offered. He was accused of trying to sell Lionel cars, but they are accurate S Scale!

The boxcar market eventually started to slow down as well. Russ decided to go off and become the complete manufacturer of tank car line which at that time there was not a plastic tank car made by another S company besides American Flyer.
At first I did not see what Russ saw but of course there was a market for tank cars. He contacted Bob Rzasa of Custom Finishing to help design the cars. Russ thought about using PVC pipe for the bodies. Different length pipe pieces could make different cars.  Bob was a master pattern maker and had his own business making HO detail parts. This was all before 3D designing and 3D printing. Bob was an expert at making patterns for casting. You have to know the shrink rate of various metals; in this case it was pewter, for making the tank domed ends the masters had to be made the perfect oversize so the tank car ends would match the PVC pipe outside diameter. Russ knew a machinist named Bill Benson who was also a model railroader in HO. Bill loved to machine things in his extensive basement shop. He made drill fixtures with hardened drill bushings that keyed the pipe it place. The design was brilliant. Russ could quickly drill out the PVC pipe on a drill press to start the manufacturing process.
Russ liked being cutting edge at times. He bought the latest computer equipment to make the artwork for the decals at a significant cost when most people did not have a PC yet. At the time you had to buy individual fonts! Russ pushed homemade "low production" to the limit producing about 25 cars a week all while working full time as a guidance counselor for Bishop Eustace High School in Pennsauken NJ. Just imagine taking any typical model railroad car kit with 30 or so parts, assembling, painting and decaling them - 25 times a week. That is what Russ did for years while also selling his Ace trucks and wheels, and managing the various suppliers of his custom parts needed to make the tank cars. He was an expert as maximizing every bit of space in his small basement for the manufacturing.
Russ knew about when he wanted to retire from Bishop Eustace. He hoped to build up Ace and Downs Model Railroad as a retirement business. He wanted to make a final project that was mostly new parts, much more detailed, and significantly more expensive that his other tank cars. Most of his cars were about $45.00. The TankTrain cars were $70.00 each, and you had to buy more than one. Buying a 3 car set was minimum. That is what makes these cars rather rare. Not many were sold. They were possibly made to order per customer.
Ironically I watched and sometimes helped Russ make these tank cars for about 10 years and never bought any. Russ gave me 2 cars as gifts 1 of which was the Bakers Chocolate. They were the only 2 I had for many years. I think I was trying to adhere to my transition era trains. The tank cars were "modern" to me. I frequently want things after they are difficult and sometimes much more expensive to get. In March 2022 a group of about 10 Downs and Iron Rail Models cars sold on eBay from $75 to over $300.00 each.
TankTrain
Russ originally got the idea for making the tank cars and eventually the TankTrain cars from a book "Freight Car Pictorial" By Robert Wayner. It is a paperback photo book of **very** random freight cars. The photos are great. Many eras and railroads are represented.
This is the B&W photo is from the book that Russ was "fascinated" over, and inspired him to make the TankTrain cars. It is a very interesting concept to have a string of tank cars semi-permanently coupled together. A 10" piping system runs throughout the length of all of the cars allowing for them to be loaded or unloaded from a single point on an elevated platform at the end instead of individually unloading cars on the ground. Their use might be limited or regional. I have never seen a TankTrain car running anywhere. I can confirm some were still running in 2017. These are 2 pages with good info here and here.
<![if !vml]>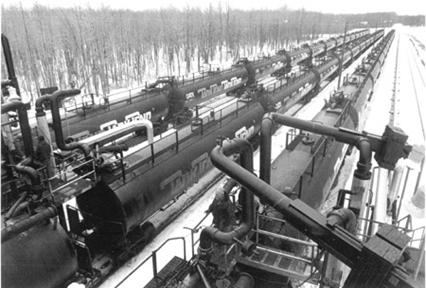 <![endif]>
<![if !vml]>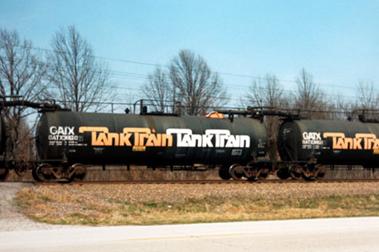 <![endif]> <![if !vml]>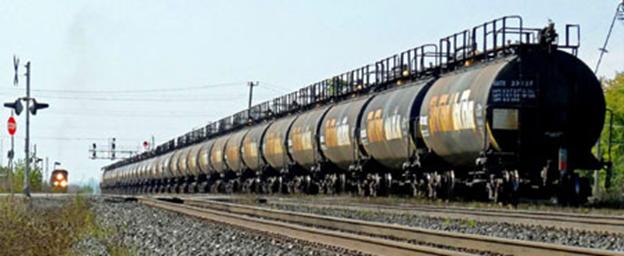 <![endif]>
Russ labeled the cars as "A" End, "B" End, and "C" Center car. The collection of 6 cars I bought has 3) A cars, 2) B Cars, and 2) C cars, when I really should have 1) A, 1) B, and 4) - or more - C Cars. I will admit the difference to me between A and B cars is minimal.
Russ went all out with the detail when compared to earlier cars. There was a very flexible rubber tubing included that maybe with some fiddling you could have the train run looking like they were connected like the real cars. Most of the rubber tubing pieces were missing when I got my cars. I want to find some more.
A End Car
Both of my A End cars are the same number 10439 but 1 has 10438 on 1 side! Russ listed 10438 and 10439 as A Cars.
<![if !vml]>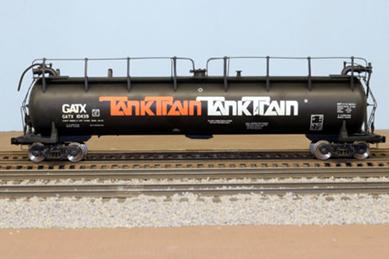 <![endif]> <![if !vml]>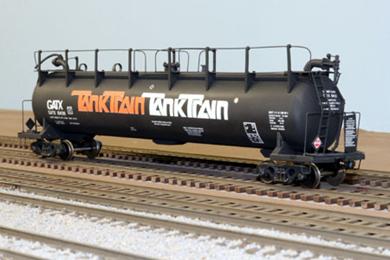 <![endif]>
B End Car
Both of my B End cars are the same number 10448. Russ listed 10444 and 10448 as B Cars.
<![if !vml]>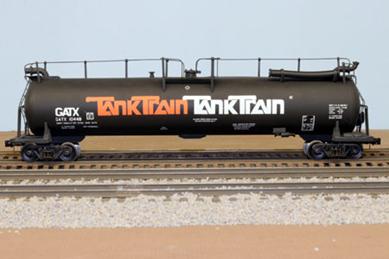 <![endif]> <![if !vml]>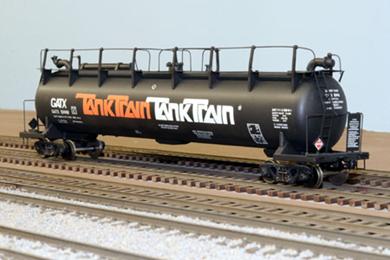 <![endif]>
C Center Car
Russ listed 10450, 10451, 10452, 10453, 10454, 10455, 10556, 10457, 10458, and 10449 as C Cars.
<![if !vml]>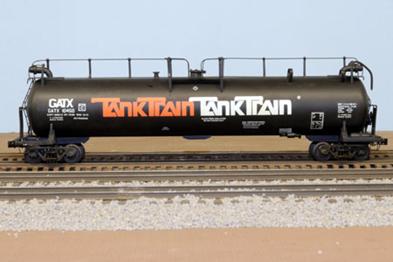 <![endif]> <![if !vml]>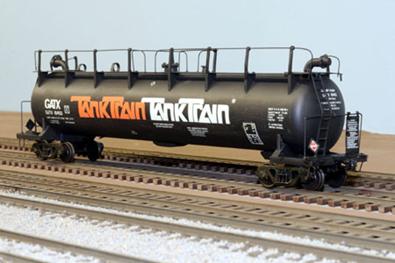 <![endif]>
<![if !vml]>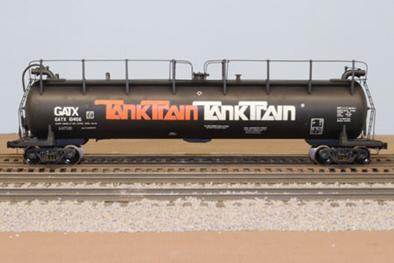 <![endif]> <![if !vml]>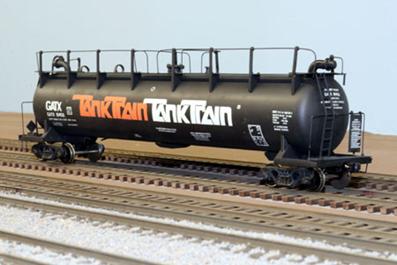 <![endif]>
Impressive!
No matter the car number or A, B, or C car it makes for a very different and impressive train. With the many decals some of which are very large getting exact same placement on multiple cars especially without rivets for reference points is impossible. You can see them wandering a bit in the angled photos.
This was rather strange and funny though. I used to assemble the wheels and axles for Russ. It was a very boring process pressing the wheels onto the axles with a hand arbor press. When I got this set of cars no axles had insulators. All were metal wheels on metal axles. Every axle was a direct short. I have no idea how or why that happened.  I replaced all the trucks with S Helper Service because that was fastest and easiest.
<![if !vml]>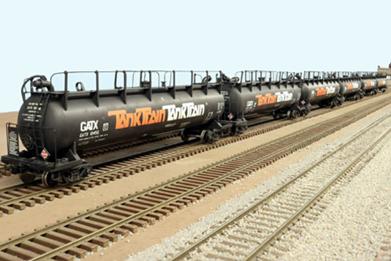 <![endif]> <![if !vml]>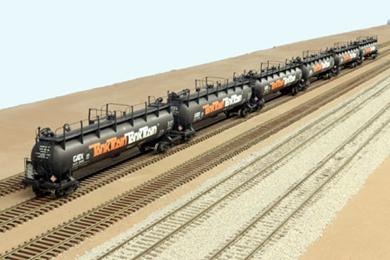 <![endif]>
Updated 4-17-22
All photos and content © Lanes Trains 2005-2022