<![if !vml]><![endif]>

These PRR P70r coaches were made by Southwind Models at the same time as 2 versions of PRR B60. Southwind made the PRR R50b in 1989. The B60 and P70 were made in 1998 and 1999. A complete New York Central train was made. There was intention to make a complete PRR train but it did not happen. So S Scale has ONE P70. I wished I knew more about the real PRR back in the 1990s and what I would be modeling in 2017 with PRR and PRSL as I would have campaigned for getting a P70FBr made, my most wanted passenger car now. It is not likely to ever happen, at least commercially. I would have to figure out how to get a few cars made for me.

350 P70r were made in various configurations. I will be making my PRR P70r in the 3400 series. But this page is for the PRSL P70.

<![if !vml]><![endif]>

I found out that with some reasonable modifications the P70r could became a better PRSL "hot" P70 without air conditioning. I decided to make 3 of them.

This is the best color photo I have found of the PRSL P70 I am making.

<![if !vml]><![endif]>

John Dziobko, Jr. photo
There is only 1 known hot PRSL P70, 9924, with the single and double stripes like many PRR cars. I like the stripes but will not miss having to do the stripe decaling on all 3 cars.
<![if !vml]>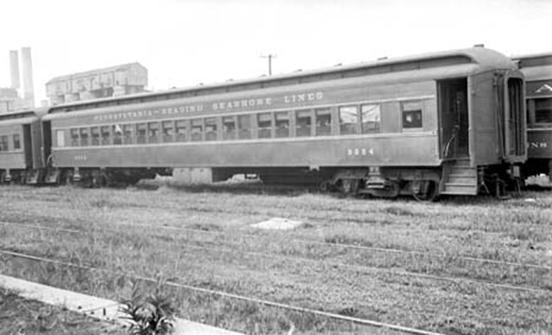 <![endif]>
Most of the construction photos below were taken July and August 2014
Underbody
Much of the needed modifications for the conversion was removing air conditioning equipment and rearranging tanks. The original air conditioned configuration is on top, and modified on bottom with the ice bunker removed.
Bulkhead Walls
The cars were built with vestibules were blocked off with the bulkhead walls soldered in place. That made getting window glass on the vestibule exit doors impossible. I cut out the original walls, made new bulkhead walls and recycled the end doors. The new walls will rest on the remains of the original walls.
<![if !vml]>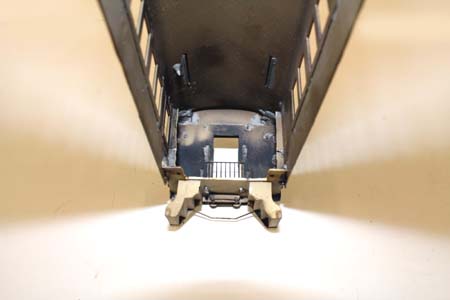 <![endif]> <![if !vml]>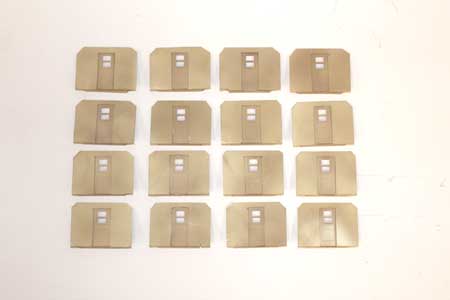 <![endif]>
Draft Gear
Of course I had to make draft gear. These photos were taken 3-30-08 of a P70 at the Railroad Museum of Pennsylvania in Strasburg PA. Some research and parts take a while to get used!
<![if !vml]>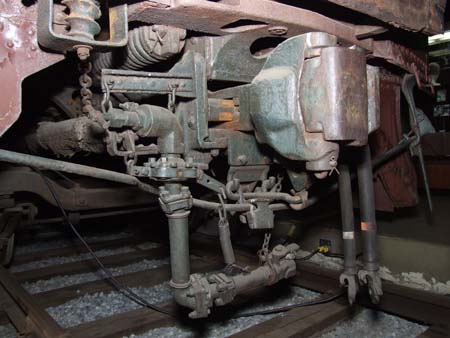 <![endif]> <![if !vml]>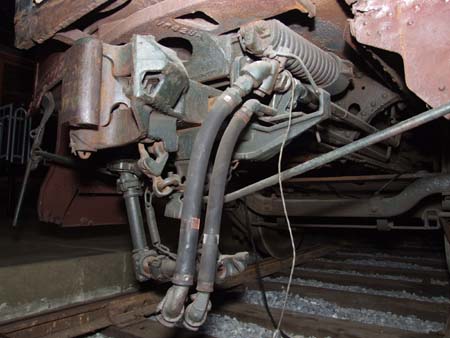 <![endif]>
This is the first and likely the last draft gear I designed to use the S Helper Service version of the Kadee coupler, which is now tough to get since S Helper Service went out of business. I have to search eBay and buy when I can.
<![if !vml]>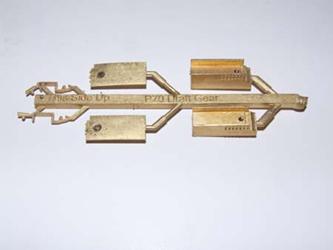 <![endif]> <![if !vml]>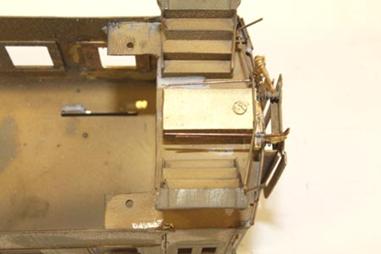 <![endif]> <![if !vml]>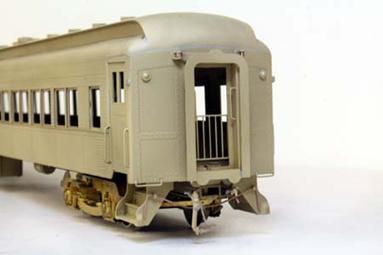 <![endif]>
Roof Vents
Early P70 had 10 ventilator fans over the length of the car. These were capped leaving what I call vent stumps, and a single "Penn Ventilator" in the center of the car.
<![if !vml]>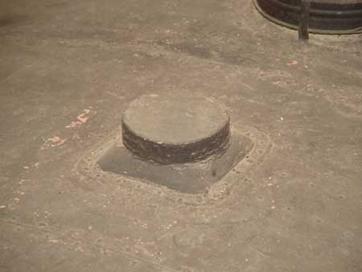 <![endif]> <![if !vml]>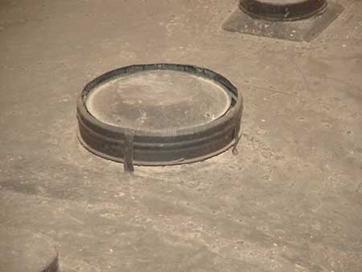 <![endif]> <![if !vml]>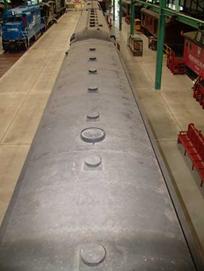 <![endif]>
The change was very easy. Take off the old vents and put the new vent stumps and Penn Ventilator on.
<![if !vml]>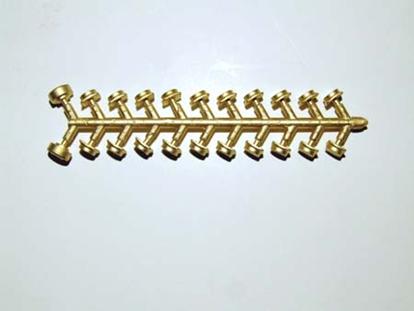 <![endif]> <![if !vml]>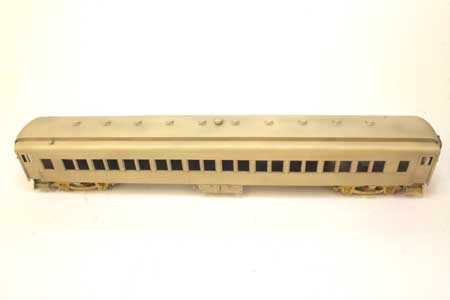 <![endif]>
2D5P2 Trucks
The final change needed was making the correct trucks. This project actually came about by accident. I had an O Scale set of the 2D5P2 trucks here to assemble. When I finally realized what they were and what I could do with them, I measured them extensively and made S Scale version in Solidworks. I printed some trees in burnout material and had some test castings made. With very few exceptions it all worked out well.  Even the coupler height is correct. I have 1 pair for now but will need more.
<![if !vml]>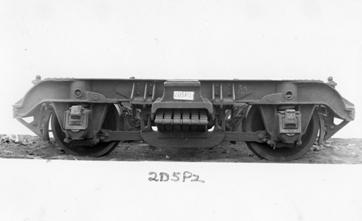 <![endif]> <![if !vml]>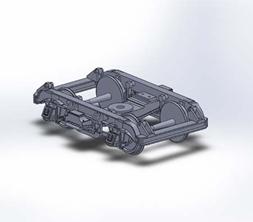 <![endif]> <![if !vml]>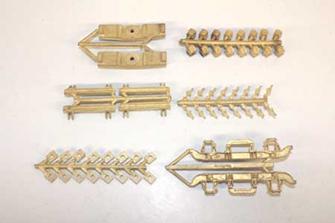 <![endif]>
<![if !vml]>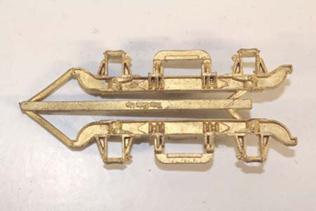 <![endif]> <![if !vml]>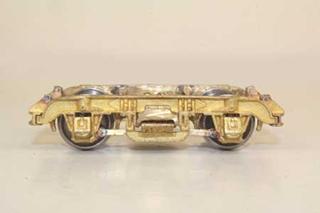 <![endif]> <![if !vml]>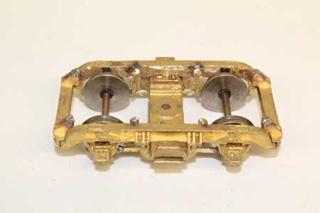 <![endif]>
<![if !vml]>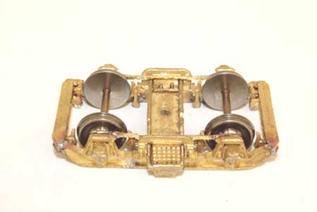 <![endif]> <![if !vml]>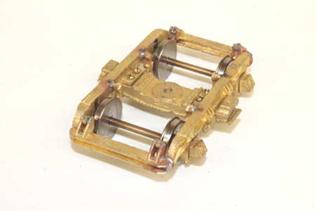 <![endif]> <![if !vml]>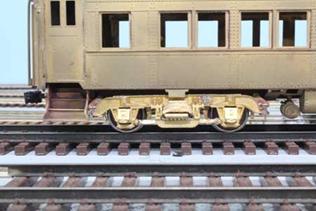 <![endif]>
Ready For Paint
<![if !vml]>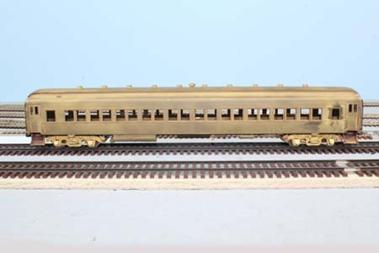 <![endif]> <![if !vml]>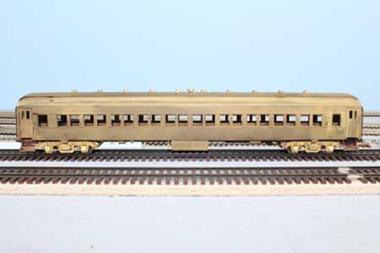 <![endif]> 
<![if !vml]>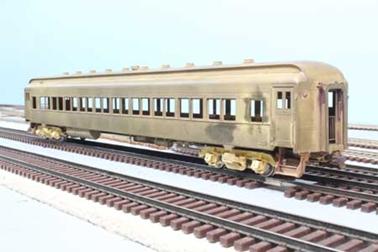 <![endif]> <![if !vml]>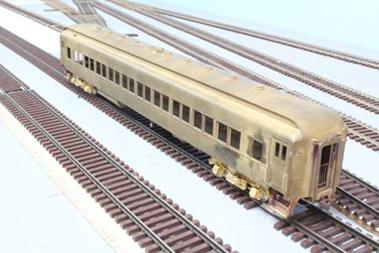 <![endif]>
Completed 9-17-17
I am very happy with the completed models. They are my first completed brass P70. You have not lived until you have wrangled a 7" long decal, keeping it movable until it is PERFECTLY in place. The long single and double stripes were not that bad to decal. I think Scalecoat Tuscan out of the bottle is much too dark. Car 9924 is about a 50/50 mix of Tuscan and Oxide Red. The other 2 cars are a 50/50 mix of PRR Freight Car red and Oxide Red. Hopefully the difference is apparent in the photos. It is subtle but you can see the difference on the cars when running them.
Car 9924
Car 9924 is the only known "hot" PRSL P70 to get the full length stripes. I just love the look. My model also has the correct 2D5P2 trucks. The other 2 cars below do not have the correct trucks - for now. I have to get more made.
<![if !vml]>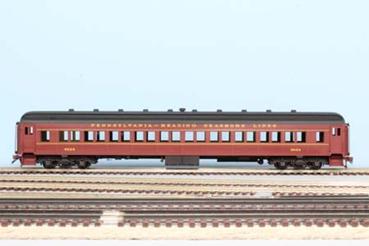 <![endif]> <![if !vml]>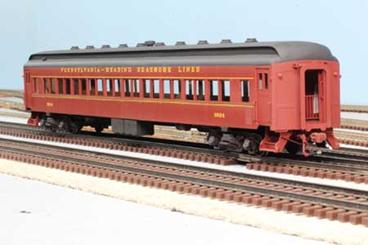 <![endif]> <![if !vml]>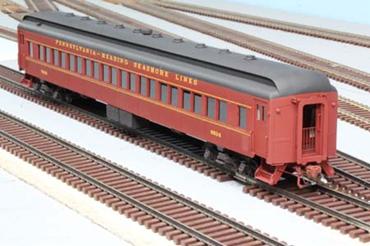 <![endif]>
Cars 9886 & 9922
<![if !vml]>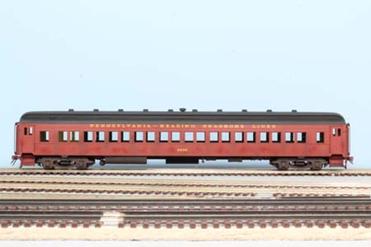 <![endif]> <![if !vml]>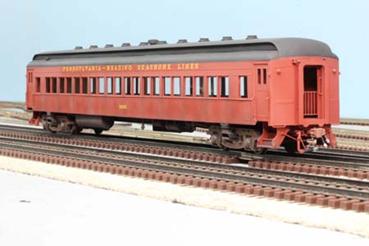 <![endif]> <![if !vml]>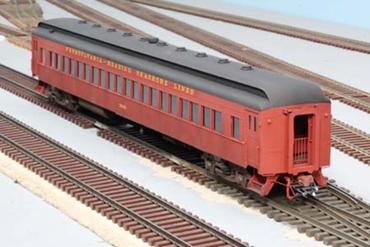 <![endif]>
<![if !vml]>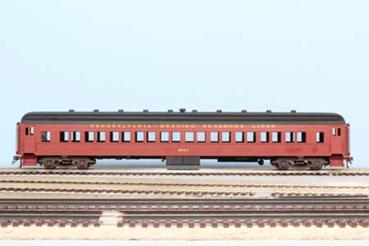 <![endif]> <![if !vml]>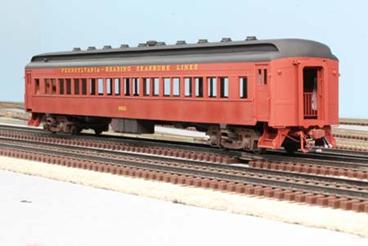 <![endif]> <![if !vml]>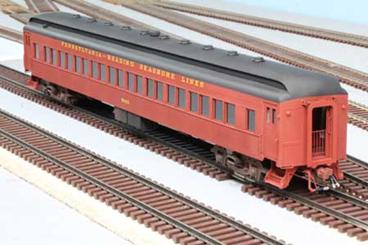 <![endif]>
Plenty Of Horsepower
All are possible locomotives for pulling these cars
Added 9-2-17
<![if !vml]>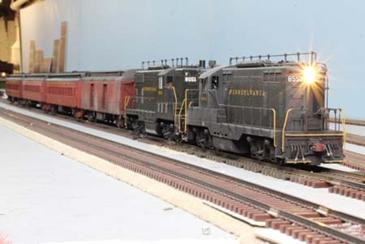 <![endif]> <![if !vml]>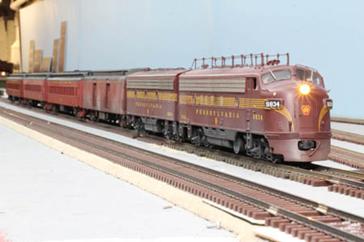 <![endif]> <![if !vml]>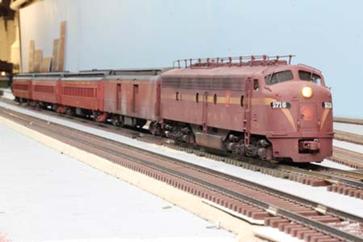 <![endif]>
<![if !vml]>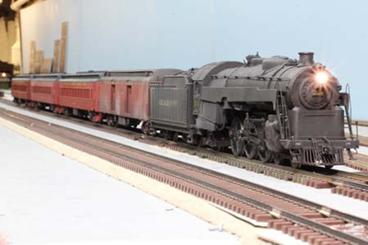 <![endif]> <![if !vml]>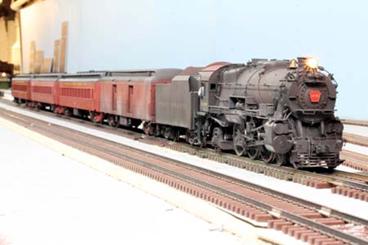 <![endif]>
Updated 2-25-18
All photos and content © Lanes Trains 2005-2018