<![if !vml]><![endif]>

This is a custom made S Scale Central Railroad of New Jersey Blue Comet train built by the late Frank Titman I bought on 1-4-21. Frank was by far 1 of the most prolific custom builders in S Scale. I am not calling this 1 of a kind because Frank built another one at the same time exactly like this train. Still it is a rare model I think is important in S Scale history. This was Frank's personal train he built for himself. I consider the loco and 5 cars as one model. There will not likely ever be more cars, certainly not built by Frank. Some of my build decisions will be based on that fact.

I am not particularly a CNJ fan but I do like things built by Frank Titman. If I was going to have something CNJ what is more iconic than owning the Blue Comet?

The loco was unfortunately stored in a bad environment causing significant damage to the paint. The cars are in fair condition and need some work but the loco needs total restoration. I am trying to keep this in as original condition as possible. I hope to catch the sprit of Frank and return this train to its former glory. Since I don't know all what the loco was made from I have great hesitation of how to strip the paint.
The cars were TrainStuff kits that were made by Don Thompson and his company before S Helper Service. The sides are polyester that is likely very brittle by now. There is no replacing a shattered car side at this point. I am probably replacing all the wheels with NWSL 36" code 110.
The loco is built in typical Frank Titman style starting with a few American Flyer parts and finishing with lots of S Scale Loco and Supply parts. It is mixed materials but a large amount of it is brass. However this loco is significantly heavier than my other Frank built locos. It is made to pull 5 light cars but could probably put a much longer train.
This photos show all the work that has to be done. This will be by far the most ornate steam loco I have ever painted. I nudged Tru Color into making a Blue Comet blue paint. I hope it is close to what is here.
Photos taken 1-13-21
<![if !vml]>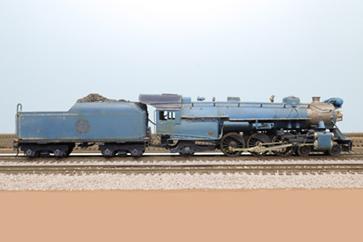 <![endif]> <![if !vml]>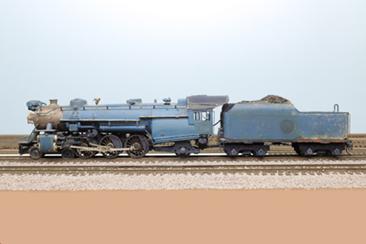 <![endif]> 
<![if !vml]>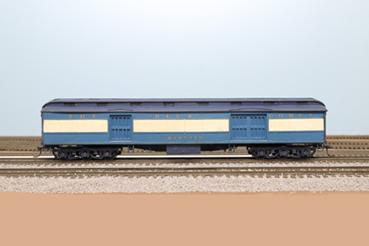 <![endif]> <![if !vml]>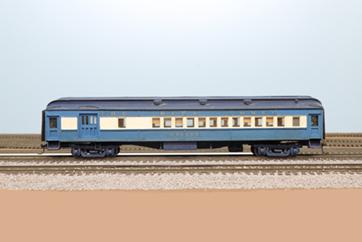 <![endif]>
<![if !vml]>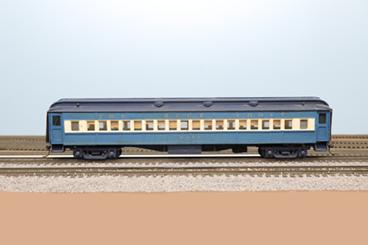 <![endif]> <![if !vml]>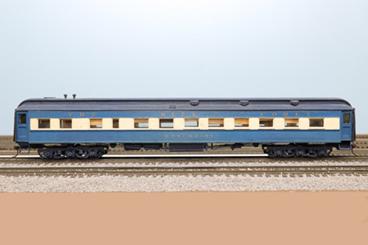 <![endif]>
I took that complete train photo as inspiration of what it will be like when I am done and it is running.
<![if !vml]>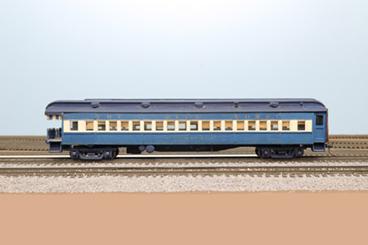 <![endif]> <![if !vml]>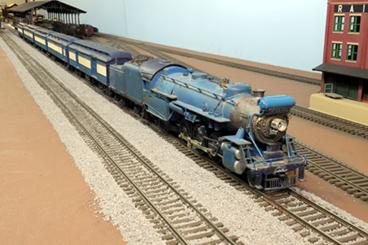 <![endif]>
Added 1-29-21
Working on this started a bit sooner than I expected. I do have the Tru Color Blue Comet paint but not the loco decals yet. I have learned about more about the history of the real Blue Comet. I have also had some questions of my answered about the loco since I took it apart. For the first time I have seen in Frank's builds the boiler is a rather heavy bronze casting with the American Flyer cab and firebox attached.  The casting walls are about ¼" thick. Frank was a real man's man for transforming this boat anchor casting into pure S Scale art. Many of the parts attached have holes drilled through the bronze casting at a significant effort possibly with a lot of broken drill bits as well.
Updating The Drive
I am building this to a slightly different standard. I view it as a unit train. This loco will only pull these cars. It does not have to have killer slow speed. Getting that with the can motor conversions gets down to a difficult gear engagement when making the new motor mount. It can be really time consuming. I tried to keep the giant Pittman open frame motor but had DCC issues that I still don't understand. The brushes were seemingly isolated. The loco ran fine as an elevated bench test but ran uncontrolled when put on the track with the tender. The tender is insulated from the loco with a plastic drawbar. The PowerCab did not show there was a short. I am missing something here but it does not matter because a can motor conversion fixes the problem.
I started off using the same can motor I have used in all other Frank built locos can motor conversions I did in the past including the Reading G1sa I did just 2 weeks ago. http://www.lanestrains.com/S_Scale_Reading_G-1sb_201.htm This should have been identical conversion but it somehow was not. The larger diameter of the motor the more I had to angle the motor to engage the axle gear. This was getting to about 35 + degrees so I stopped. Again this only has to pull the 5 cars so I went with a much smaller motor than I originally expected. It was almost a straight shot to the axle gear. With the heavy cast boiler this motor struggles a bit to slip but it does. I am not guaranteeing it won't stall instead of slip so I just have to watch for it. The steel driver tires are very grippy!
I made an adaptor shaft from 1/8" brass round stock. The brass shaft is soldered to the motor shaft. The worm gear is soldered to the brass shaft. The loco is powered by pickups on the tender only. The loco has no power pick up wired to the decoder. This is my typical pickup wipers I have made many times. I stopped cutting grooves in the backs of the wheels because the pickups stay in place. They do not short. 
<![if !vml]>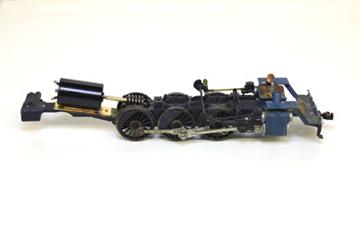 <![endif]> <![if !vml]>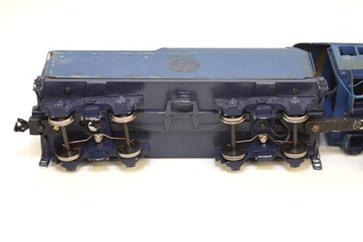 <![endif]>
DCC
Since the boiler is cast bronze for the first time working on a Frank built loco it is heavy enough to not need to add a boiler weight. There is a significant amount of clear space in the boiler. But the boiler front is permanently attached making access more difficult. I decided to just make a slide in decoder unit with a TCS WOW4 and RailMaster DLG8 speaker on a price of brass flat stock. It is sort of free range in the boiler but it cannot slide into the motor or gears. The sound is LOUD. I have the chuff volume set to 2%. Maybe bouncing off the bronze boiler makes the sounds loud.
Loco Wheels
The drivers had to be pulled about .015 total to the current NASG standard. I replaced the code 125 tender wheels with code 110 Northwest Shortline nickel silver wheels. I replaced the lead truck wheels with code 110 S Helper Service wheels. I sanded down the trailing truck wheel to code 110. The drivers remain the only code 125 wheels left. I don't know why Frank made the center drivers blind on a pacific. But his layout had some very sharp curves.
Cab Roof
Frank chose to cut off the American Flyer roof and cab overhang. He laminated a cast brass cab roof to the American Flyer cab with ACC or epoxy. The roof was popped off when I got the loco. I probably could just have glued or used epoxy to put it back on but that would be too easy. If it popped off once it could happen again. I wanted a mechanical attachment. As usual I did not know how I was going to solve my "problem" when I start but it just comes to me eventually. Involving my lathe or milling machine to my projects just adds to my ongoing challenge to myself. I soldered 0-80 flat head screws to the underside of the cab roof as a stud. At first I was just going to use 0-80 nuts but getting a nut started deep in the cab and using a nutdriver at those odd angles might not have worked. I drilled and tapped 1/8 brass round stock for 0-80 and cut a slot across the top to make a "tube nut". I never saw 1 before but I made 2 of them. They pull the roof down tight. And I did not have to MASK it to paint!
<![if !vml]>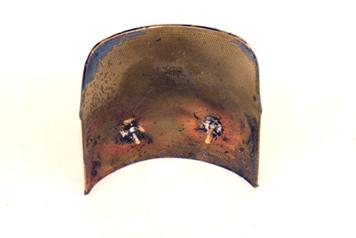 <![endif]> <![if !vml]>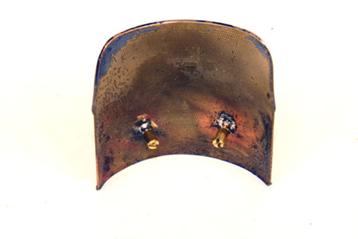 <![endif]> <![if !vml]>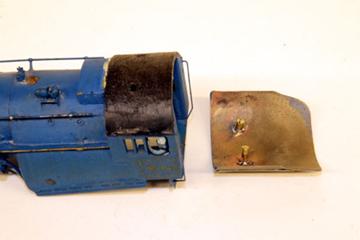 <![endif]>
<![if !vml]>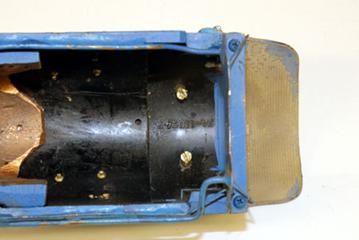 <![endif]> <![if !vml]>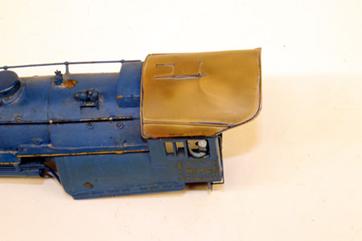 <![endif]>
Added 1-31-21
I took a new stack photo and shot a short video . A working headlight makes all the difference for me almost more than a sound unit. The loco is running pretty well now. I have to sand down all of the car wheels to code 110 and regauge to NASG standards. The cars also did not roll well at all. I will lube them all.
<![if !vml]>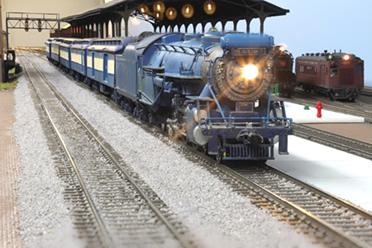 <![endif]>
Added 2-3-21
Done For Now
I am happy that this is out of the boxes and running in 1 month's time, much sooner than I originally expected. The loco is running really well now. I let it run for about ½ hour that really helped smooth out the jerkiness the loco once had. The loco still needs to be repainted. I am trying to get new decals made. The cars are pretty much done with almost no touch up paint needed.
<![if !vml]>
<![endif]>
I
Diner Repair
The sides on the diner were detached about ¾ of the length of the car on both sides. Fixing that was 1 of the most difficult stressful repairs I have ever done. The floor was warped upwards and the sides warped outwards. Luckily the roof was removable or I could have never fixed this car. A significant amount of ACC (Zap A Gap Green) was used but it did not stick to the sides or wood quickly. I had to use Irwin Quick Grip clamps to hold the sides in place – 1 at a time, with the roof back on to set levels. How I got this all done without shattering the polyester car side or have any visible glue marks on the car sides is a miracle.
Car Wheels
The biggest job on the cars was replacing wheels. I wanted to get Northwest Shortline wheels. 3 weeks after first contacting them about stock I have not received a reply if they could supply the wheels. So I tried to recycle the original wheels that I have thrown out wheels just like this in the past. That meant sanding down the tread by removing .015, then regauging to current and wider NASG standards and repainting them. I spent HOURS working on the wheels only to find they still shorted out because the center hub of the wheel was now wider than the tread and contacted the sideframes. How annoying. What a waste of time. I replaced all of the car wheels with Downs code 110 36" wheels I luckily had. Code 110 36" wheels are tough to find right now. The drivers and trailing truck wheel are original but were worked on All the rest of the wheel on the entire train where changed. The couplers were truck mounted on long shanks. I don't allow truck mounted couplers so I body mounted the couplers on the cars.

There is a new YouTube clip of it running here. I will make a new clip whenever the loco is repainted and done.
Updated 1-31-21
All photos and content © Lanes Trains 2005-2021