<![if !vml]><![endif]>

This is not 1 of my usual project pages. I usually start with a photo of the prototype but I cannot do that here! It started as a low budget cobble together. I bought the Omnicon Alco PA drive that was made as a complete brass scale conversion drive to be used with American Flyer shells. This was before American Models produced their PA1. I got the drive just for a goof as possible parts in case I ever wanted to make a 6 axle loco.

Lionel made an American Flyer B&O PA freight set in 1981. I always wanted it but I never bought it. In about 2020 I was surprised (and a bit embarrassed) to learn that B&O never owned the Alco PA - not like I should have depended on whatever Lionel made was something factual.

I thought if I ever saw a B&O shell only for sale I would buy it to go with the Omnicon drive and make a new to me loco on the cheap. That happened in June 2021. So I made a foobie! I don't usually go off into fantasy modeling but this is my second project in a row with making my Reading Suburban.

It is probably not going to ever happen now but the drive is still available as parts for a future project. I have $30.00 total invested in the shell purchase as the only thing special I bought as I already had everything else.

It is good to be able to do an occasional for fun project knowing it is not going to be perfect. They usually have a shorter completion time as well.
This is test fitting the drive onto the shell. The drive was made to fit in an AC Gilbert PA shell. This was made by Lionel. None of the mounting holes lines up. I glued .080 x .080 Evergreen strips to set the drive height in the shell and make a place for mounting screws. The shell was a bit rough condition with some scratches around much of it especially the roof and engineers side.
<![if !vml]>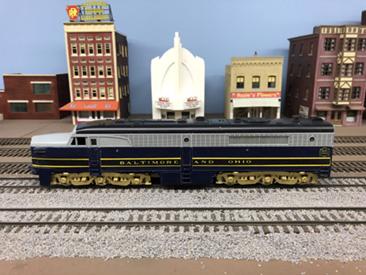 <![endif]> <![if !vml]>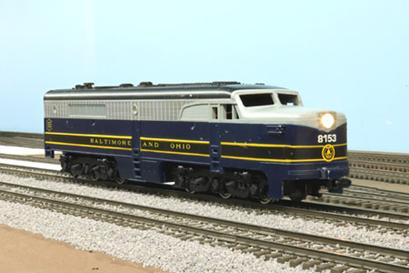 <![endif]>
This is the Omnicon drive. I removed the very large flywheel which made me replace the all brass motor coupling with a plastic driveshaft. I made pickup wipers for 2 axles of each truck. It is a NCE D13NHP decoder. It is as good thing there was a loco number on the shell for programming the decoder. What do you put on a foobie loco?
<![if !vml]>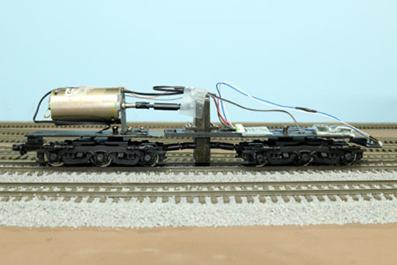 <![endif]> <![if !vml]>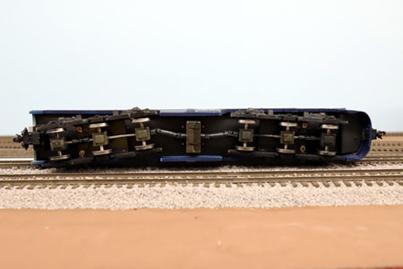 <![endif]>
As mentioned the shell was rather scratched up. Gray was the only color not painted at all. The black on the roof was completely repainted with parts of the side stripes. Most of the blue was repainted with Tru Color TCP-072 C&O/B&O Blue. It matches pretty well.
Even though this is a for fun project I HAD to do something to fix the missing front pilot. Everything is made from .030 Evergreen plastic sheet. I made a sheet the same profile as the nose but .030 smaller all around and glued it flat to the shell, recessed from the front edge.  This made a nose profile to glue to. Just my luck the pilot piece ran right across where the coupler screws were so I had to make the coupler opening slightly bigger than I wanted to. I started in the center and wrapped around to both sides. Glue control is key here. I got a little sloppy and had some clean up and wet sanding to do. It looks much better now.
Completed 6-27-21
The only details I added were a brass horn and brass coupler pad at the rear. That had to be shimmed down almost ¼". I thought about trying to put windows in but the interior shell shape would make it rather difficult. So for now it will remain as is.
<![if !vml]>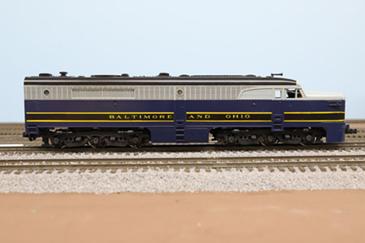 <![endif]> <![if !vml]>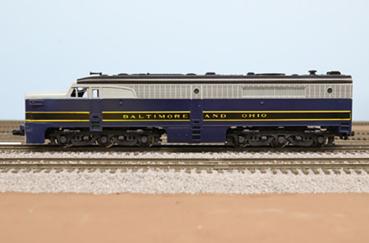 <![endif]> <![if !vml]>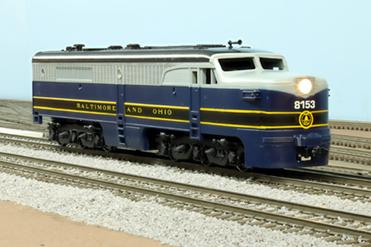 <![endif]>
Updated 7-1-21
All photos and content © Lanes Trains 2005-2021