<![if !vml]><![endif]>

My first BIG S Scale  Car Project

<![if !vml]><![endif]><![if !vml]><![endif]>

In about 1990 when I was still just starting out in S Scale, Mainline Modeler published plans for the PRR K7a in March 1989. Being the rabid Slobbering Pennsy Freak I wanted anything in PRR I could get. I pretty much only had the Wayner book "Cars of the Pennsylvania Railroad" for info and inspiration. I did not think I could scratchbuild a car completely but wanted to 'get the taste' of it. If compared to a real K7a my cars are very different. Complete and total accuracy was not my goal back then.  At that time is was by far my most involved project in S Scale. Even as I write this now in 2012 I have still not completely scratchbuilt a car in S Scale.

 So I got 2 undecorated American Models boxcar kits, hacked out the sides and made new sides with Evergreen plastic strip stock and the homemade fixture below.  All of the spacer "dots" on the fixture are cut off wire nails. I cut out most of the door and made that a stock car looking door. The doors open– something that was important to me then that is not now. Car 135261 has a second "sheep & pig" floor added.

It is on these cars that I learned to HATE Dry transfers. There are about 3+ sets consumed per car trying to get everything straight. You can see another completed door in the fixture. I think I had plans to make more than 2 cars and it never happened! There is no underbody detail whatsoever besides a crude attempt at a centersill.

While I did not attend it I won first place in Amateur Freight Car for the Kansas City 1989 NASG Convention.
They were run for the first time in MANY years on 10-22-12.
I was always afraid of "something happening" to them. There is no use to having them if I can't run them!
                                                          Side Fixture                               Running on my layout on 10-22-12
<![if !vml]>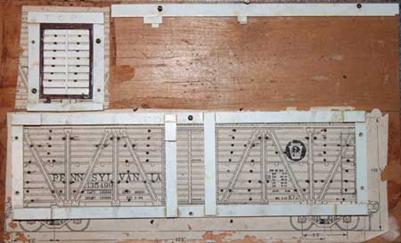 <![endif]> <![if !vml]>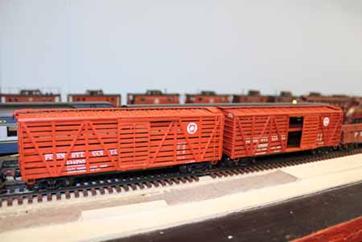 <![endif]>
Added 10-24- 12
I decided to do a little refurbishing of my K7a. I originally used Goo glue to attach the Athearn weight to the underside of the floor.  Goo warped the plastic floor badly. Since the cars were now going on the layout, this had to be fixed. I made new floors from spare American Models parts. After some"debating" I decided to restore the cars to as they were built in 1990 without any major detail improvements. I wanted to keep them in the "spirit" for which I originally made them, when I was just starting in S Scale.
For some reason I don't remember now, the original American Models floors had to be cut down to fit in the new stock car bodies.  I restored the cars to 1990 but used my 2012 tools! Any time I get to use my milling machine is a good day! The floors were originally glued in the cars. They are now attached with screws. I have a liberal amount of tires weights in them now as well.
Machining the floor on 10-24-12
<![if !vml]>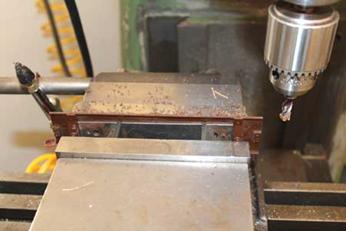 <![endif]>
A much better K7a
There was a long time S Scaler that was/is a very successful lawyer. He was very much a PRR Fan as well. Larry did not mind paying whatever it took to get cars he wanted built. This was a LOT of cars! He must have employed a team of custom builders or 1 very prolific builder. Larry switched to O Scale so all of the S Scale rolling stock was eventually sold. I probably have a dozen of these scratchbuilt cars now. That is where THIS K7a came from. I won it on eBay.  I do not know who the builder was, but it is a really nicely done model. I just don't like the color very much. It will stay as is.
So what do you do with a stunning scratchbuilt car made from styrene that is completely sealed and too light to run in any train? That was my problem. Some weight was hidden in the middle of the centerstill and the car was still massively light. After thinking for a bit I decided to remove the weight in the centersill and cut a slot through the floor in that same place. Luckily I cut the slot with no real noticeable damage to the car. The original weight was only a few strands of SOLDER, so it is no wonder the car was so light! I took more of those wonderful tire weights and beat them down a little thinner to fit in between the centersill and in the slot. The weights are NOT noticeable protruding slightly into the car. The doors do not open and I probably would not anyway. The car gained 3 ½ ounces. All is good now! I wish I had more of them!
Centersill with the new weight
<![if !vml]>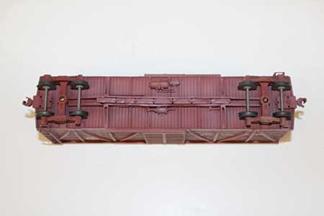 <![endif]>
<![if !vml]>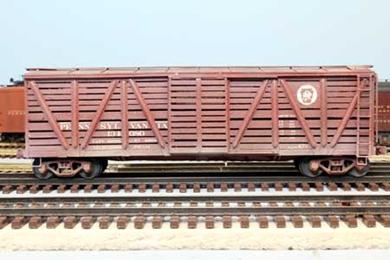 <![endif]> <![if !vml]>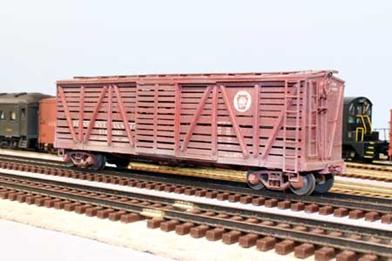 <![endif]>
<![if !vml]>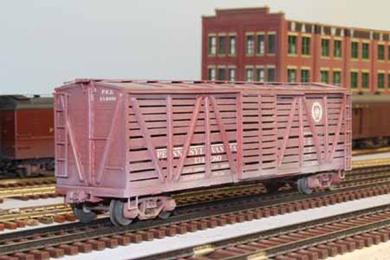 <![endif]> <![if !vml]>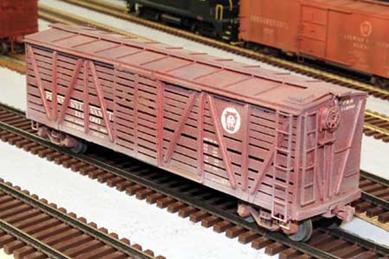 <![endif]>
Back to
<![if !vml]>

<![endif]>
<![if !vml]>

<![endif]>
Updated 2-25-18
All photos and content © Lanes Trains 2005-2019