<![if !vml]><![endif]>

As a general rule open hoppers without loads are brass. Cars with loads are plastic or American Flyer shells converted to scale.

PRR GLca

This GLca was imported by Southwind Models. It is factory painted.

 
PRSL GLca
Completed November 2010
The following 2 cars started life as American Flyer offset 2 bay hoppers. They are not intended to be a perfect brass model level project. It was a "get the taste of the car".
I think the end result did that very well.
Someone else did substantial work to them to make them look a lot like the GLca by laminating very thin plastic sides complete with rivets to the A F hopper buried inside. The cars essentially had a completely new exterior wrap put on them. I have 4 of them – all of which were purchased from eBay.
In Fall 2010 I decided I wanted to convert 2 of them to PRSL M O W GLca.  Photos of just the cars were not existent but you saw them in the background especially at the shore points like Wildwood and especially Ocean City. Some of these cars were unique in that they had a false flat bottom installed at about waist height. The car was filled with coal and spotted on the track next to a tender – again mostly at the remote shore points like Ocean City. It was some unfortunate person's job to shovel the coal from the hopper to the tender in the hot summer sun. After that the fireman got to shovel the same coal AGAIN on the return trip. Who could imagine this being their job every day? It was cheaper to get another person and a shovel than a conveyor or crane! The fireman was on layover in the middle of the day so the PRSL made him WORK. See how THIN he is.
<![if !vml]>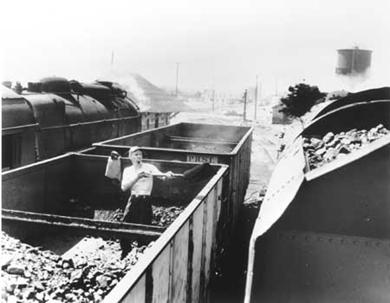 <![endif]> <![if !vml]>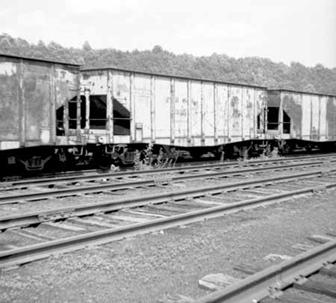 <![endif]>
Bob Long Photo                                                           Richard Hall Photo
The project was IN progress when I had the chance to buy 7 negatives of these cars in a scrap line in Modena Pa on 7-4-60. What a find!
I stripped the cars, added about 4 ounces of weight in the hoppers and installed the false floors. I then painted and decaled the cars. I mostly used an alphabet set since the lettering was so simple. The weathering presented a challenge for me. Even in the mid 50s the cars were rather battered.  I really wanted a random blotchy rusted look. I think that turned out pretty well too. I may put a partial coal load in them at some point. I use REAL coal. It would not take much coal - even loose - to simulate their intended use.  But they are so different and interesting just as they are.
<![if !vml]>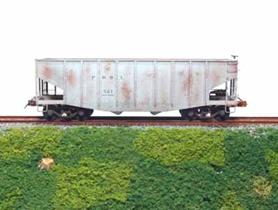 <![endif]> <![if !vml]>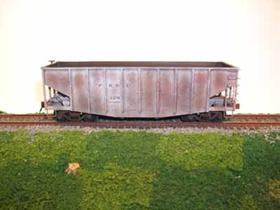 <![endif]>
PRR GLca
Completed 3-6-14
This PRR GLca and the Berwind GL is the same custom made car made from American Flyer cars as the above PRSL GLca hoppers. I do not know who the builder was. I was just happy to get 4 of them. I improved some details and repainted all of them. This Shadow Keystone scheme existed in official PRR lettering drawings, but no known Shadow Keystone GLca photos of an actual car have been found. In Mythbuster terms it is plausible but not confirmed! The false bottom was made to support the coal load which also hides the extra weights and Made By American Flyer text molded into the car slope sheets.
Both cars have Jerry Glow Decals.
<![if !vml]>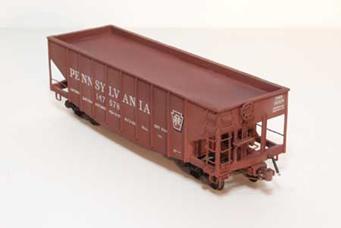 <![endif]> <![if !vml]>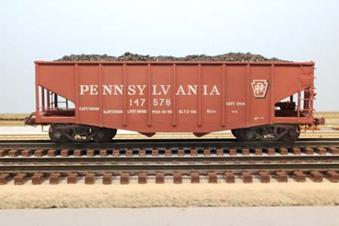 <![endif]> <![if !vml]>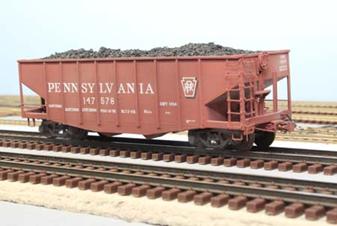 <![endif]>
Berwind GL
Completed 3-6-14
<![if !vml]>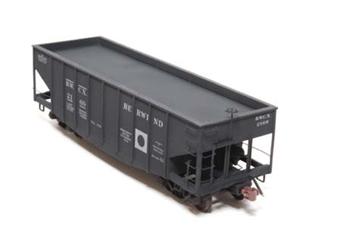 <![endif]> <![if !vml]>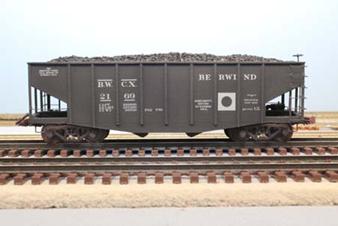 <![endif]> <![if !vml]>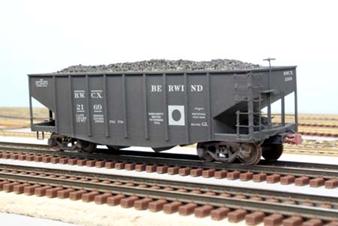 <![endif]>
The following H21a, H22, and H25 were all imported by Southwind Models at the same time.
PRR H21a
<![if !vml]>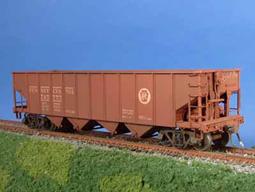 <![endif]>
PRR H22
PRR H25
The PRR's one of a kind and only offset hopper car.
Completed 5-11-11
This car started as pieces of American Flyer 3 bay offset hoppers. The chopping and body work was done by the late Richard Hall. I bought the car in 2010 from John Hall and was just going to "do a little fix up" which as usual turned into a bigger project. I made many improvements beyond that like adding wire grab irons, a center sill channel to make sure it stays together and extensive work hiding the body section seams. Archer Rivet Decals were added by my friend Mac. I decided at the last minute to put cut levers on it as well. The load is real coal! The data is correct to the builder's photo from various S Scale decal sets including X29, G26 and H21.
PRR H31b & H31c
The H31b and H31c were the first PRR Hoppers that Southwind Models imported. All cars except 221183 were completed on 3-6-14 using Jerry Glow custom decals. I added draft gear, cut levers and trust plates.
PRR H31b
<![if !vml]>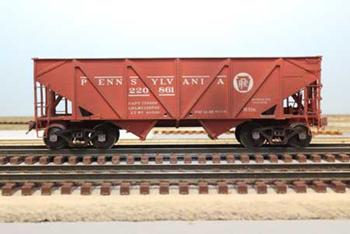 <![endif]> <![if !vml]>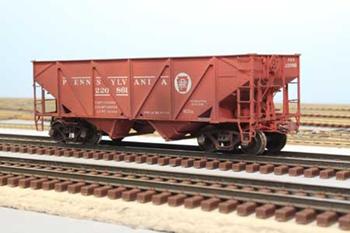 <![endif]>
PRR H31c
I added the sign boards, draft gear, and cut levers to 221183 which has been completed since at least 2004.
<![if !vml]>
<![endif]> <![if !vml]>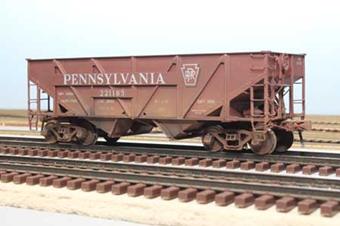 <![endif]>
<![if !vml]>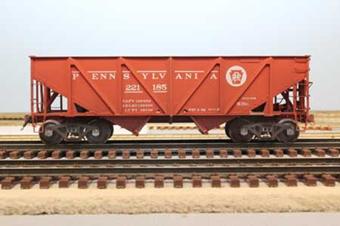 <![endif]> <![if !vml]>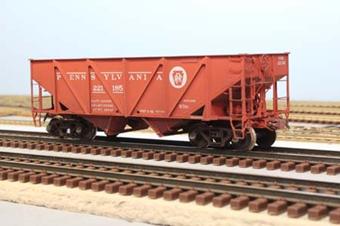 <![endif]>
<![if !vml]>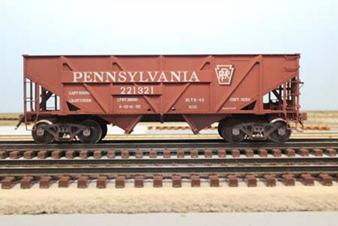 <![endif]> <![if !vml]>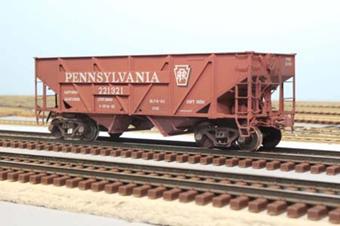 <![endif]>
Peaked End Hoppers
As of 2-14-19 there are NO peaked end hoppers commercially available in S Scale except an old wood kit for an N&W car. Whenever I saw a custom made car I got it. I hope to add to this collection this year.
C&O HT
Completed 3-6-14
This car also started out as an American Flyer 3 bay offset hopper. I bought it in August 2013 at the NASG Convention when Frank Titman liquidated his wonderful Spiral Hill layout and rolling stock. It was a typical Frank built car – rough and ready on the quick and cheap but got the taste of a car unique to the S scale world as a peaked end car.  It is actually 1 rib short of the prototype car it mostly matches throwing the lettering spacing off.  I was not happy with the paint job especially since Ohio was spelled wrong on 1 side of the car! Frank liked to paint everything with Floquil Grimy Black. It was a dilemma at first if I should keep the car as is or repaint. I wanted a darker black so a paint job was in order. The first photo at top left is the car as I bought it. After some substantial effort in stripping and wet sanding the car I added a better Ajax and brake wheel. The decals are by Jerry Glow. The end results were worth it even though it is not completely Frank's car anymore. Visiting S Scalers will know it is not a common car in S.
<![if !vml]>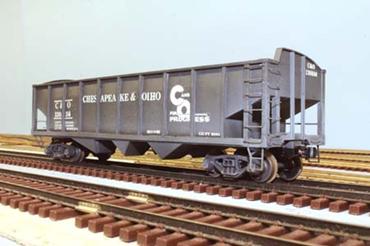 <![endif]> <![if !vml]>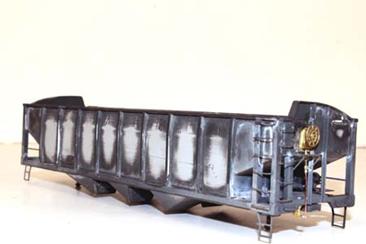 <![endif]>
<![if !vml]>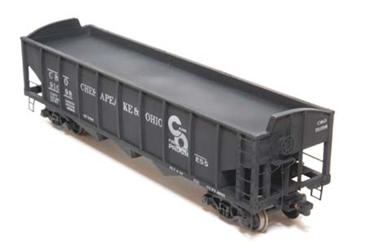 <![endif]> <![if !vml]>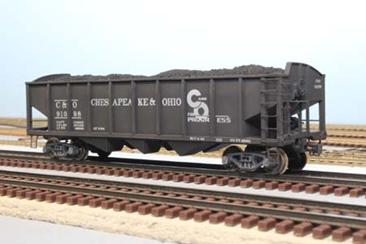 <![endif]>
N&W 2 Bay Hoppers
H9
This is a one of a kind pilot model for a brass project by Pennsy S Models that was never put into full production. It is the only professionally made S Scale brass N&W hopper, and only peaked end hopper as of 2-14-19
<![if !vml]>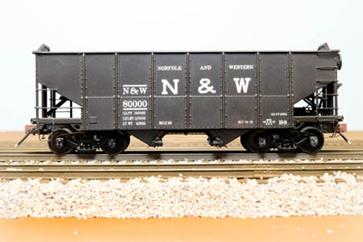 <![endif]> <![if !vml]>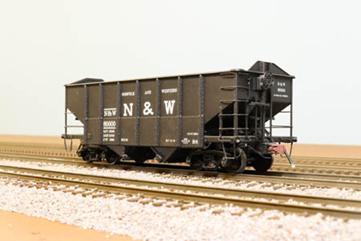 <![endif]> <![if !vml]>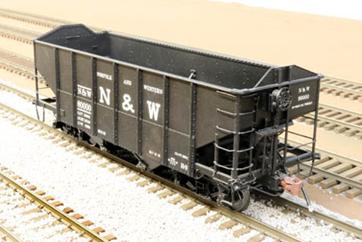 <![endif]>
HL
This is an N&W HL that is largely made from STEEL, or at least a ferrous metal. I won it on eBay in March 2010. It too may be 1 of a kind. The seller did not know anything about who built it. It is very likely "homemade" by a very talented person.  I knew it would be every bit as good as a brass car when I was done with it.  I stripped it and gave it a new paint job using Greg Komar decals.
<![if !vml]>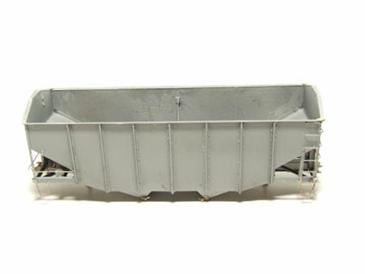 <![endif]> <![if !vml]>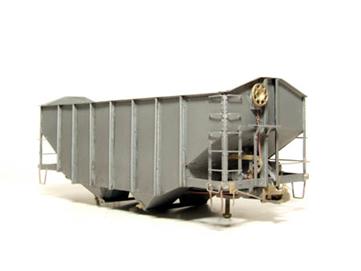 <![endif]>
<![if !vml]>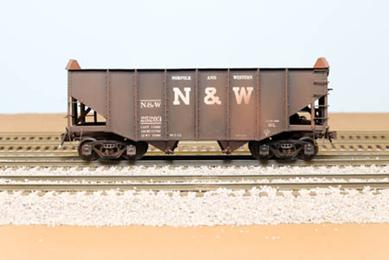 <![endif]> <![if !vml]>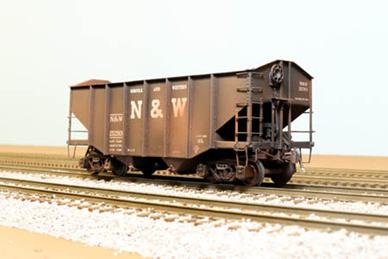 <![endif]> <![if !vml]>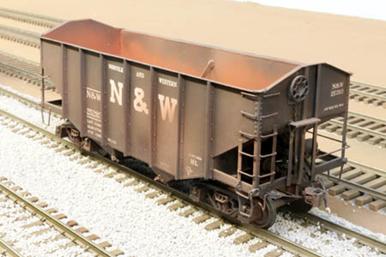 <![endif]>
This is an American Models hopper modified with the peaked ends I won on eBay in February 2019. It was not meant to be the most accurate model.
<![if !vml]>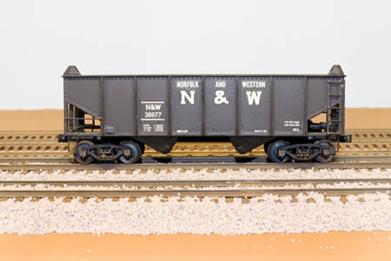 <![endif]> <![if !vml]>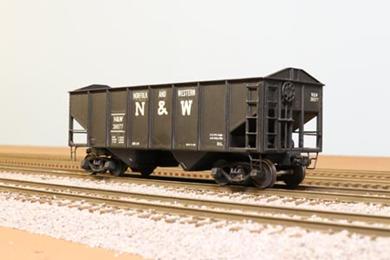 <![endif]> <![if !vml]>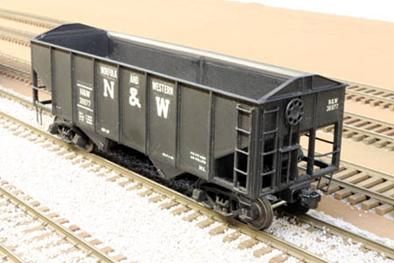 <![endif]>
Reading Hoppers
Added 3-10-14
These are both reworked American Flyer cars.
Reading 72509 was bought at the same time as C&O 91098 at the 2013 NASG Convention. It is from the Frank Titman collection. Frank used his Floquil Grimy Black which annoyingly the decals never are without air bubbles. Still it is a different car that I did not have to build. Like the above American Flyer cars I added weight, a false bottom and coal load. Otherwise it still has Frank's paint job intact.
<![if !vml]>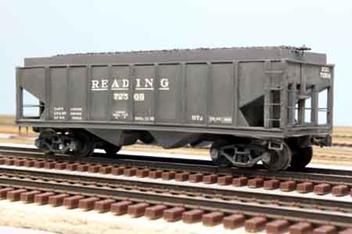 <![endif]> <![if !vml]>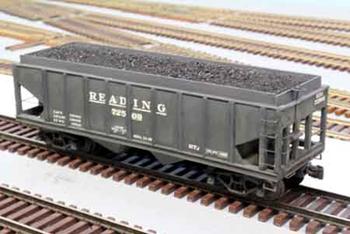 <![endif]>
Reading 60767 was an eBay purchase in November 2013. I did not buy it from Frank Titman but it looks like his building style especially since it is a Reading car. I liked the weathering since it was different so I bought it. It is shown as purchased which includes the coal load.
<![if !vml]>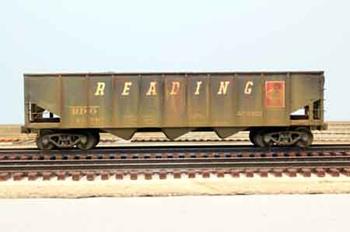 <![endif]> <![if !vml]>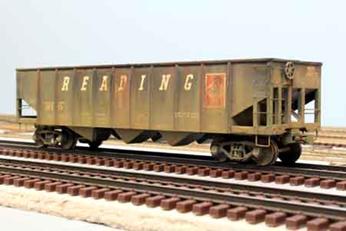 <![endif]>
USRA 2 Bay Hoppers
These USRA hoppers were imported by River Raisin Models in 1998. The Wabash car was reworked to include the Ajax Brake and open grid brake platform. I also made a draft gear master pattern just for this series of hoppers. I had them cast and are installed on all of my USRA hoppers. These were all painted in about 2000 using John Hall decals for the rib side hoppers and Don DeWitt decals for the panel side hoppers.
<![if !vml]>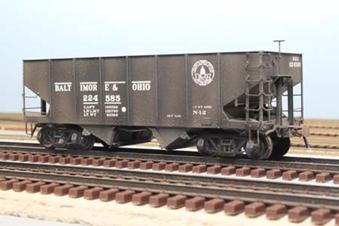 <![endif]> <![if !vml]>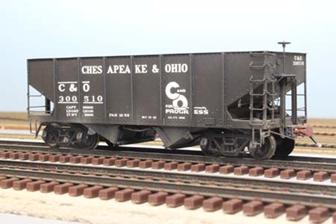 <![endif]>
<![if !vml]>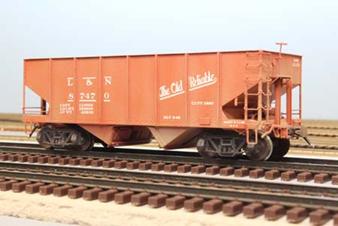 <![endif]> <![if !vml]>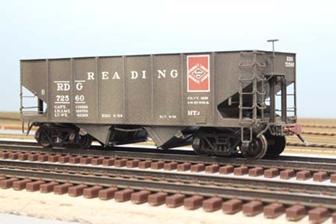 <![endif]>
<![if !vml]>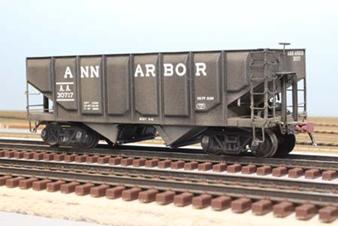 <![endif]> <![if !vml]>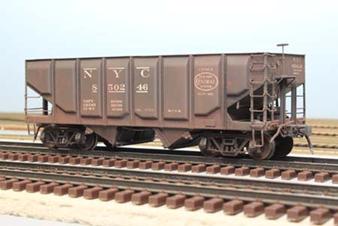 <![endif]> <![if !vml]>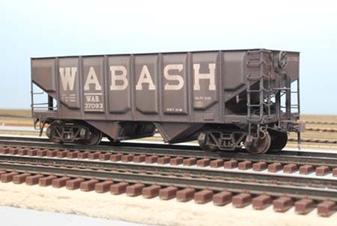 <![endif]>
Updated 2-15-19
All photos and content © Lanes Trains 2005-2021