<![if !vml]><![endif]>

B & O C-16 & C-17 REA Boxcars

Added 10-8-20

B&O M15k Boxcar

Added 5-1-22

This is a urethane kit made by Smokey Mountain Model Works in 2020. Bob Hogan assembled it for me 4-15-22.

<![if !vml]><![endif]> <![if !vml]><![endif]>
B&O M26 Boxcar
Completed 2005
This is a very rare version made by Pennsy S Models as we made less than 20 of them. We had the B&O style ladder made from real B&O drawings. B&O freight car Guru Chris Barkan helped us out a LOT! I chose the mid-1950s scheme for my car.
B & O M53 Boxcars
The B&O Wagontop boxcars are my favorite right after the X29. I had the chance to photograph a real M53. I took LOTS of detail photos.  These models were made by Overland in about 1985. I actually had them both painted but not decaled for a few years before I stripped them and started again. I modified some of my Draft Gear castings to closely match what the M53 had. I added draft gear, cut levers and cut lever brackets.
Conrail Berwick Forge & Fabrication 60' Hi-Cube Boxcar 223114
Added 2-4-23
This is craftsman kit made by TrainStuff in 1979 which was Don Thompson's company before he started S Helper Service. The master patterns were made by Stan Stokrocki. More info is here and here. I bought the car from Bert Mahr on 8-13-22. This kit predates the use of urethane for model casting. It was made with a polyester resin which warps and becomes brittle as it ages. There is a slight bow upwards in the middle of my car. Good enough - it is a rare kit and unique car in S that has no 60' boxcars easily available.
<![if !vml]>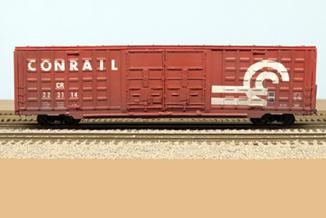 <![endif]> <![if !vml]>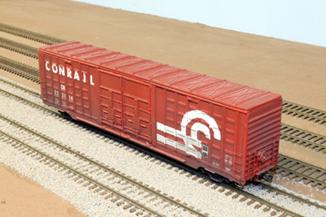 <![endif]>
Masonite All Door Boxcar
Added 4-8-22
This car had some secondary interest to me because of my father's story of him loading sheets of Masonite one sheet at a time – no forklifts or skids - into boxcars until it was FULL. The model is an old school Quality Craft Models wood kit that was all side doors designed to alleviate that labor. I bought it on eBay built up reasonably well. It arrived slightly bruised so it sat for a few years until now. I really like unique cars. I think the sides are actually printed cardstock which is why I did not clear coat the model after I completed the repairs. Since it was a sealed wood car I could not access the interior it was too light for my weight standards. I stripped out the minimal frame cross bracing detail and added 2 car tire lead weight strips adding about 3 ounces to the car. The builder went off script and used Pacific Rail Shops ladders and stirrup steps. Most of the ladders were off the car or loose so I used PRS ladders I had cast in brass many years ago. The stirrup steps were broken so I replaced them too. Finally, I used my PRR N8 brass draft gear to give the appearance of an extended cushioned draft gear this "modern" car would have had.
<![if !vml]>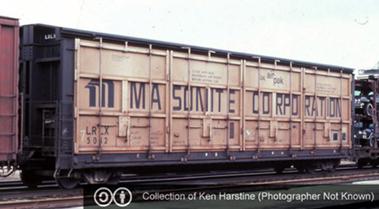 <![endif]><![if !vml]>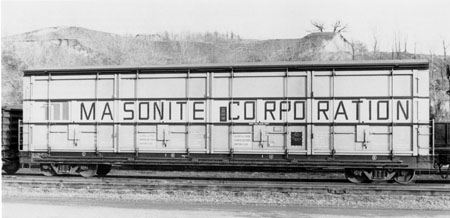 <![endif]> <![if !vml]>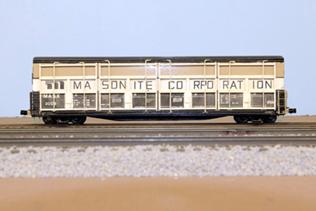 <![endif]> 
<![if !vml]>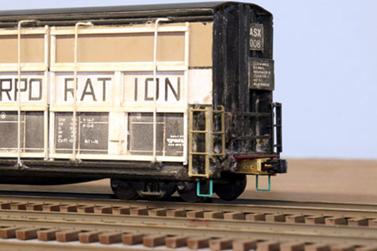 <![endif]> <![if !vml]>
<![endif]> <![if !vml]>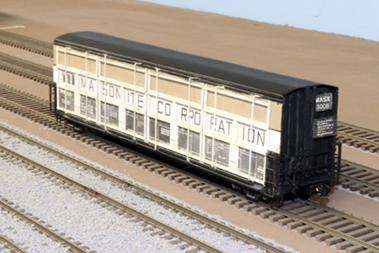 <![endif]>
Milwaukee Road Ribbed Boxcar
River Raisin Models imported the Milwaukee Road Ribbed Boxcar in 40' and 50' versions in 1991. The 50' car is shown here. I added draft gear, cut levers and cut lever brackets.
Northern Pacific Hy Cube Boxcar
Added 10-30-21
This is an eBay win bought October 2021. It is a scratchbuilt car that is very nice. I do not know who made it. The couplers were high, and were sagging only attached with the rear screw. That made my eye twitch so I had to dive right in and fix it all. I think the decals are Tichy because they are THICK. The logo is on a separate sheet which was not on the real car. According to this webpage Northern Pacific only had 6 of them, but they are a very different looking car that is much higher than most 40' cars which is why I got it.
<![if !vml]>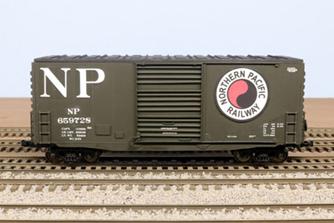 <![endif]> <![if !vml]>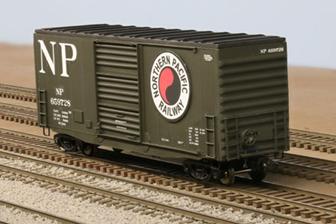 <![endif]>
PRR X28
Added 10-15-17
This X28 is an OLD school kit made by Train Stuff in 1978. It was made from a FRAGILE urethane. I did not build this car. I bought it as shown. This car was assembled very well although the number is wrong for an X28. I am not likely to change it any time soon. I also have other X28 I bought assembled. I have 1 that is shattered but I just can't throw it out.
I would guess not many of the kits got assembled. It was a MAN's man kit. Long time S Scalers visiting would know this is an uncommon car because assembling the kit is the only way to get one.
As you can see the X28 was taller than the X29. By the early 50s the door ½ cars were all converted to a single door as class X28a making spotting the X28 even more difficult.
I posed the X28 with 1of my brass X29 to note the size differences.
<![if !vml]>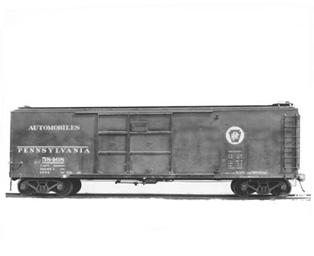 <![endif]> <![if !vml]>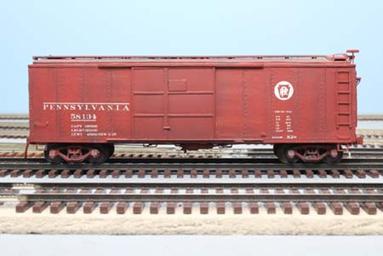 <![endif]> <![if !vml]>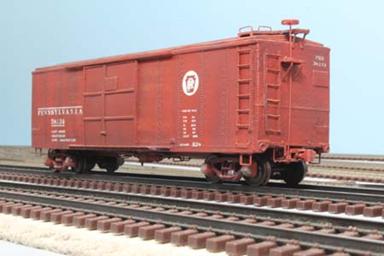 <![endif]>
<![if !vml]>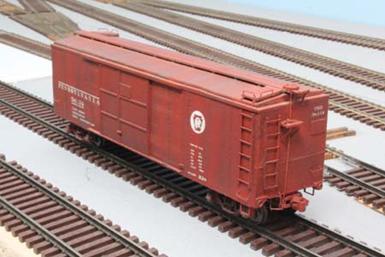 <![endif]> <![if !vml]>
<![endif]>
The PRR X29 in S Scale
In 1996 I started Pennsy S Models with my friend Dan Mastrobuono to make the X29. It took almost 10 years to get cars made we were satisfied with but they still have lots of problems with leaning. For my cars I have given up on trying to get them to ride upright. They lean at times. The bolster contact point was made too prototypical not giving the cars enough surface area to stay upright. Some things don't translate correctly from prototype to model.
Railway Express Agency Version
The REA version was the car with the largest single production we made. They were also the cars that were completed first. Since researching the REA cars, I have become very interested in head end cars. I found that the versions of the REA car were almost as varied as the X29 freight cars. I simply had to model some of the variations.  We allowed for many REA car numbers in the decal sets. I will even have Shadow Keystone REA cars when I am done. The prototype REA cars were usually very weathered and dirty. I tried to capture the weathering and still showcase all the details we worked so hard to get made.
Since I knew for many years Des Plaines Hobbies was making a plastic X29 which was released in August 2013, I ordered my brass X29 as REA cars almost exclusively. Detailing a plastic kit for REA service is a significant amount of additional work. Even with as many REA X29 as I have that would only consist 1 second class mail and baggage train leaving the rest of the layout without them.
REA 2010
Completed 2005
Many of the modifications involved changing the Ajax style power brake to the vertical brake shaft. I also had to change the poling pockets on this car to castings that did not have the under coupler cut lever bracket. I then added the Carmer Cut lever parts, which were made for us by Earl Tuson.
REA 2116
Completed 1-26-14
REA 2116 and 2130 are competed without modifications.
<![if !vml]>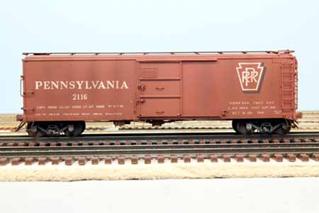 <![endif]> <![if !vml]>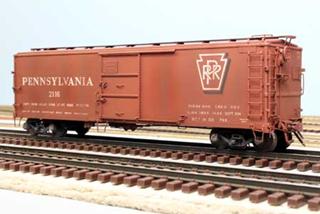 <![endif]>
REA 2130
Completed 1-26-14
<![if !vml]>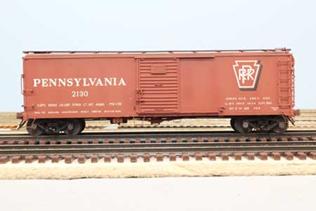 <![endif]> <![if !vml]>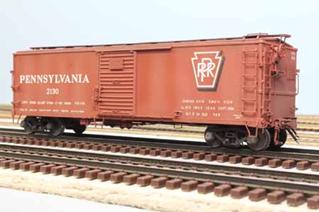 <![endif]>
REA 2131
Completed 2005
As a present to Dan and me, I wanted to get 10 Dreadnaught end REA cars made. They were not listed on the order form as a version to be sold. But since they were never listed on the production breakdown, they also did not get made either. That did not stop me though, as I took a Dreadnaught end freight version and made it into a REA car. I did have to rearrange the brake system somewhat, and run the steam and signal lines. I added trust plates, the REA brake platform, and all of the extra REA grab irons and steps.
REA 2351
Completed 2005
This car was a painted production run car without many modifications. It has the 1928 style body with the patch panel, Ajax style brake and under coupler cut lever.
REA 2429
Completed 2005
In case you have not noticed, some of the cars numbers picked are based on Ford V8 engines like 2351 and 2429. There are other Ford engine related numbers on the decal sheet that I have yet to use.
Freight Versions
Merchandise Service
Added 6-6-14
X29 92419
Modelers have mistakenly thought that the Merchandise Service cars were special or in express service. They were not. It was just a regular freight X29 with a fancy paint scheme used to promote LCL service. There were various versions of the Merchandise Service scheme on various cars. The X29b and X41b was much more colorful with red and silver in the scheme. This is the original with all white lettering and Merchandise Service in car color on the large white stripe.
<![if !vml]>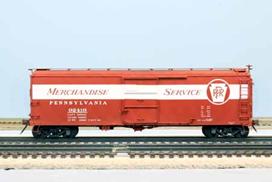 <![endif]> <![if !vml]>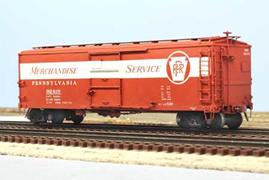 <![endif]>
X29 49791
Completed 2005
This is the first PRR freight version car that I finished. It is pretty much right out of the box except I added trust plates. It is the 1924 style body with Patch Panels, under coupler cut lever and vertical brake shaft.
PRR Round X31a & X33a Roof Boxcars
River Raisin Models imported 3 versions of the PRR Round Roof boxcar in May 1996.
PRR X31a 40' Boxcar
The 2 versions that were made were the single and double door X31a.
PRR 50' Round Roof Boxcars
PRR X42 Mail Storage
Added 12-3-19
Reading BXmu Express Boxcar
Imported by Southwind Models in 1996
Completed 9-10-10
Railway Express Agency BX Boxcar
Imported by River Raisin Models in 2003
Completed 10-24-15
Seaboard B7 Boxcars
Completed 3-3-19
Seaboard Express Boxcar
Completed 11-13-13
Southern Waffle Side Boxcar
Added 3-28-22
Southern Pacific Railway Express Boxcar
Added 12-25-19
This is a Pacific Rail Shops special run car for the 1997 S-West Convention. I saw it for sale once on eBay and the kit went for $80.00. I wanted to add it to my REA boxcar collection and obsessively searched for over 3 years but never saw a kit for sale again. In December 2019 Bob Hogan offered me 1 of his cars he fixed up with air and steam hoses and BX express trucks from Rusty Rustermier. Bob's car was a better deal than getting the basic kit anyway. It is probably unlikely a Southern Pacific REA car made it to run on the PRSL but it is another REA car for the collection.
<![if !vml]>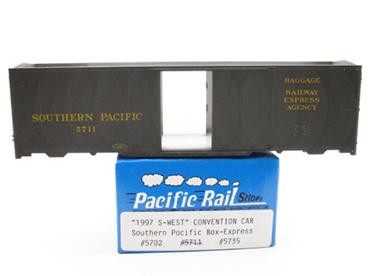 <![endif]> <![if !vml]>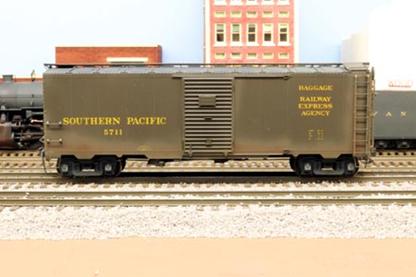 <![endif]> <![if !vml]>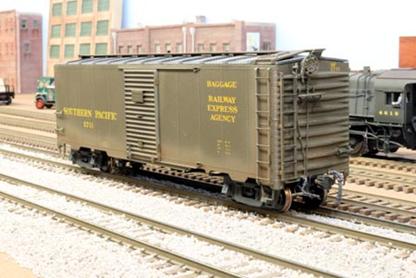 <![endif]>
Southern Pacific 50' Auto Composite Boxcars
This is an old school wood kit expertly built by Bob Hogan. I painted some of these cars in O Scale brass and liked them. I bought it from Bob in December 2019 as shown below.
<![if !vml]>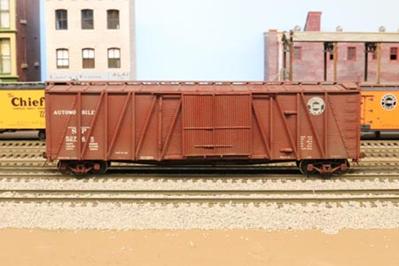 <![endif]> <![if !vml]>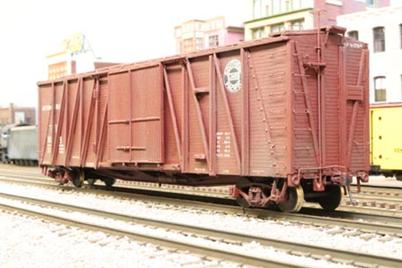 <![endif]> <![if !vml]>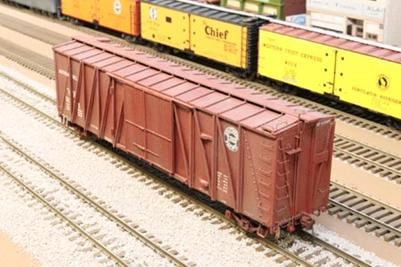 <![endif]>
Added 10-8-20
This is another Amity Star wood kit built by Bob Hogan I bought in September 2020. Any S Scaler visiting would know this car is unique. These composite real wood cars have a lot of character that plastic cars do not.
<![if !vml]>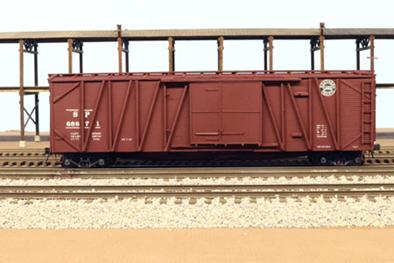 <![endif]> <![if !vml]>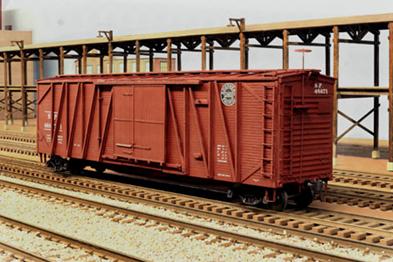 <![endif]>
Weyerhaeuser Boxcar
Added 3-30-23
This is the same old school Quality Craft Models wood kit as the above Masonite boxcar. It was an eBay win and is very nicely built up. I do not know who built it. No repairs were needed. I just had to change the trucks to scale wheels and add Kadee couplers. Ironically when I searched "Weyerhaeuser Boxcar" I got MANY model photos but very few prototype photos.
<![if !vml]>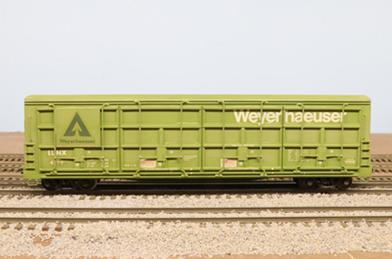 <![endif]> <![if !vml]>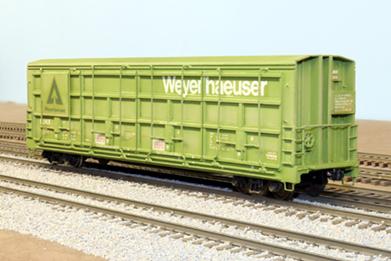 <![endif]> <![if !vml]>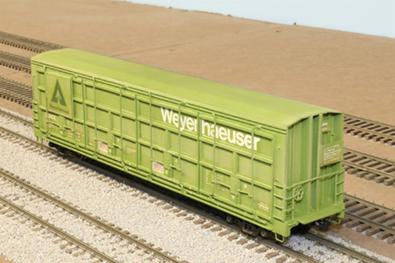 <![endif]>
Plastic Boxcars
Added 2-25-14
All cars are Jerry Glow Decals.
Starting with the above Seaboard Express Boxcar in the end of 2013 I got into a "finish it or sell it" mood where I had cars for a long time that was not getting completed. I had 3 assembled and painted 40' cars for many years given to me by the late Russ Downs. That sort of started the frenzy but it also included 3 NASG brass tanks cars I have had for 15 years not completed. Brass and plastic hopper cars got added to the mix. It was essentially a short train getting painted.
These are plastic boxcars with no alterations other than a paint and decal job. I just wanted something different! Some have been commercially offered and some have not, at least how I painted them. Much of the inspiration for these schemes comes from O Scale cars I have painted. Seaboard B-5 14783 is an unlettered S Helper Service car.
These 4 cars are all a different shade of boxcar red but I cannot seem to get my camera prove it!
Completed 2-24-14
West India Fruit XM-2 204          St Louis Southwestern 33689
<![if !vml]>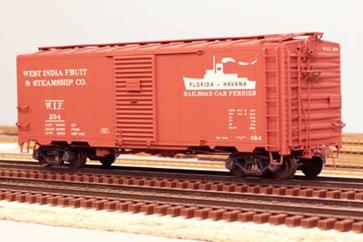 <![endif]> <![if !vml]>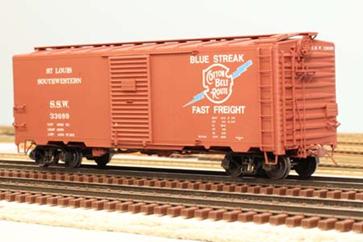 <![endif]>
Seaboard B-5 14783                                          Seaboard B-8 19920                     
 <![if !vml]>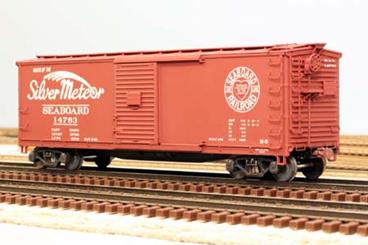 <![endif]> <![if !vml]>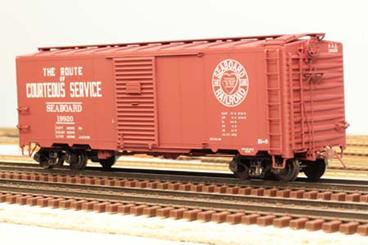 <![endif]>
Updated 3-30-23
All photos and content © Lanes Trains 2005-2023